Kathryn Posin Dance Company
Comes Home to Bond Street
The spirit of neighborhood renewal and the styles of the Joffrey were amply present in The Kathryn Posin Dance Company's presentation October 19, 2021 at The Gene Frankel Theater. Ms. Posin, who stepped out on stage to dedicate the evening, had originated her company next door and felt this concert was like a return to her roots and to the creative energy that galvanized Bond Street for many years. The evening was funded, in large part, by a City Artists Corps Grant, which enabled the evening. (Posin says, her backers matched it...and voila!) There were two showings, at 7:30 and 9:00 PM.
I had personally not seen dance in the Gene Frankel Theater before, and I'll admit it felt confining not to see wings on the sides of the playing area, offering the dancers an occasional escape path. But on the other hand, the space affords them brick walls to climb when needed. High ceilings enable the performers to take the light nicely. There are good sight lines for the audience although I'll admit I was seated in the second row so it's hard to miss anything there.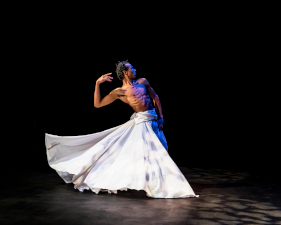 Daniel White. Photo by Liz Schneider-Cohen.
The first piece, "Touch Me" by Gerald Arpino (of Joffrey fame), was danced by Daniel White in costume by Freda Bromberg (inspired by the original design by Geoffrey Holder). White's beautifully expressive body was sheathed in pantaloons with tons of loose fitting, flowing fabric. White rolled in the white fabric, embracing it, making his legs into a sail as he kicks it, sometimes wearing it toga-like. An outstanding performance that set a Joffrey-esque tone for the evening.
Photo by Liz Schneider-Cohen
"Through You," danced by Claire Mazza and Alejandro Ulloa, both members of Posin's company, started out as disconnected dancing and ended up as close partnering and love poses. This is a dance that requires strength and athleticism. My notes say, "very good."
After intermission, we had two new works by Kathryn Posin. "POSTLUDE October 19, 2021" melted into TRIPLE SEXTET (excerpt) Third Movement September 13, 2019." The first was set to "Elevazione for Cello and Oboe" by Domenico Zipoli. The second was set to "Double Sextet" by Steve Reich.
Under the sparkles of a mirror ball, we see a woman holding a man by the leg as he enters. He hangs her on the wall like a doll or dummy. Daniel White re-emerges from upstage; we are glad to see him. The women are in toe shoes and there is balletic movement throughout. There is admirable control in the lifts and partnering--we can see the technique, because we are so close. Then the scene gets nightclubby. Costumer A. Christina Giannini has clothed the women, who look like twins, in snazzy sparkling cocktail dresses with sequins. The music has underscore and rhythms similar to "America" in "West Side Story" and the choreography gets sassier and sassier. There is lots of fire. Kudos to dancers Claire Mazza, Camila Rodriguez, Alejandro Ulloa and Daniel White for this one.
All in all, a thoroughly enjoyable evening. Ms. Posin's program notes say, "We returned to recreate Triple Sextet, an earlier work and found ourselves haunted by ghosts of late-stage pandemic." It seemed to me, they shook 'em off.