| go to entry page | | go to other departments | more film reviews

Brandon Judell
EATING CROWE: THE NEXT THREE DAYS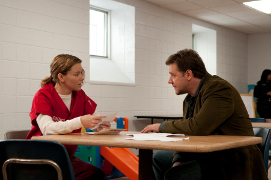 "The Next Three Days"
Paul Haggis who stole the Oscar for Best Picture from "Brokeback Mountain" with "Crash," his celluloid collage on L.A. racism, gets into a bit of a car wreck himself with "The Next Three Days."
Russell Crowe stars as John Berman, an affable English professor lecturing on "Don Quixote," who goes a bit bonkers when his wife Lara (Elizabeth Banks) gets convicted of murdering her boss by banging a fire extinguisher on her head.
Will John let the mother of his cute son Mick (Michael Buie) languish in prison forever? Of course not. He has the impossible dream. He's going to come up with an extremely complex plan to set Lara free. Although this was more imaginatively accomplished on the TV series "Prison Break," Haggis' story line is not completely without merit. Well, maybe his choice of John's profession is a bit weird for belief.
Working day in and out with English college professors myself, I can't see any procuring a gun, buying passports from a deaf motorcyclist, and then robbing drug dealers to save their spouses. I could, however, see them rereading George Elliot, having an affair with a grad student, or at least producing a short story about their wives' penitentiary predicament. But going renegade? Not likely.
Sadly, Haggis doesn't want to go too Hollywood here a la "Death Wish," so everything in "The Next Three Days" is not too much over the top, the suspense is kept to a bare, non-pulse-raising minimum, and the ending is satisfyingly predictable. After all, do you want to spend an hour with the hero drawing lines and pasting pictures on a wall if he's not going to succeed in his task? You bet your Sancho Panza, you don't!
So in the end, you get a thriller that's basically about nothing and not that thrilling. This is a product made to place in theaters like a can of Del Monte Sliced Peaches is manufactured for a grocery shelf. Yes, unlike with "Crash" and his screenplay for "Million Dollar Baby," Haggis has merely made a film to make a film. One gets no sense of the injustices of our legal system or the healing powers of literature or that true love heals all. What I felt when I left the theater was that I had just wasted 122 minutes of my life, which made me think of a Cervantes line: "Every man is as heaven made him, and sometimes a great deal worse." The same applies to films.


| lobby | search | home | cue-to-cue | discounts | welcome | film | dance | reviews |
| museums | NYTW mail | recordings | coupons | publications | classified |