| go to entry page | | go to other departments | more film reviews

Brandon Judell
Berlin 36: A Tale of Olympic Drag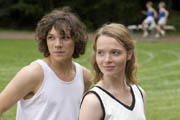 "BERLIN 36"
It's that glorious time of year again when the annual New York Jewish Film Festival screens it latest treasures at Lincoln Center. All of the wondrous, humorous — and, at times, tragic — complexities of life are captured here on celluloid, those revelatory intricacies of existence as seen through the eyes of Jews and their neighbors, their friends and their foes.
Yet even if you are not interested in becoming enlightened about survival against all odds and just want to be entertained, you can't go wrong here. Among the gems is Adam Eliot's deliciously sardonic Mary and Max, quite possibly the funniest claymation adventure you'll ever view. Ajami, co-directed by both an Israeli and a Palestinian, is a Tarantino-inspired venture about drugs, poverty, and corruption that has already won five Israeli "Oscars," including one for best film. Then there's the groundbreaking A History of Israeli Cinema. Never has the intertwining of a country's historical and cultural past and present been so intelligently and persuasively depicted.
Which brings us to Berlin 36, a fact-based feature based upon the life of one Gretel Bergmann (Karoline Herfurth), a German-Jewish high jumper.
With Hitler in power and the 1936 Summer Olympics scheduled for Berlin, the fascists had struck a major public relations coup. But there was a problem. The games' legitimacy would be questioned if the major nations of the world boycotted the affair because of the Nazis' anti-Semitic policies.
To sidestep such a dilemma and, especially, because of pressure from the United States, the Nazis needed Greta, who at the time was competing successfully in England. The young woman was thus forced to return to Germany by threats of arrest and worse against her family.
Now Hitler had his Jew, but how could he guarantee she didn't win a medal?
Why not have a young man who was raised as a girl be her competition? Step in Marie Ketteler (Sebastian Urzendowsky).
Marie, forced to wear frocks all her life by an insane mother, even while doing farm chores, agreed to the Nazis' ruse if they would make his/her dream come true, which had something to do with being a commander of a huge ship.
With all the parts of its strategem then in place, the overly confident Master Race overlooked one possibility: Gretel and Marie became extremely close friends.
So who would win and whom would you have rooted for? If Gretel went gold, she'd score points for her people, proving to the Nazis that Jews were not inferior. If Marie won the day, a brutalized young man would be able to start wearing pants and get his sea legs.
Sadly, while this dramatization of a truly heartwrenching story is never less than fascinating intellectually and the actors are mostly adroit, the screenplay by Lothar Kurzawa is choppy and at times slightly clichéd. It's as if someone has sat on the dramatic arc. Not aiding the affair, TV director Kaspar Heidelbach has clearly not yet developed a visual style for the big screen, and his staging of several pivotal scenes is quite ungainly.
These deficiencies are mostly overcome, though, by the leads and the fact that Gretel Bergmann is still alive, and an interview with this heroine supplies Berlin 36 with a truly grand finale.
(For more information about the Festival, go to: http://www.filmlinc.com/wrt/onsale/jff10.html)

| lobby | search | home | cue-to-cue | discounts | welcome | film | dance | reviews |
| museums | NYTW mail | recordings | coupons | publications | classified |