Beate Hein Bennett
Between the Blue Devils and the Kindness of Strangers
"Tennessee Rising"
Feb. 19 – April 2, 2023
Presented at the AMT Theater, 354 W. 45th Street, betw. 8th and 9th Ave.
Performances Sunday only, 5 PM.
Tickets: $35-$45 available at www.SpinCycleNYC.com
Reviewed by Beate Hein Bennett February 26, 2023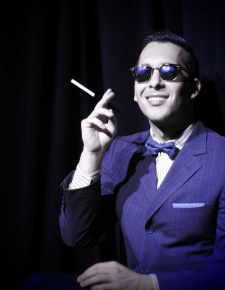 Jacob Storms as Tennessee Williams.
Photo by Ride Hamilton.
Here is the chance to see the emergent Tennessee Williams from his fractured childhood in St. Louis to his first successes as a playwright. Jacob Storms has crafted a rich script which he performs solo under the subtle direction of Alan Cumming on the intimate stage of the AMT Theater. It is a portrait of one of the most creative and most significant American playwrights of the 20th century. It is also a portrait of a young man finding his feet as an artist, as a man, and as a critic of the world he has to contend with—its callousness and its cruelties, its beauty and its dangers. Mr. Storms chose a period of six years, March 1939 – March 1945, a period of personal and artistic discovery for Tennessee Williams (1911-1983). Those years were politically dominated in USA by tensions among fascist, leftist, and isolationist tendencies; Williams lives and observes all this broiling life around him from the underbelly of society, as a fledgling homosexual often in dire poverty-- the "genteel" Southern version. Mr. Storms succeeds in braiding all these narrative strands together and—very important--he captures the special speech cadences of Tennessee Williams and, as performer, he intones those cadences with the subtle Southern lilt.
The audience is invited to join Tennessee in his small work space. The central visual focus is a small elegant black Corona travel typewriter on a lace covered table, a whiskey and a champagne glass next to it, and a couple of chairs in a circle of mauve light. He talks about his life growing up in a dysfunctional Southern family with a puritanical mother, a tyrannical father, a pastor grandfather (affectionately called "Dinky"), his beloved pianist grandmother, and, most significant, his delicate sister Rose. The family, originally from Mississippi, moved to St. Louis where his father got a job as a traveling shoe salesman. There he had his first taste of theater as a young boy when he saw "the great" Alla Nazimova in a tour of Ibsen's "Ghosts." He was inspired to become a poet and writer of plays. In March 1939, he had his first success by winning a Group Theatre competition award for young playwrights with his one-act, "American Blues". (To qualify, he changed his birth year from 1911 to 1914, and to protect his family name, he exchanged his name, Thomas Lanier Williams, for the "nom de plume", Tennessee Williams.)
The Group Theatre was headed by Harold Clurman, Irwin Shaw, and Molly Day Thatcher, the wife of Elia Kazan, who introduced him to the powerful literary agent, Audrey Wood. From then on, his theatrical journey took off, first with a whimper. In 1940 "Battle of Angels" became his first pre-Broadway failure in Boston. However, he is invited to attend John Gassner's Playwriting Seminar at the New School where Erwin Piscator's Dramatic Workshop educated a whole new generation of theater practitioners—his fellow student is Arthur Miller. Mr. Storms presents a youthful Tennessee with all the charm and courage that propel him through his private travails and successes-- and his travels that take him from St. Louis to New York, New Orleans, Mexico, L.A., Key West, all become locations for his plays and provide inspiration for his characters. He tells the fascinating drama of the passionate artist battling between success and rejection, struggling to keep his artistic integrity in a fiercely commercial industry.
Considering the checkered theatrical fate of Tennessee Williams' later plays and his tragicomic later life, full of his skirmishes with his "blue devils of fear and doubt" and depression, alcoholism, and drug use, it is wise of Mr. Storms and Mr. Cumming to focus on the time period when his creative genius was young, hopeful, and productive. After his meteoric rise to success with his first big Broadway production "The Glass Menagerie" (1944), several more followed, such as "The Streetcar Named Desire" (1947), "The Rose Tattoo" (1950), "Cat on a Hot Tin Roof" (1955) , and films based on his plays and novels in the 50s, as well as successes on European stages.
However, beginning in the late 60s, while his creativity did not diminish, the lights on Broadway dimmed for him. His allegorical phantasmagoric later plays could not find a producer in New York. "The Red Devil Battery Sign" (1975) premiered in the tiny English Theatre in Vienna, Austria. His last play, "A House Not Meant to Stand" (1981/2) was produced in Chicago at The Goodman Theater in Gregory Mosher's direction. "Masks Outrageous", a play that underwent many rewrites 1970-1983, finally had an off-Broadway production, directed by David Schweizer, in 2012. More recently new interest in Williams' work seems to be emerging: The Roundabout Theatre produced "The Rose Tattoo" in 2019; a new production of "Cat on a Hot Tin Roof" will open March 5 at Theater at St. Clements on 423 W. 46th Street. Meanwhile audiences can enjoy Jacob Storms in his empathic portrait of one of America's artistic treasures, Tennessee Williams.