Beate Hein Bennett
Absinthe Makes my Heart Grow Fonder
"WHO MURDERED LOVE?"
a Dadaist Musical
Feb. 2 – Feb. 19
Theater for the New City (Cino Theater), 155 First Avenue (bet. 9th & 10th Str.)
Thurs.-Sat. at 8 PM, Sundays at 3 PM
Gen. adm. $18, seniors & students $15;
Box office: (212)254-1109, www.theaterforthenewcity.net
Reviewed by Beate Hein Bennett, February 5, 2023
A bunch of Dadaist/ Surrealist inspired characters --with a dash of American flapperdom-- performed by a talented ensemble of actors
If you're ready for a "noir" musical theater romp through the steamy post-WWI European art scene of the 20s and early 30s, come to watch a bunch of Dadaist/ Surrealist inspired characters --with a dash of American flapperdom-- performed by a talented ensemble of actors. Immediately after World War I, the art world in Europe exploded, reflecting the political fractures and cultural fissures of a world in ruins. Futurism, Dada, Surrealism—all movements that challenged the conventional aesthetic notions of Art that had been based in Naturalism or Realism that had evolved in the 19th century in painting, literature, and drama. Futurism (in Italy) celebrated the forces of machine and mechanical speed; Dada artists (at Cabaret Voltaire, Zürich, Switzerland) performed word acrobatics defying logical or symbolist/metaphorical meaning; the Surrealists (in Paris) celebrated the antics of dream-states and stream-of-consciousness, perhaps fueled by opium or absinthe—the green potion favored by late 19th century bohemians.
Louisa Bradshaw, Amy Catherine Welch, Sage Buchalter, Egyp Johnson.
This is the background from which Lissa Moira developed the book and lyrics with music by Richard West for "Who Murdered Love?" The script careens wildly through a loose narrative about love, its loss, dangers, and recovery. Some characters are parodies of renowned figures of Dada and Surrealism: Surrealist Andre Breton becomes imperial Andre Raton, eccentric Marcel Duchamp the clownish Darcel du Camp. The female characters are composites of colorful unconventional (but underappreciated) women artists within the male dominated Dada and Surrealism circles.
Alisa Ermolaev and Chase Wolfe.
There is the domineering Countess Analisa modeled (I think) on the Baroness von Freytag-Loringhoven, Clara Tice, and Mina Loy. Honey Potts may be a blond version of Kansas born black-haired flapper Louise Brooks, best known as the femme fatale Lulu in G.W. Pabst's film "The Box of the Pandora," whose own wild life was a futile search for love beyond sex. Meandering through this group of punning, romping assemblage of artists in search of the mysterious DaDa Love-- dead or alive—are three very American characters: Sleepy Sam Speed, a mostly drunk detective and WWI veteran suffering from PTSD; his frustrated secretary/assistant Gail Friday; and a young would-be detective Everett Greene, a mid-Western down-home boy transported to wild NYC and into "green potion" induced love dreams. And then there is the mysterious DaDa Love, mystical embodiment of desire. This mélange of figures and situations makes for an entertaining "rhapsody in blue."
John David West and Rori Nogee.
Lissa Moira directed the cast of actor/singers who deliver the rapid-fire dialogue full of puns. Interspersed are Richard West's delightful 20ish American jazzy tunes, sung without amplification—what a delight to hear natural voices!—supported on the piano by Musical Director, Peter Dizozza with the skills of a silent movie accompanist. Choreography by Olivia Palacios is reminiscent of the expressionist modern dance and flapper moves from the 20s which the ensemble executed gracefully. Lytza Colon designed imaginative emblematic and beautiful costumes that emphasize certain characteristics—the French berets for Du Camp, the clown in harlequin pants, and for Raton, le maitre, in a maroon velvet jacket; the gorgeous robes for the Countess; Honey Potts's richly adorned flapper dress and hair piece. Alexander Bartenieff designed the lighting creating a rich variety of moods, and for the swift set changes mildly stroboscopic effects. Mark Marcante and Lytza Colon leave the stage mostly empty with two reversible panels in the back that depict on one side the silhouette of an iconic NYC skyline with Brooklyn Bridge and on the other the Eiffeltower and a touch of Paris.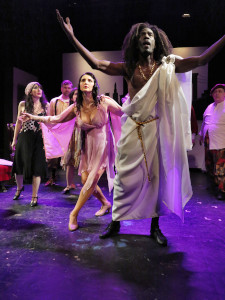 Foreground: Ejyp Johnson as DaDa Love.
Louisa Bradshaw is a deliciously elegant vamp as the smart Countess Analise. William Broderick's regal Andre Raton renders Breton's notoriously combative arrogance with ironic wit. Jef Canter plays the clown Marcel Duchamp with rollicking charm. Alisa Ermolaev captures the campy flapper Honey Potts with irresistible humor, graceful spot-on moves, gestures and facial expressions—and she sings gorgeously. Amy Catherine Welch as the painter Blossom embodies all the female artists of the time who had to persist against male chauvinism (and envy) while retaining their authenticity and autonomy.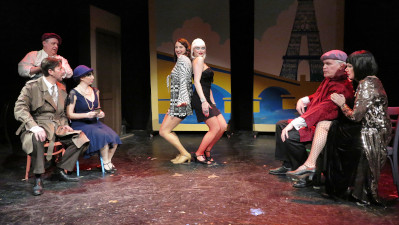 L-R: John David West, Jef Canter, Rori Nogee, Sage Buchalter, William Vraderick, Louisa Bradshaw.
Sage Buchalter as DaDette portrays the somewhat idealized supportive "muse" of the male artists. Rori Nogee is the irrepressible Gail Friday, playing her "secretariness" not as a toy but as the competent and fond organizer of her boss Sleepy Sam Speed, played by towering John David West. In a song Sleepy Sam shares the soldier's horrors of war and his demons which he can only overcome with alcohol; Mr. West's Sam represents "the lost generation" thus adding pathos behind the fun. Chase Wolfe as Everett Greene represents the younger naïvely positive American who is utterly lost in the drugged decadence of European sophistication, yet finds real (though fleeting) love in his absinthe dream. Lastly the mystical DaDa Love: Ejyp Johnson, dressed in a white toga, his face framed by a huge Afro represents Love as the poetic/metaphorical alpha and omega to Life. Mr. Johnson's rich baritone renders the lyrics of the first chorus "Mad for Love," reprised at the end, with a mix of passion and despair befitting this complicated passion that we long for and fear –the ancient paradox of eros and thanatos—Love and Death!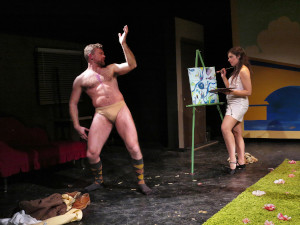 Amy Catherine Welch, Chase Wolfe.