Beate Hein Bennett
Love and Diplomacy (and vice versa)
"L'Amour à Passy"

November 4 – 20, 2022
The Jeffrey & Paula Gural Theatre at A.R.T./New York
502 West 53rd Street, New York, NY 10019
Presented by B&R Productions
Thurs. – Sat. at 8 PM, Sun. at 3 PM
Tickets: $20 Gen. Adm., $10 seniors, $5 students, Info.: 929-900-4550
Reviewed by Beate Hein Bennett, November 6, 2022
Franklin (G.W. Reed) meets Mme Hardoncourt Brillon (Musa Gurnis)
If you are ready for a delightful "rom-com" of a May-September love affair between the American Venerable Benjamin Franklin at seventy and a delicious Mme Hardoncourt Brillon at half his age (or less), then come and see "L'Amour à Passy" by GW Reed, set in 1777/78. You will spend a charming evening in the company of two witty people—it is a divertissement in the art of love and diplomacy. The writer used the historical background of Benjamin Franklin's and John Adams's diplomatic mission to the court of France to gain support for the American Revolution in the midst of its shaky battle against British forces.
Benjamin Franklin, recently widowed, was known to have had several affairs with Parisian ladies close to the court of Louis XV and Marie Antoinette. Mr. Reed focuses on one such lady, Mme. Brillon, with whom the historical B.F. enjoyed a lifelong friendship. In the play she seeks the advice of "wise" B.F. how to get her husband disentangled from his mistress, the governess of their children. The stage is set on the Brillon estate at Passy for the love affair in which their fondness for each other undergoes several misunderstandings—she remains proper and loves him "platonically" like a daughter, calling him "cher Papa" while he is sexually aroused and pursues her like a young stag in heat. Both have the wit and the humor (in French and English) to overcome the various awkward and absurd situations that such an affair engenders.
Franklin and Hardancourt match wits over chess.
Manfred Bormann directed this duet in the light esprit of commedia dell'arte. His inventive movements recall the balletic flirtatiousness in a Fragonard painting without diminishing the pathos of the situation—the lovesickness of an elderly gentleman and the feelings of humiliation of a woman betrayed by her husband. Behind this personal autumnal affair winks also the irony of history: a young (really newborn) country appeals to the teetering French ancien regime for support. The two actors, Musa Gurnis as the irresistible Mme. Hardoncourt Brillon, and GW Reed as Benjamin Franklin, who is beset by political worries and dermatitis, elegantly manage the shifts between narrative commentary and mimetic representation. They play with and off each other like a musical duo. (After all, she is a composer, and he is famous for his aphorisms.) The first impression for the audience is a graceful woman entering the stage moving lightly to some music that she hears in her mind—no words, just her delight in moving with an internal motif. This prelude sets the tone.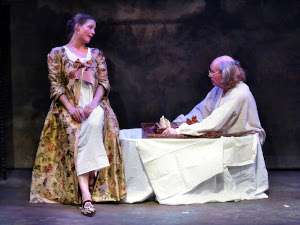 Mme. Brillon flirts and checkmates Franklin
as he soaks his dermatitis in her bath.
The Gural Theatre space is intimate with a large stage well suited for this two-character play. The design by Harry Feiner concentrates on minimal furnishings that are suggestive of the period. The background is dominated by a large painted scrim, suggesting an 18th century forested garden in the style of Watteau's painting "L'Embarquement pour Cythere" with its autumnal colors and symbolic reference to the mythical island of Cythera, where lovers of all ages resort to for a tryst, a fitting motif for these two characters as they embark on their journey towards love. Anthony Paul-Cavaretta designed the costumes: beautiful Rococo robes in pastel tones for Mme Brillon that allow her to swoop around the stage in her little 18thcentury pumps, and modest homespun suits for Benjamin Franklin—even the simple off-white cotton undergarments for both look authentic. Bria Dinkins provided a choice collection of props—especially the chess set for some central scenes is impressive. Sound designer Cliff Hahn's musical choices recall the gavottes and minuets of the time. Lighting designer Matthew Deinhardt bathes the stage in warm tones ranging from light rose to amber, reflecting the changes in time of day and season over the eight month period that the two friends meet.
the pathos of the situation—the lovesickness of an elderly gentleman and the feelings of humiliation of a woman betrayed by her husband.
"L'Amour à Passy" is a lovely elegant theatrical offering, a welcome gift in our times of prevailing animosity, vulgarity, and witlessness. Return the favor by your attendance!