Beate Hein Bennett
How can you all not be on fire?
"Susan B."
Oct. 12 -16, 2022
Theater for the new City (Johnson Theater), 155 First Ave. (at 10th Str.)
Presented by Theater for the New City
Wed. – Sat. at 8 PM, Sat. & Sun. at 3 PM
$18 Gen. Adm., $15 students and seniors
Box Office: 212-254-1109, www.theaterforthenewcity.org
Reviewed by Beate Hein Bennett, Oct. 12, 2022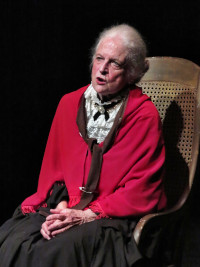 Kathleen Moore (Susan B. Anthony).
The line on top are Susan B. Anthony's own words and could not be timelier given the present attacks on voting rights and the Supreme Court's overturning of Roe v. Wade. The short narrative bio-play "Susan B." centered on Susan B. Anthony's long fight for women's right to vote—a fight whose resolution in 1919 she did not live to see—is a shorter version of the original "Aunt Susan and Her Tennessee Waltz" by Toby Armour. The full play was developed originally at TNC from 2014-2020 under the direction of the late George Ferencz, presented as a radio play by TNC in celebration of Women's History Month in March/April 2021 and performed live on stage at TNC in April/May 2022 under the direction of Joan Kane. This shorter version, also directed by Joan Kane is performed a month before the present midterm elections with the active involvement of the League of Women who will be present after the shows.
Jenny D. Green (Nellie Bly), Kathleen Moore (Susan B. Anthony).
"Susan B." is a delightful example of narrative theater. The dramaturgical frame is Nellie Bly's interview with Susan B. Anthony in her last years—she died at age eighty-six in 1906. Ms. Bly, who was one of the first investigative journalists in New York City, asks Ms. Anthony probing questions about what led her to become one of the foremost suffragettes. Through her questioning and Ms. Anthony's sometimes crusty answers we get an overview of her life's work, her struggles, and her triumphs that are enlivened by short interludes with other characters important in her life and struggles. We meet her stern minister father who wants her to "earn a living"—and so at age fifteen she becomes a teacher in a private Quaker household with three bratty boys who try to throw her out a window as they did with her predecessor but she prevailed. Teaching was the only "career" open to middle-class women in 19th century America. Susan B. would have none of it and, as she noted the frequently brutal life of women and children living with alcoholic husbands, she joins the Women's Temperance Society. This opens her eyes to what really needs to be done to change women's lives— structural change in the political landscape! And her passionate struggle for women's suffrage takes off. The Seneca Falls Convention in 1848 is the turning point! She is joined by Elizabeth Cady Stanton, Sojourner Truth, and other notable women in her fight. Contemporaneous, of course, is the Negro struggle for becoming fully enfranchised citizens, here personified by Fredrick Douglass with whom she has a conflict since he does not want to extend the suffrage to Black women—she reminds him that Sojourner Truth seeks the same dignity and power for Black women but he shies away, and she never forgave him for that.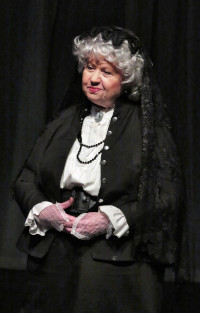 Amy Losi (Elizabeth Cady Stanton).
Kathleen Moore inhabits Susan B. Anthony with great authority, grace, and scintillating humor. The playwright Toby Armour uses almost exclusively Susan B. Anthony's words; the dramatic interludes are a lively depiction of the important turning points in her life and the characters that affected those turning points. Nellie Bly, played by Jenney D. Green is a good sparring partner to Ms. Moore. The ensemble of actors, who stay throughout the hour play on the sideline, enter when the scene requires it and step into the various characters with great adeptness. Dan Kelley captures the dignity of Fredrick Douglass (and the wig gives him an amazing likeness). Ami Losi's Elizabeth Cady Stanton (and other women characters) brings the complicated friendship with Susan B. into the spotlight; Elizabeth McBride plays Susan's younger self as a feisty teacher, as well as her sister Ann, and other younger women whose lives are touched by Susan B. Anthony. A trio of young actors, Tom Arrowsmith, Sam Arthur, and John Cencio Burgos complete the ensemble—they quick-switch from naughty boys, to arrogant congressmen, to newspaper paparazzi with great ease.
Completing the ensemble is Peter DiSozza, at the piano, creating a musical landscape of American 19th century with tunes that vaguely evoke Scott Joplin with folkloric ragtime rhythms and hymnal melodies. The setting by Lytza Colon is a simple arrangement of a small red Victorian rug with a round table and a Victorian lamp, flanked by Susan B.'s rocking chair and an elegant chair for Ms. Bly. The rather large space of the Johnson Theater gives plenty of playing space for the ensemble scenes that alternate with the intimate interview space. '
L: Jenny D. Green (Nellie Bly) and ensemble (L-R): Tom Arrowsmith, Sam Arthur, John Cencio Burgos, Amy Losi, Elizabeth McBryde. Behind: pianist/composer Peter Dizozza.
I wish there would be more performances of this little gem of theater about a pioneering figure in American political history.