Beate Hein Bennett
"People Don't Do Such Things"
Hedda Gabler 1981
by Henrik Ibsen

Sept. 29-Oct.8, 2022
Theater for the New City (Johnson Theater), 155 First Ave. (at E.10th Street)
Presented by The Theater for the New City and The Strindberg Rep
Thurs.-Sat. at 8 PM, Sat. at 2 and 8 PM, Sun. at 3 PM
$18 Gen. Adm., $15 Students & seniors
Tickets: Box Office 212-254-1109, www.theaterforthenewcity.net
Reviewed by Beate Hein Bennett October 8, 2022.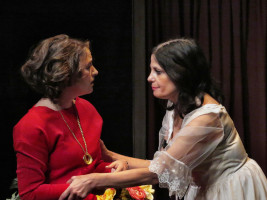 Bailey Newman (Thea), Natalie Menna (Hedda).
In the play "Hedda Gabler," after an off-stage shot is heard, Judge Brack states categorically: "people don't do such things." But they do shoot themselves when they see no way out, and Hedda Gabler comes to that final conclusion at the end of the play-- even in the adaptation by Robert Greer, The Strindberg Rep Artistic Director who adapted/translated and directed this particular production which he set in 1981 Oslo. Henrik Ibsen published his play in 1890. Since its premiere at the Residenztheater in Munich, Germany in 1891, the play has been produced all over the world in all kinds of variations. Most of Ibsen's plays were originally audience shockers as they depicted the arising tensions within middle class society and the resultant psychological effects, especially on women. This is what makes Ibsen's plays timeless—the individual socio-psychological fall-out of systemic socio-political issues. But why set this play in Oslo 1981? Obviously, Robert Greer had a specific reason for updating it to that year, although it is not clear to me how the production clarified his intention.
John Cencio Burgos as Tesman.
The pivotal character Hedda Gabler, daughter to General Gabler, is married to George Tesman—she calls him Tesman—is bored with her existence; she has not found an outlet for inner inchoate ambitions. She has never experienced life without the societal constraints of her social class. Ibsen created a character whose "demoniacal element" is her need "to exert influence on someone—but once she has done so, she despises him." (Ibsen's own description in his preliminary Notes to Hedda Gabler) However, she also longs to find poesy in her life—to be free and without fear--and this she remembers feeling with Eilert Lovborg, a poetic idealist, when she first met him at her father's house. However, now her fear of scandal keeps her shackled to social conventions. Thea Elvsted, the other young woman in the play, has run away from her husband in order to follow her "comrade" Eilert Lovborg who has shown her how "to think for herself," and for whom she has become essential as an assistant for his writing, as well as to keep him "on the straight and narrow." While Hedda has not found any occupation, other than spending money, Thea has assisted Lovborg in the writing of his most recent manuscript. Between the two women is Lovborg and his crucial manuscript. In Ibsen's Notes, the manuscript is entitled "The Ethics of Future Society" while in Greer's adaptation Lovborg describes it as dealing "with the development of miniaturized electronics and affordable computers that will…radically change the workplace…and [he] forecasts their invasion of the schoolroom and household and even connect them from one house to the next, from city to city and country to country." That is Mr. Greer's topical update—Lovborg is an imaginative visionary of the future, while Tesman is a pedantic assistant professor who muddles in medieval literature. Lovborg, in Hedda's view, has "wine leaves in his hair" but she is afraid of him, while Tesman is a necessary crutch for maintaining her social status; he bores her but she can manipulate him. The character of Judge Brack is a catalyst that sets many of the tensions among the characters in motion while displaying a mendacious charm with an edge of brutality.
Brad Fryman (Eilert Lovborg)
The production apparently underwent some initial problems. At the last minute, with three rehearsals, Brad Fryman took over the role of Eilert Lovborg. Although Mr. Fryman is an experienced actor and has played many major parts with August Strindberg Rep, the role of Eilert Lovborg, as the counterpart to Hedda, demands many colors that show the complexity of living under the strain of social conventions while instinctually longing to break free. This was definitely an issue in the late 19th century—how to live an authentic life while strapped in the corset of societal expectations. But in 1981? True, women were still professionally and politically underrepresented, and men were expected to be the major earners in a family household, and assistant professors were woefully underpaid (Tesman) unless they had star potential (Lovborg). While Mr. Fryman explored the rapid decline from brilliant future to self-destructive dissipation, Ms. Natalie Menna kept Hedda on one level of chilly domineering arrogance—missing were her romantic, even her humorous sides; her intelligent wit in her flirtation with Brack was subsumed in sarcastic repartees. Bailey Newman's Thea Elvsted had the "conventional, sentimental, hysterical Philistine" (Ibsen's words) quality but she also gave her a lovely vulnerability. John Cencio Burgos played George Tesman with the requisite kind but obtuse personality with a nervous feeling of impotence. Mike Roche was a thoroughly corrupt Judge Brack (or County Assessor), aware of his social (and erotic) power and playing with Hedda a cat-and-mouse game with cunning charm.
Mike Roche (Judge Brack) leers over Natalie Menna (Hedda).
While "Hedda Gabler" may not appear to have the immediate topical appeal, as Ibsen's "An Enemy of the People" where environmental and political corruption is the issue, or "The Master Builder" with its megalomaniac central character, the play certainly still resonates in terms of feminist expectations and gender relations, and the exertion of power.