Before is in the past.
"The Same" by Enda Walsh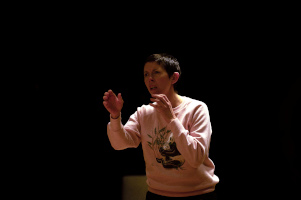 Eileen Walsh. Photo by Nir Arieli.
February 16 – March 6
Presented at Irish Arts Center
726 Eleventh Avenue (bet. 51st &52nd Str.)
Produced by the Corcadorca Company
Performances: Weds., 7:30 PM; Thurs.& Fri., 8PM; Sats., 2PM & 8PM, Sun., 2PM
Tickets: www.irishartscenter.org; 888-616-0274, Adm. starting at $25
Reviewed by Beate Hein Bennett February 18, 2022
Ben Brantley calls the Irish playwright Enda Walsh "one of the most fiercely individual voices in the theater today." The US premiere of the Irish Corcadorca production of "The Same" is presented as part of Irish Arts Center's inaugural season at its gorgeous new facility in what was originally the Cybert Tire Garage in Hell's Kitchen. The Corcadorca, a site-specific theater company, produced the World Premiere of "The Same" in the decommissioned Old Cork Prison in February 2017. In 2017 the IAC presented Enda Walsh's installation "Rooms" on the 2nd floor of the original garage. The present production provides an unusual immersive theater experience.
The audience enters the IAC black box theater space, furnished for this production like a sitting room in some kind of institutional setting with comfortable upholstered chairs, a couple of TV screens suspended near the ceiling, a game contraption that spits and bounces small colorful balls when activated, some plants and magazines on side tables—in short, the audience is welcomed into a pseudo-homey atmosphere, brilliantly designed by Owen Boss with exquisite lighting by Michael Hurley. The boundary between acting and audience space is barely perceptible, and the audience becomes like a witness at a psycho-drama session. The two actors (the only unmasked persons) are separately seated in this "sitting room", as the audience enters.
Pat Kiernan, the founding Artistic Director of Corcadorca, unravels this complex text as a lyrical exploration of psychic layers packed with sensations of enigmatic identity where feelings swirl about fluidly between past and present experiences. The fear of losing oneself in a kind of perpetual dissolution of the self inside the other seems to drive the psychic energy of the actors as they relate to and confront one another. The spoken text is subtly underscored by sound, composed and designed by Peter Power and engineered by Anthony Hanley; it starts with the gentle rhythmic swish of waves on a shore and continues throughout with different sound-scapes, at times ominous or explosive. The lighting changes when some alarming sound interrupts and another beat in the text starts.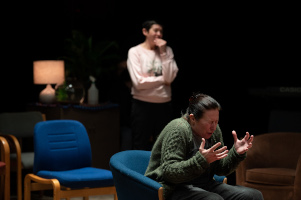 Catherine Walsh. Photo by Nir Arieli.
The two actors, the sisters Eileen and Catherine Walsh, are perfectly attuned to each other performing a mind-blowing 50-minute duologue that can only be compared to chamber music. Their voices weave around each other, their bodies move around each other, in synchronicity and in counterpoint—both call each other Lisa thus blurring the distinction between characters. In their respective narratives they also quote two absent male characters, Howard and Gavin, thus further blurring individual memory and consciousness. Lisa's persona is gradually spilling out stream-of-consciousness revelations of traumatic past experiences and the present disorientation in a new place—the "blue room" in a new city by a lake. The staccato rhythms of speech by one Lisa (Eileen Walsh) reminded me of Samuel Beckett's enigmatic psycho-drama "Not I" where the memory of trauma is dissolved into largely monosyllabic outbursts uttered in spurts by the bodiless isolated Mouth. Eileen Walsh has a mercurial quality and plasticity with which she is able to shift vocal, facial, and body expression with incredible precision and speed. Her sister Catherine plays the counterpoint in tone, firm, sometimes almost stone-faced like an inquisitor, until she too explodes. The contrasting yet shared, repeated, and interwoven narratives of the two Lisas makes one wonder, if they are two separate persons, or two faces (or phases) of the same person.
This production is chamber theatre in the truest sense. The intimacy of the space allows for experiencing the expression of profound human emotions through the actors' keen performance artistry of the spoken word in intimate motion—this is theater at its finest. [BBH]