It's Gonna Be Alright…Will It?
"Two Can Play"

March 5 – April 5, 2020 (closed March 12 due to Covid-19)
Castillo Theatre, 543 W. 42nd Street, New York, NY
Presented by New Federal Theatre in association with Castillo Theatre
Thurs. – Sat. @ 7:30 PM, Sun. @ 2 PM
Gen. Adm.: $40, $30 students and seniors. Group sales available.
Box Office: http: www.castillo.org and https://ci.ovationtix.com/2912, 866-811-4111
Producing company website: www.newfederaltheatre.org
Reviewed by Beate Hein Bennett March 7, 2020
Michael Rogers and Joyce Sylvester in New Federal Theatre's production of "Two Can Play" by Trevor Rhone. Photo by Gerry Goodstein.
This delightful comedy by Jamaican playwright Trevor Rhone (1940-2009) celebrates several landmarks. First of all, it is 35 years since the play was introduced to New York audiences in 1985 by the Negro Ensemble Company under the direction of Clinton Turner Davis who is also the director of the current revival produced by Woodie King Jr.'s New Federal Theatre. Both companies, NEC and NFT are venerable African American companies that have brought the most important voices of African American theater for more than half a century to the stages of New York and beyond. In fact, the New Federal Theatre under Founder and Producer Woodie King Jr. celebrates the 50th anniversary this season in its present home at Castillo Theatre.
Before the performance starts, the audience is bathed in the musical ambience of reggae music, whose lilting laid-back rhythm and tonality is identified foremost with Jamaica. Sound designer Bill Toles selected reggae songs throughout the performance with lyrics poignant to moments in the comedy. Set designer Chris Cumberbatch dressed the small proscenium stage with an ingeniously devised cross section of a modest neat home, complete with a prominent bedroom area, a dining nook, a half-hidden kitchen, and a hallway, secured with a metal grid door to another area of the house, two windows in two directions, and several doors—an essential element for a farce. Visible sections of a corrugated roof "verified" at one point the sounds of a tropical torrential downpour. Lighting designer Antoinette Tynes created the varied ambience of sun-drenched and moon-lit tropics filtering into the home with a beautiful rich palette that complements the set.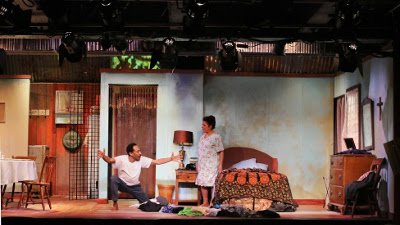 Michael Rogers and Joyce Sylvester in New Federal Theatre's production of "Two Can Play" by Trevor Rhone. Photo by Gerry Goodstein.
While "Two Can Play" is a two-character comedy with the frenetic pace of farce, it is also a play that deals with the darker aspects in the life of a Jamaican middle-aged couple. Trevor Rhone wrote in Jamaican lingo with its rich inflection and subversive humor, full of the familiar "disses" that are part of a long marriage but that also intimates the grim social reality of life among a long-repressed people, pervasive in cultures dominated by colonialism.
The play starts in the middle of the night with the sounds of gunfire. Rapid volleys awaken Jim, played by Michael Rogers, with a start and put him in deadly fright; he immediately demands of his wife Gloria, played by Joyce Sylvester, to give him his tranquilizers. She gets up grumbling and, clearly inured to the sounds of gun fire, finds the bottle of pills in the night stand and falls back into bed telling her husband just to go to sleep, as the nearby rapid volleys continue. Thus the audience is given to understand that violent turf fights among innumerable gangs are a daily part of life in their part of Kingston in the 1970s.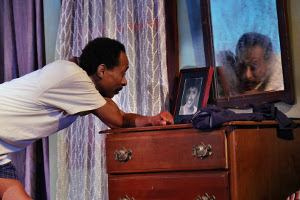 During her trip to the USA, Jim (Michael Rogers) pines for his absent wife, Gloria. Photo by Gerry Goodstein.
Subsequently, we find out that they have managed to send their young adult children to the US and dream about joining them as soon as they have the funds and a valid passport. There is another complication: the couple is taking care of Pop, Jim's invalid father, who lives with them—he is an unseen character behind one of the upstage doors. As long as he is alive, they cannot and will not leave. Within the first scenes, performed by the two actors with rapid-fire energy, the play touches also on the larger social themes: endemic violence, poverty, family loyalty, dreams of emigration to the "land of opportunity"—all, of course, through the lens of domestic conflict between a husband and wife. Jim feels socially impotent—low wage work without opportunities—but compensates by being full of bluster at home. By contrast, Gloria deals with his bluster by alternately cajoling his fierce temper, firmly confronting his selfishness, assuaging his fears, and she takes charge when action is required. Under the superb direction of Clinton Turner Davis, both actors perform a veritable tambu dance on the potential killing ground of marital discord and social peril. They negotiate the space full of curvaceous impediments with grace and deliver the text with verbal acrobatics.
In short, this production is not only a visual and verbal delight and provides a seriocomic insight into the ever-present plight and struggles of people looking for opportunity and a better life. Under the present harsh US immigration policies the play is as relevant as ever.