Sisterhood
"Gabriel: A Polemic"
L-R: Elaine Ivy Harris, Jane Bradley, Rachel A. Collins and Brandi Varnell
"Gabriel: A Polemic" by C. Denby Swanson,
directed by Hamilton Clancy
March 9 – 26, 2018
North of History, 445 Columbus Ave.
(bet. 81st & 82nd Street)
Presented by The Drilling Company in assoc. with
North of History, a program of New Vision
Fridays, Saturdays, Mondays @ 8 PM, Sundays @ 7 PM
$25 gen. adm., $20 students & seniors, www.smarttix.com or (212) 866-4444
Reviewed by Beate Hein Bennett March 10, 2018
Jane Bradley as Susan, hostess of the potluck.
As the tsunami of #MeToo has hit the news in the past few months, and as women have marched to protest roll-backs in women's healthcare, reproductive rights, and gender equality issues, C. Denby Swenson's "Gabriel: A Polemic" is quite timely. The discursive structure and combative argument among four highly individualized women, laced with humor and pathos, allow for a differentiated view of an explosive topic: religion and a woman's free will to have control over her own body in terms of sex and childbearing. The four women--two of them are actual sisters--describe their long relationship as "sisters-in- faith." They have been meeting regularly on Saturday evenings for a potluck dinner.
Brandi Varnell defends defends the literal biblical interpretation as Jennifer.
The Drilling Company, known for finding alternative spaces where the audience is brought close to the performance, e.g. Shakespeare in the Parking Lot, has staged this play in a store-front gallery space with audience seated in single rows on four sides around the central playing space which consists of a table with four chairs. Designer Jennifer Varbalow sets the stage with a simple white table and four white chairs; three glasses of red wine, one glass of water, and red napkins complete the table setting. Lighting by Eric Nightengale keeps the focus on the table and immediate surrounding space. These two critical design elements are successful in maintaining the audience attention on the lively argument and actions among the characters--not an easy feat in a small open white-walled gallery space.
Rachel A. Collins as Brenda, whose tragedy is infertility.
Director Hamilton Clancy brought together four superb actors with whom he produced, over an extended workshop process, a tight, well paced performance of a smart play with a difficult central religious idea that works both literally and metaphorically: Mary's conception of Jesus as announced by the Archangel Gabriel. This trope elicits the central question: Did Mary have free will to consent to become Mother to the Son of God, or was she raped by God? Did she consent to be "chosen?" The play begins with a prologue; a solitary woman wrapped in a gray-blue shawl, isolated in a corner, tells her story of being raped during a house party while she lay drunk and asleep in some room where she had retreated. Thus the playwright introduces immediately the contemporary topic of women's autonomy over their own bodies and the emotional and psychological dimension of sex and pregnancy, especially in situations of rape. The legendary event of Mary's conception is thus parallel to the modern issue of a woman's right to exercise her free will. In the course of the dinner the four women, each of whom has strong beliefs, challenge each other, argue and debate the validity of the biblical model of Mary as presented in the gospels, and ultimately unmask each other's deepest personal pains and uncertainties.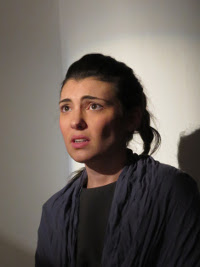 Elaine Ivy Harris as Louise in Prologue.
The Prologue story of her rape is delivered by Louise, played with a mix of sensitivity and mischievousness by Elaine Ivy Harris. When Louise turns up late and highly pregnant to the potluck dinner, she is the comic relief and foil to intense protagonist Susan. Jane Bradley imbues Susan with a sharp tongue that slices the air like a rapier as she presents her challenge from the outset: "Is there free will?" Her energy never falters as she dominates the argument but a shadow of pain underlies her bravura performance. Her sister and adversary Jennifer, played with frightening bulldoggedness by Brandi Varnell, defends the literal biblical interpretation with the ever ready gospel quotation against Susan's logic; childless herself, she is a fierce defender of life at all cost and in all stages (i.e. fiercely anti-abortion) because to her pregnancy represents hope. Last not least is Brenda, a simple-minded religious woman who understands prayer but cannot follow theological argumentation or any other logic—her tragedy is infertility so she loves the story of Mary as a story of "the mysterious ways of God." Rachel A. Collins gives her a lovely modesty and sympathetic dimension--she also has a superb sense of timing and thus provides comic relief with subtle mimic expression.
C. Denby Swanson, who lives in Austin, TX was propelled to write this "most personal play," as she tells, in reaction to the Texas legislature's attack on women's reproductive freedom in 2013. Since then, these attacks have increased and religious fundamentalism has driven a hard wedge into the American body politic. The play presents a concentrated mix of the personal and political argumentation where religion is used as a moral cudgel to foil any emancipation towards personal and legal responsibility in the relationship between men and women.
Elaine Ivy Harris, as pregnant Louise, chows down.
While the discussion among the four women does not focus specifically on men--only in the Prologue is there even mention of two nameless men--God obviously stands for male authority who naturally assumes the right to impregnate Mary whose son is subsequently expected to be sacrificed for the rest of humanity. I was reminded of Colm Toibin's play "The Testament of Mary" which had to close on Broadway because religious extremists called it blasphemous and threatened the actress Fiona Shaw. In that play, the aged Mary is alone and kept under house arrest by the evangelists as they intend to silence her objection to cast the story of her son's miserable crucifixion as the divine sacrifice of the Savior of Mankind who took on the sins of all humankind, past, present, and future. Both plays raise the age-old question: are women simply vessels to give birth to future generations, preferably sons, or do they have value as living presences? How do women see themselves? If you want to have a visceral experience of this topic, come sit alongside "Gabriel: A Polemic."