How Free is Free Love?
"The Enchantment"
June 28 – July 22
Wed. – Sat. @ 6:30
Presented by Ducdame
At HERE Arts Center
145 Sixth Avenue & Dominick Street
$30 For tickets and information, visit www.here.org or call 212-352-3101
Reviewed by Beate Hein Bennett.
THE ENCHANTMENT - Claire Curtis Ward and Paul Herbig. Photo by Katrin Talbot.
Most theatergoers have heard Nora's door slam which ends Ibsen's "The Doll House" and the gunshot that ends Hedda Gabler's life. We have also puzzled about Miss Julie, the central character of Strindberg's play, as she careens through her affair with Jan towards her dismal end. Those female characters and their fate were emanations of male playwrights who helped to shape the psychological core of late 19th century drama and its then controversial focus on the sexual relationship between men and women. Both Ibsen and Strindberg crafted dramas with iconoclastic women. However, they saw the female ambition for a life of passion ultimately as socially destructive and personally ruinous. "The Enchantment" was penned by Victoria Benedictsson (1850-1888), a contemporary of Ibsen and Strindberg; presumably she was the real life inspiration for Hedda Gabler and Miss Julie. In her brief life that ended in suicide, Benedictsson was a successful Swedish author who had published two novels under the pen name Ernst Ahlgren before she "outed" herself as a woman author. She became a member of the Copenhagen literary scene and had a tempestuous affair with Georg Brandes, a leading literary critic and social lion. Georg Brandes was an outspoken supporter of the "free love" movement but was ambivalent about women opting for such personal liberty. Benedictsson herself saw very clearly the problem of free love for women from an intimate as well as from a social perspective.
"The Enchantment", originally produced posthumously in 1889 to controversial success, presents the female perspective of the desire for personal freedom as a conflict imposed by society's double standard regarding female versus male behavior. However, the playwright incorporates the emotional conflict engendered by the woman's sense of insecurity about her own destiny and her own value. We think that by now we have overcome this double standard but even the cliché "men are from Mars and women from Venus" articulates a persistent demarcation of expectations where male and female biology and psychology are seen as inevitably conflicting domains.
The present production at HERE by the young Ducdame Ensemble, a company formed by graduates of the London Academy of Music and Dramatic Arts [LAMDA], in association with Breukelen Stage+Film, is headed by an all-female creative team: Director Lucy Jane Atkinson, set design by Mary Hamrick, lighting by Morgan Zipf-Meister, costumes by Adrienne Carlile, and original music by Ariana Karp. The intimate space of HERE was used very efficiently and aesthetically in terms of choice of furniture and placement; various lamps hung in the background of the open space created an interesting feeling of depth dimension. The costume design and tailoring fit the period of the play which takes place in artist studios in Paris around 1888, with one scene set in a provincial town in Sweden. The director Lucy Jane Atkinson uses the space well, considering that the audience sits on three sides of the stage; her placement allows the audience to observe the emotional shifts demanded by the text. Tommy Lexen's translation for this production articulated the modernity of the play by providing an idiomatic speakable text.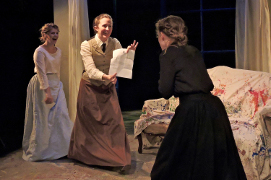 THE ENCHANTMENT-Claire Curtis Ward, Jane May, Fiona Mongillo. Photo by Katrin Talbot
Three distinct women form the core characters: Louise, a woman of thirty, newly freed from family obligations, on a visit in Paris, is played very gracefully and delicately by Fiona Mongillo; she stays with Erna, her protective friend, a painter in Paris, fiercely independent, given brittle authority by Jane May; Erna's young sister Lilly is a carefree and smart girl, played by Claire Curtis-Ward with wit and ready laughter. Three male characters are counterparts and in various stages of involvement with these women: first of all, there is Alland (presumably modeled after Brandes), a sculptor whose artistic and social success has made him irresistible to Louise—he advocates free love for men but thinks women are too weak to deal with the consequences of personal freedom; this attitude becomes Louise's personal challenge and test. Matthew DeCapua plays him with arrogant zest and charm. Viggo, a young journalist, also on a visit to Paris, is Louise's much beloved stepbrother and intimate friend; he is played by Paul Herbig with a fresh innocence that contrasts with Alland's sophistication. Michael J. Connolly plays two contrasting characters: first as Bergström, a grumbling fellow artist and friend/lover of Erna's who stands his ground despite her testy moods; in the small town Swedish scene he appears as The Clerk, an uptight petit bourgeois who proposes to marry Louise—she refuses his awkward advances that border on blackmail and flees back to Paris and Alland where she establishes her own atelier/salon. Nicholas Koy Santillo also plays two parts: a young man, Henrik and, in female disguise, Mrs. Knutson, a nosy neighbor in Skane. Ariana Karp capably plays various parts: Erna's Landlady, Louise's servant Botilda--both lusty working women-- and Lind, a young androgynous artist/hanger-on. In the beginning of the play and after intermission she is seated to the side in the shadow and plays the cello live --a piped-in loop of the same cello motif is played as a curtain warmer and before each scene.
The play depicts through the three different women, Erna, Louise, and Lilly three different female psyches and emotional experiences with love: Erna is the woman who had embraced the "free love" lifestyle—she was Alland's lover—who knows the cost and survives by fiercely embracing a cold independence. Louise, whom Erna tries to protect from the hurt that she has conquered, is seen in the throes of dealing with "free love"—she wants to understand her own erotic core—and draws her own fatal conclusion. Young Lilly and Viggo, freely and equally in love with each other, seem to represent a hope for the future where a true male-female partnership is possible. The production poses a fundamental question as a kind of moral mantra: "Is the life you've always known the life you want to live?" I suppose each of us raises this question with every radical decision we make in the course of our life. Victoria Benedictsson's play uncovers the female conundrum with regard to living life to its fullest erotic dimension.