BEATE HEIN BENNETT

A Lost Story of the Holocaust
"Benghazi Bergen-Belsen"
L-R: Giacomo Rocchini, Mohammad Bakri, Ayelet Kaznelson, (behind) Veracity Butcher, Mouna R'miki.
March 23 – April 9, 2017
La Mama Theatre (The Downstairs), 66 East 4th Street
Presented by LaMama
Thurs. – Sat. @ 8:00 PM, Sun. @3:00 PM
Gen. Adm. $25; seniors & students $20; 10 tix for $10 available on first-come, first-serve basis (advance sale recommended), Running time: 1 hour
Box Office: (646) 430-5374, www.lamama.org
Reviewed by Beate Hein Bennett April 6, 2017
As one enters the lobby to The Downstairs at LaMama, one is surrounded by a detailed exhibit of the troubled Japanese immigration story to the United States beginning around 1900 and culminating in the internment of Japanese-American citizens after the attack on Pearl Harbor in December 1941. Included in the exhibit is the rather unknown story of Japanese-American army units that fought in the European theatre of WWII. Of this history, one fact remained suppressed until the 1990s: the actual liberation on April 28, 1945 of the Dachau concentration camp by the all Nisei (Japanese-American) 522nd Field Artillery combat unit. History is full of "lesser" known or unknown stories until somebody unearths the documents to reveal another layer of human suffering, or (at times) accomplishments of those large numbers of historically marginalized groups.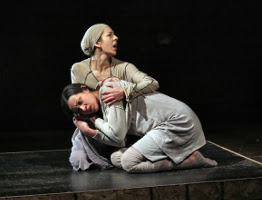 Veracity Butcher (below) as Silvana Hajaj, an ambitious young Jewish feminist from Benghazi, Libya, and Lily Leah Azrielant (above) as Rebecca, a young Dutch Jew whom she bonds with in the Nergen-Belsen concentration camp.
The play "Benghazi Bergen-Belsen" by Israeli playwright Lahav Timor deals with a "lesser" known history. Based on Yossi Sucary's Brenner Prize-winning novel with the same title, it follows the story of a Libyan Jewish family from their home in Benghazi to their ultimate fate in a German concentration camp. The historical frame is 1941-1945 when the German army invaded North Africa and, with the cooperation of the Italian military, rounded up the local Jewish population as part of the "Final Solution," the exterminating program that was already ravaging European Jewry.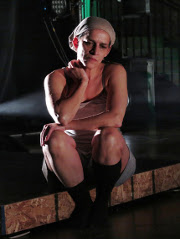 Michal Gamily
Israeli actor/director Michal Gamily, who functions during the performance as translator for the parts of the text that are spoken in Arabic, Italian, and German, has directed this narrative play with great sensitivity and inventive placement that allows the layers of time and place flow in a dream-like structure. The ordeal of the Hajaj family's odyssee is narrated by Silvana Hajaj, played by Veracity Butcher with great emotional range. She is the older and rather rebellious daughter of respected merchant Eliyahu "Lilu" Hajaj, played by Mohammad Bakri with impressive dignity and warmth. Her mother Giulia Hajaj, a middle-aged woman oscillating between modern aspirations and traditional customs, was played by Ayelet Kaznelson who showed the character's strength and helplessness often in the same moment of their horrific journey from Benghazi to the death camp. The younger daughter Toni, a bright and curious teenager, played with a lively humor and good sense of timing by Mouna R'miki, completes the family. In Bergen-Belsen, Silvana becomes intimate with Rebecca, a young Dutch Jewish internee who has lost all her family; Lily Leah Azrielant plays her with an effective emotional indeterminacy.
Three male characters appear throughout the story: Amos Roseman, a young Jew who arrived in Benghazi with a British military unit from Palestine and becomes Silvana's love interest and subject of her dreams. A contrasting figure is a German Soldier of the Bergen-Belsen torture commando who puts Silvana and Rebecca before a terrible choice. Vincent Santvoord plays both characters with appropriately different qualities; his Amos is a charming young man, while he plays the German as an imposing presence without making him into a caricature. The third male character is an Italian soldier, Massimo, who is in charge of the transport from Benghazi to the final destination—he is alternately sympathetic and cruel. Called a "German dog" by Mr. Hajaj, he displays the complex human emotions of a man who is put in the position of being an underdog with situational power. Giacomo Bocchini plays all these qualities with apparent ease. The entire multi-national cast (Israeli, Palestinian, Maroccan, Italian, American) was perfectly adept at switching from one language to another while Michal Gamily's simultaneous translations (for the benefit of the audience) did not distract from the action.
L-R: Mohammad Bakri, Mouna R'Miki, Ayelet Kaznelson, Giacomo Rocchini, Vincent Santwoord.
The space of the black box theater was used very efficiently with the simple set of a sloping ramp and some movable units designed by Gian Marco Lo Forte. The dominant use of side lighting and an overhead movable light bar, designed by Avi Yona Bueno "Bambi" created spatial variety. Avi Bellei underscored the text with a combination of soundscapes and traditional music. (I noted the final song was familiar to some audience members.) Angela Wendt's costumes for Silvana and Rebecca were a poetic rendering of feminine prison garb, a layering of grayish cloth wraps. The Libyan family wore a mix of traditional and modern clothes, while the military men wore uniforms evoking their rank and nationality.
In our times of worldwide unrest and violence where the plight of refugees and the topic of immigration are once again in the forefront challenging the status quo, this play, the third one this season dealing with the "Shoah," presents once again the topic of persecution and programmatic genocide through the lens of the individual human being and challenges our capacity for empathy.
L-R: Mohammad Bakri, Ayelet Kaznelson, Veracity Butcher, Mouna R'miki.