BEATE HEIN BENNETT

Testimonials of Survival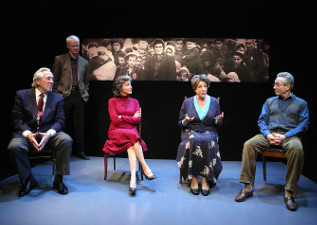 L-R: Alex Dmitriev, Jed Dickson, Emily Zacharias, Tracy Newirth, Robert Meksin. Photos by Gerry Goodstein.
"Through the Darkness"
March 9 to April 1, 2017
The Workshop Theater, 312 W. 36th Street, 4 fl. East
Presented by The Workshop Theater
Thurs at 7 PM, Fri & Sat at 8 PM, Sundays at 3 PM
$25 general admission, $18 seniors & students,
$15 student groups
Box Office www.workshoptheater.org
or 866-811-4111 (Ovation tickets)
Group sales: ticketing@workshoptheater.org
or 212-695-4173 (Kevin Stanfa)
Reviewed by Beate Hein Bennett, March 10, 2017
Photos by Gerry Goodstein
Alex Dmitriev as Peter.
While the Jewish Holocaust with its millions of dead recedes into the further recesses of general history, and the survivors are approaching the last phase of their life, individual memory in the form of stories told still has the power to awaken in us the full horror of the lived experience. In the present production of "Through the Darkness" by Alan Breindel, we are not so much voyeurs into intimate lives but rather witnesses to a range of experiences and actions that demonstrate individual human suffering and resilience in the face of overwhelming odds of survival. In the intimate space of The Workshop Theater, director Leslie Kincaid Burby created ninety minutes of narratives with four actors alternately sharing the stories of their progress through hell. The four actors portray distinct characters with composite narratives of actual lives while a fifth actor, The Writer, stands in for Alan Breindel who collected over a number of years survivor accounts in interviews that formed the raw material for his dramatic text.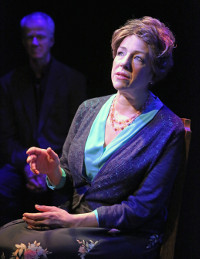 Tracy Neuwirth as Clara.
The dramatic structure is a series of four interwoven separate narratives with The Writer at times engaging with one or another of the four survivors by taking on the role of interlocutor or absent character. In Craig Napoliello's simple set, lit by Diana Duecker, the actors are placed on four different old-fashioned wooden chairs in front of a large reproduction of a photograph taken during a round-up of Jewish men, women, and children in a Polish ghetto, perhaps Lodz, during the Nazi occupation. To indicate time passage the actors change chairs between segments in the course of the play. Considering that this script is not really a "play" with a plot and characters interacting through dialogue and action, director Leslie Kincaid Burby keeps the audience's attention engaged throughout by creating interesting ensemble configurations and moving the actors appropriate to their individualized characters.
Robert Meksin as Simon.
Simon, embodied by a very energetic Robert Meksin, stands out as a character with probably the most peripatetic fate and unflagging physical and mental resilience; he starts in Poland, gets to Tashkent, is a Soviet soldier, is captured, transported to Majdanek, escapes, and ultimately makes his way to the United States. Peter, performed elegantly by Alex Dmitriev, is a reserved and older Jew, originally from Nuremberg, who is sent to the United States as a youngster in the 1930s, becomes an American soldier who is captured at the Battle of the Bulge and ends up a POW in a German camp but survives. Clara, portrayed by Tracy Newirth as a modest but deeply emotional woman tells of her escape from her home, a shtetl in Northern Poland, and her journey by foot, passing as a blond German, to end in Stuttgart, Germany where she works in a sawmill, only to return after the war to her home where she can find nothing of her former life.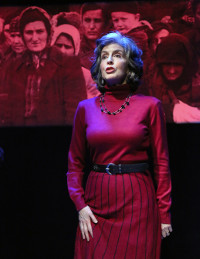 Emily Zacharias as Helen.
Helen, a glamorous and sophisticated upper middle-class woman from Lodz who survived Auschwitz, was played by Emily Zacharias with a sense of fierce yet cool sarcasm that betrayed her story of deep loss—as she says "something will always be missing." Jed Dickson as The Writer moves among his "subjects" with an objective yet empathetic simplicity. Between the passages are subtle background sounds, designed by David Margolin Lawson; sounds of trains with steam-engines coming to a stop, crowds of people, bombings create an environmental context. Simple costumes, appropriate to character and time, designed by Kimberley Jean Windbiel, contribute to an overall attractive impression.
The narratives of "Through the Darkness" and this production in an intimate space in our large city that has a tradition of welcoming refugees and survivors of human-made catastrophes, whether political or economic, provide not only a reminder of our collective past but also a plea for attention to our present political condition of millions trying to survive and find refuge.