"GOLGOTHA"
Living on the Skulls of the Past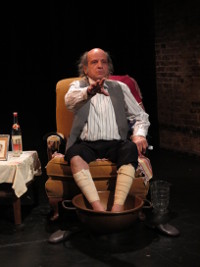 Victor Attar in "Golgotha."
January 26 to 29, 2017
LaMama, 74A East 4th Street
Presented by LaMama
Thursday, Friday, Saturday 7:30, Sunday 2:00 PM
$18/ $13 students and seniors, ten $10 tickets available on a first-come basis
Box Office: (646) 430 5374, www.lamama.org
Reviewed by Beate Hein Bennett January 26, 2017
The day I am writing this, January 27, is the United Nations World Holocaust Day in commemoration of the liberation of Auschwitz by Soviet troops on January 27, 1945. Any survivor who wears his internment number on his arm must relive his hell whenever his eye catches this image--he does not need a specific day. However, the rest of the world for whom this symbol of abomination recedes in memory needs to be awakened to the fact that humanity has yet to shed its capacity for inflicting horrendous suffering and injustice. The Holocaust deniers and doubters are amongst us, and programmatic persecution and genocide has been a fact somewhere in this world with every generation since World War II ended and persists to this day. Amongst perpetrators and sufferers silence has been the predominant modus vivendi until challenged. The law courts have gone only so far; the larger public challenge has come from artists and writers, albeit Theodor Adorno proclaimed, "after Auschwitz, there can be no poetry."
La Mama is presenting "Golgatha" by Shmuel Refael as part of the Holocaust commemorations around January 27. In 2005, Victor Attar performed this solo piece for the first time at La Mama to critical acclaim. In the present production, again under the direction of Geula Jeffet-Attar, with music by Yuval Mesner and video art by Dana Levy, Victor Attar again brings to life the tragedy of Albert Salvado, a Sephardic Jew from Thessaloniki (Salonica) who survived Auschwitz as a slave member of the Sonderkommando. This was the most infamous invention of Nazi death camp organization: Jews were assigned to the Sonderkommando [special command unit] to shove other Jews into the gas chambers and thence into the ovens. Many committed suicide. Albert Salvado was kept alive by a Polish Jew--his friend Danielico--who told him that they must stay alive to give testimony about all that had transpired in the camps. Albert is now an old man who lives alone in Jerusalem. It is the eve of the torch lighting ceremony at Yad Vashem in commemoration of the dead.
The play is set in Albert's sparsely furnished living room--a tattered arm chair covered with a couple of lace doilies, next to it a table with a small framed photograph of his wife and a bottle of ouzo, towards the back a trunk with a pile of telephone books and a telephone, a hat stand with an assortment of ties or "cravats." Before we see any character, we hear some door slam and grumbling, then the laboring sounds of a man climbing stairs, another door slam, and there he is Victor/Albert, a diminutive man, dressed in neat but visibly old clothes, carrying a plastic bag, shuffling to his arm chair, collapsing into it, taking off shoes and socks, revealing support bandaged calfs, getting up again, hauling over a copper pan, and preparing his feet for a cold footbath which he clearly relishes. The text starts innocuous enough with complaints about present living conditions, i.e. doctors and medicines, transportation--all delivered with apparent delight in the act of complaining. However, we gradually descend into Albert Salvado's inner hell--the memories of his loss of self, of his wife, of his two daughters in that inferno. Victor Attar's power to draw one inside his pain lies in his physical stillness--with his wide open mouth and his incongruously large hands like two rakes in front of his chest, he seems at times frozen in his own internal image of what he was forced to participate in. His performance is so strong that the video background images of swirling faces that are gradually obliterated as though being burnt, while artfully coordinated with the text, are at times a visual overload. In the course of sixty minutes, the audience witnesses the real cost of surviving such an ordeal. As Salvado expresses it--it is the burning deep in the heart and gut that never leaves. This is truly hell!
While the history of the Holocaust has mostly dealt with Ashkenazi Jewry, this play raises awareness of the Sephardic losses. Wherever the Nazis and the Fascists extended their military and political power, all Jews were affected, including in Greece and Northern Africa where most Sephardim had made their home after the 1492 Spanish expulsion. The internment and death camps throughout the occupied territories became international terminals of hell. The writer Shmuel Refael drew upon his father's experiences and in 2001 conducted research under a commission from the foreign ministry of Spain. Israeli screenwriter Haim Idissis adapted his script. Howard Rypp provided the English translation.
If you are looking for a different voice in an honest and modest rendering of the tragedy of our twentieth century, I strongly recommend you make your way to La Mama.