"…that endless tundra of aloneness"
"Afterplay"
October 2 – November 6
Presented by Irish Repertory Theatre
Irish Repertory Theatre, W. Scott McLucas Studio Theater
132 West 22nd Street, New York
Tues. + Thurs. 7 PM; Wed., Fri., Sat. 8 PM, Wed.+Sun. 3 PM
$50 General Admission, www.ovationtix.com, 212-727-2737
Reviewed by Beate Hein Bennett Sept. 30, 2016
Chekhov said somewhere that the greatest tragedies happen around a dinner table. "AFTERPLAY," a one-act play for two characters by Brian Friel, is a dramatic variation on a theme by Chekhov. In fact, the two characters-- a man and a woman—have stepped out of two different Chekhov plays and been given a life extension. Sonya is Uncle Vanya's capable niece while Andrey is the feckless brother of the Three Sisters. We meet the two of them in the 1920s in some Moscow café of faded former elegance, some twenty years after their original (fictional) existence. Thus "Uncle Vanya" and "The Three Sisters" provide the fundamental backdrop to Friel's play.
Dearbhla Molloy and Dermot Crowley. Photo by Carol Rosegg.

Under the superb direction of the eminent Joe Dowling in the lovely setting designed by John Lee Beatty with careful attention to period detail and atmospheric lighting by Michael Gottlieb, the two actors, Dearbhla Molloy as Sonya and Dermot Crowley as Andrey, perform together a piece of theatrical magic akin to chamber music in its delicacy of sound and contained movement. Friel gives them all the subtle pathos of the Chekhovian characters—their longings, their foibles, their proclivity to illusion—and their social failures, or rather the social fabric that has come asunder already in Chekhov's world. Both, Chekhov and Friel are very subtle in their hints of the socioeconomic circumstances that bring about the downfall of these families; both writers implicate the outside world in the private sphere of the characters. The impending doom of the estates and subsequent poverty of the families is in Chekhov a constant source of anxiety for the characters that are for the most part incapable of grappling with practical problems or in denial. Friel's two characters are dealing with the consequences of the collective ineptitude and experiencing actual poverty. Sonya and Andrey are middle-aged down-at-the-heel failures hanging on to their existence with self-deprecating humor and some falsehood or fables, as Andrey calls his lies, but above all, with fortitude and courage, as Sonya keeps admonishing herself—and the requisite swig of vodka. As I was intensely listening to the dialogue, with the fact of chaotic 1920s post-revolutionary Moscow in my mind, I was surprised that Friel did not give his characters any lines that would reference the cataclysmic events of 1919. At most Sonya's comment about her love, Michael Astrov, the local doctor in "Uncle Vanya" that "…those great social issues gradually took over his life and he gave himself over to public things…" is perhaps meant to suggest that greater history. However, neither Andrey nor Sonya pursue this any further. What is clear from their dialogue is that both have sunk to the bottom of their economic existence, and all they can afford in the café is a glass of weak tea, cabbage soup, and a slice of brown bread which they nurse in the course of their seventy minute meeting. Beatty's pre-revolutionary environment of faded rococo wood paneling and soft little café lights is Chekhovian but Friel's characters struggle to maintain their dignity in a world that is lost to them.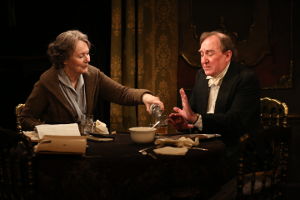 Dearbhla Molloy and Dermot Crowley. Photo by Carol Rosegg.