Ten Actors Make One Hamlet

"Hamlet 10"
March 23 to April 9, 2016
New York Shakespeare Exchange
Presented at The Flamboyan Theater
The Clemente Soto Velez Community Center
107 Suffolk Street, New York, NY
Wed/Thu/Fri/ Sat at 7:30, Sun. at 3 PM
Tickets: $18, call 917-428-0065
or email www.shakespeareexchnage.org
Reviewed by Beate Hein Bennett April 6, 2016
Hamlet: In the course of a life-time you think you've seen them all—the brilliant one, the wild one, the delicate one, the contemplative one, the mad one, the effeminate one, the athletic male or the athletic female, the schemer and the joker! That is, until you see a communal "Hamlet" – where The Hamlet becomes the Hamlet of us all who "suffer the slings and arrows of outrageous fortune."
Hamlet 10. Photo by Martin Harris.

The ensemble of New York Shakespeare Exchange manages to do just that with its ingenious production of "Hamlet 10," under the tight adaptation and inventive direction of Ross Williams. His staging is supported by Jason Lajka's ingeniously simple scenic design with Drew Florida's fluid but clear lighting design that allows the audience to follow the rapid shifts of scenes and actor/character switches—each ensemble member plays Hamlet at some point but also is identified with a specific other character, regardless of the actor's age or gender. The ensemble also functions as the stage hands who take apart and re-assemble the cubistic two-step units that are first seen as the square raised platform but swiftly come apart to form Elsinore's ramparts, the throne room, Gertrude's bedchamber, the lobby where Ophelia and Hamlet meet and are spied on by Claudius and Polonius etc. Elivia Bovenzi's tasteful costume design works with emblematic but modern pieces that can be quickly exchanged, discarded, and put on, depending on need. The costumes express each character's social function but also his or her psychic personality.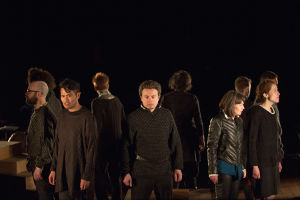 Hamlet 10. Photo by Martin Harris.

The ensemble consists mostly of young actors with varying degrees of experience. However, some mature and accomplished actors complete the cast. Of note: Harry Barandes who plays Horatio with the necessary gravitas and handles Shakespeare's language with elegant clarity; Julie Delaurier plays Polonius as the ultimate politician whose rhetoric shifts with the political winds; elegant, diminutive Julia Watt lends a sharp yet sensual edge and a resonant voice to Gertrude.

All of the young actors play their roles with absolute sincere commitment. Of note: Sarin Monae West and Sean Hinckle as the bumbling friends Rosencrantz and Guildenstern form a humorous team. JC Vasquez as Laertes and Kevin Brewer as Claudius were solid presences. Elizabeth Neptune and Nathaniel P. Claridad gave good performances. Rebeca Miller plays a highly emotional Ophelia—her mad scene in which she hands to each of the stricken assembled instead of the flowers a wooden board that later becomes part of the grave is quite effective. However, her garbled diction and distortions of Shakespearean rhythms detracted from an otherwise strong performance. In general, I would recommend to all young actors, work on your voice, on clear diction, on the necessary breath support with your diaphragm, if you have the chance to play Shakespeare in order to sustain his lines and rhythms—it is a physical as much as a mental task and the ultimate actor's challenge.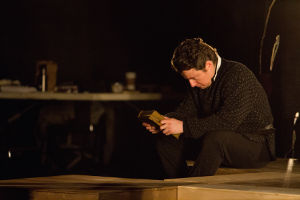 Hamlet 10. Photo by Martin Harris.

In all, I felt the production gives a fresh reading to a familiar play. Transforming Hamlet's soliloquies into a choral form or into some collective discourse created an effect similar to that of the classic Greek chorus—it has a communal function that links the argument of the play to the concerns of the audience, thus binding the theatrical event into an identifiably common experience.