Conquered Territory
"Incident at Vichy" by Arthur Miller
October 27 – December 20, 2015
"Incident at Vichy" by Arthur Miller
Presented at Signature Theatre, 480 West 42nd Street
Tues-Fri @ 7:30 PM, Sat.@ 8 PM, Wed., Sat., Sun matinee at 2 PM
Tickets: 212-244-7529 Tues-Sat 11 AM-6PM, www.signaturetheatre.org
Groups of 10+: 646-388-8113
$25 general admission
Reviewed by Beate Hein Bennett November 14, 2015
Darren Pettie as Reduc & Richard Thomas as Von Berg. Photo by Joan Marcus
To watch this harrowing play a day after the terrorist attacks in Paris lent a special emotional edge to an already highly charged play. In January 1965 I saw the original Lincoln Center Repertory Theatre production, directed by Harold Clurman. I was a student of theatre newly arrived from Germany. The experience is etched in my memory—in my native Germany I had not yet seen any treatment of the Nazi horror on stage. I remember the group of men tightly squeezed together on a bench, going through their agony of fear—the fear of being who they are in a place that is determined to destroy them for being who they are. Set in 1942 Vichy, France—the so-called free zone-- during the increasing incursion of German military force and deportations, Miller's play drives home the corrosive effect of terror on human beings and the nearly unconscionable moral strength required to remain a human being under the strain of the real possibility of extermination.
Signature Theatre's production in the sensitive direction by Michael Wilson, with an impressive set by Jeff Cowie, and unobtrusive but differentiated costumes by David. C.Woolard, gives voice and body to Arthur Miller's profound and manifold examination of human behavior under extreme conditions. The space is a dilapidated warehouse with dark gray walls and high up broken windows covered with pieces of brown wrapping and newspaper, loose cables lying about, and three industrial overhead floodlights; upstage right a narrow hallway leads to the outside, and downstage left a double door (one a wire door) leads to the examination room. An assortment of stools, chairs, and a small bench are occupied by a motley group of men: a man in a blue business suit (Marchand); another in a black suit with a stylish scarf and a black hat (Monceau); another in workmen's clothes and cap (Bayard) and next to him young man with paint splattered pants (Lebeau); against the upstage wall a Boy in a ragged pair of pants and shirt sits next to a Waiter; downstage left, near the double door a swarthy man (Gypsy) reclines on the floor holding a copper pot.
A booming crescendo (sound design by John Gromada) begins the play. Suddenly bright lights illuminate the tableau of men sitting absolutely still on their chairs, until the vaguely audible sound of the Gypsy (Evan Zes) scratching with his fingernail the inside of the copper pot brings the men to life, and the painter Lebeau (Jonny Orsini) utters the first line "A cup of coffee would be nice." The first image sets the tension that is to intensify throughout the following ninety minutes, played without intermission. The superb ensemble of actors enacts the collective mounting fear with reactions that alternate between outrage, acerbic humor, rationalization, resentment, hostility, and silence. Each character fulfills a social as well as an individual role in Miller's dramaturgy of gradual revelation and elimination.
Each actor provides a finely crafted presence and emotional quality with which the director creates visual counterpoints to the foreground action that involves usually a tempestuous argument between two or three of the major figures. For example, as the Old Jew, played with wordless dignity by Jonathan Hadary, sits with his bundle against the back wall and silently prays, the actor Monceau, played by Derek Smith with elegance barely covering his fragile confidence in the power of the mask, holds forth in an effort to convince others that one must simply perform the legitimacy of one's existence in order to survive; moreover, a cultivated people like the Germans would simply not be as barbaric as it is rumored. Several characters among the detainees dominate by articulating contrary points of argument: the painter Lebeau whom Jonny Orsini endows with a youthful energy, intelligent humor, and credible fear; the psychiatrist Leduc played by a forceful Darren Pettie; the worker and socialist Bayard played by Alex Morf with persuasive sincerity; and the Austrian aristocrat von Berg who, in Richard Thomas's portrayal, embodies a bygone era of chivalry and modest rectitude.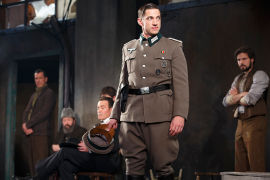 James Carpinello as Major. Photo by Joan Marcus
Pitted against them are the Nazi figures: Hoffmann, the ridiculous German Professor of racial anthropology who believes in measuring noses and penises to determine the Jewish identity that condemns a person to be deported to Auschwitz, portrayed by with the quality of eager viciousness by Brian Cross; the interesting figure of the German Major, whose unpredictable violence covers a profound fear and disgust with his position and whom James Carpinello plays with frightening pathos. AJ Cedeno portrays the collaborationist Vichy Police Captain with a deceptive charm that covers over his own fear and insecurity in his subservient function.
Arthur Miller's play resonates today as forcefully as it did in 1965. Once again, the question of political exigency, personal responsibility, and social consciousness are challenged by bigotry, cruelty, and sheer terror. Signature Theatre's contribution to Arthur Miller's 100th birthday celebrations and its own twenty-five year existence demonstrates with "Incident at Vichy" the enduring power of Miller as a moral voice and its own position as a serious theatre for the serious playgoer.