"Old Flame" Depicts The Power of Old Romance.
"Old Flame" by Richard Ploetz
directed by James Glossman
April 24 to May 17, 2015
Theater for the New City, 155 First Ave. (at E. 10th Street)
Presented by Theater for the New City
Reviewed by Paul Berss May 17, 2015
We all know the expression "there's no fool like an old fool." Does it apply to Richard Ploetz's five-character "Old Flame," or is the leading character not a fool but really a tortured 72 year old who remains truly in love with his high school sweetheart?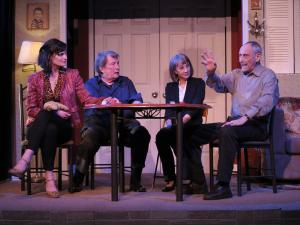 L-R: Prentiss Benjamin, Frank Anderson, Linda Setzer and Jerry Matz. Photo by Jonathan Slaff.
New Yorker Mike Ripley (Frank Anderson), a dentist now living in Florida, makes a surprise call to Babs (Linda Setzer), his high school sweetheart, on their mutual birthday. He soon returns to New York withhis glamorous girlfriend Leonora Todorovich (Prentiss Benjamin), meets in private with Babs and professes in flowery, sometimes even poetic language, his love for her. He is convinced that he missed the boat and ruined his life by not marrying her. Mike has never gotten over her, nor the fact that, tho he asked Babs to wait until he returned from the Korean war, she went ahead and married Frank (Jerry Matz), a good-natured former tire salesman.
The fine cast reveals themselves in a series of short scenes between the two couples, the two women, the two men, Frank and Babs and their son.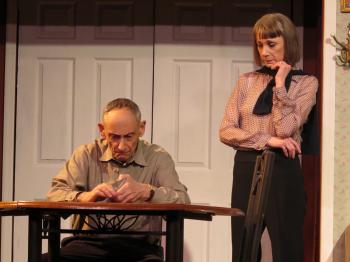 Jerry Matz and Linda Setzer. Photo by Jonathan Slaff.
For Babs and Frank, the honeymoon is long over. Babs admits to her son Marshall that she married his father 50 years ago on the rebound, obviously not willing or confident enough to wait for Mike until after the Korean war. She responds to the lure of feeling young again, passionate and in love, but is too practical and unsure to make any dramatic changes. Her husband Frank realizes that another man wants his wife and, unable and unused to fighting for her, simply deteriorates under the strain. Their son Marshall has his own problems. His otherwise passive father never seems to tire of scolding Marshall for not marrying his previous girlfriend Anita, rather than the woman that he did marry, unmoved by the fact that Marshall is perfectly happy with his wife.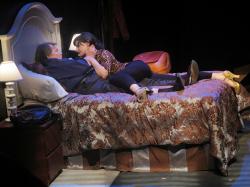 Frank Anderson and Prentiss Benjamin. Photo by Rosalie Baijer.
Mike's girlfriend, whom he claims to love in a bedroom scene, is the much younger Serbian bombshell named Leonora. She claims to have been a dentist in Serbia, but now has to work as an assistant to Mike. Perhaps due to a scaring wartime childhood, she is attached to Mike and perplexed about him wanting to reunite with Babs. But she's a realist - she's also attractive, sexy, and earthy - and I think would land on her feet if abandoned by Mike. As for Mike, he struck me as living in a world of fantasy, not so much wanting Babs as wanting to feel young and in love again. I wondered if a few lines of tenderness or self-revelation would have given the over-the-top Mike another dimension.
For me, the play offered no suspense: would Babs leave Frank? I never suspected nor feared that Babs would make a move. Her words, personality, even costumes, did not project a woman who had the fire or motivation to make a dramatic life change. Would Mike break off with Leonora and start a new life with Babs? Mike struck me as all memories and talk. I wasn't convinced that he really loved, or even really knew, Babs. I feared that he would soon be longing to be back in bed with Leonora, with whom he enjoyed a lively sex life.
And so, in the end, no physical changes have taken place. Babs and Frank will clearly stay together, even though he feels betrayed and she must be left even more unsatisfied; Mike and Leonora will return to Florida together, even though she knows that she's second best to Mike's idealization of Babs, and Mike has to face the fact that his fantasy has failed. Have their lives been made worse, or is the power of love worth the risk?