Alexander Harrington
Brutality without Redeeming Social Importance
"The Garage"
January 28 to February 7
La MaMa E.T.C. (Ellen Stewart Theater), 74A East Fourth Street
Presented by La MaMa E.T.C.
Thursdays through Saturdays at 7:30 pm; Sundays at 2:30 pm
General admission $20.00; Students/Seniors $15.00
Box office (212) 475-7710; www.lamama.org
Reviewed by Alexander Harrington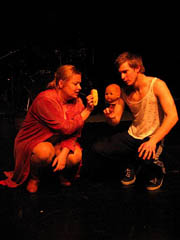 GARAGE -- Ksenija Marinkovic and Vedran Zivolic,
Mother and son playing in the garden with a potato and doll's head. Photo by Zita Bradley.
The Zagreb Youth Theatre's well-acted stage adaptation of Zdenko Mesaric's novel The Garage depicts brutality: the brutality of child abuse and exploitation, wife-beating, and blood sports. The program notes argue that the play's "metaphorical subtext remains anchored in the post-communist horror of modern transition economies." Here the production (and, I suspect, the script) fails to deliver.
The play tells the story of a ten-year-old boy named Binat, whose abusive father enters him into underground gladiator-style fighting matches. Binat's father also abuses his severely diabetic wife. The primary industry of Binat's town is a government-sponsored euthanasia resort. With the exception of the euthanasia resort, which I will address later, all this is, indeed, horrible, but not particular to formerly communist societies. Dickens dealt with child exploitation and familial abuse, albeit less graphically and in a 19th century realist (as opposed to surrealist) style. The fact that the actors are Croatian and speak English with Slavic accents and that the family members seem to be agricultural peasants suggests the play is set in Eastern Europe. That a seemingly wealthy German woman is a guest at the government-sponsored resort may indicate a transitional economy. Not being from a formerly Stalinist or Titoist country, I may be missing something, but the three aforementioned facts seem to be the only things that anchor The Garage "in the post-communist horror of modern transition economies."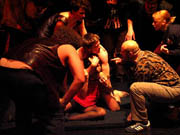 (L-R) Mladen Badovinac, Nina Violic, Vedran Zivolic, Doris Saric Kukuljica, Sreten Mokrovic, Barbara Prpic. Photo by Zita Bradley.
The play's attitude toward euthanasia is not ambiguous, but confused. Most often director Ivica Buljan depicts the assisted suicide spa with glib, sophomoric black humor – having cast members perform song-and-dances to promote euthanasia tourism. However, there is one scene in which a mother brings her terminally ill son to the resort and graphically describes his suffering. I seriously doubt that this seeming contradiction is an attempt to spark balanced debate. If it is, it does not succeed.
Child boxer in grief being comforted by priest. (L-R) Vedran Zivolic, Goran Bogdan. Photo by Zita Bradley.
There is much confusion in this production. Binat is played by Vedran Živolic, who appears to be in his 20s. Audience members who have not read the program synopsis will be puzzled by Binat's childishness until his age is revealed about fifteen minutes into the play. Even for a ten-year-old, Binat is incredibly childish and extremely verbally limited. Still later in the play, his father calls him by what may be an epithet for a mentally retarded person, but it's not clear if he is, indeed, retarded.
There are many things that are described in the synopsis that are not communicated on stage. The audience has no way of knowing that Binat's first opponent is another child, nor that one character is missing an ear. Inexplicably, a character who is referred to as The Muscular Blonde in the synopsis and who wears a blonde wig in publicity photos is auburn- or brown-haired on stage. The synopsis tells us that Binat's legs are torn to shreds when he fights a rabid dog. On stage, we hear that he is defeated, but immediately after the fight, he seems uninjured, yet later we seem him crawling and carried by his father. On stage, it is mentioned very quickly that Binat has killed one of the euthanasia tourists – no mention is made of this in the synopsis.
Young boy being prepared for a boxing match for a snuff video. (L-R) Vedran Zivolic, Nina Violic. Photo by Zita Bradley.
Confusion results not only from the disjuncture between the production and the synopsis (and, presumably, the script). Eventually the savagery of Binat's upbringing expresses itself in the child's torturing of the family's pig. Binat starts to draw pig faces everywhere. Fine – this is comprehensible and consistent. But The Muscular Blonde then uses lipstick to paint Binat's body with pig faces. If this is a non-realistic conceit intended to suggest either Binat's literal injuries or his growing bloody-mindedness, such conceits are not consistently used in the production. Consistency and logic should not necessarily be demanded of non-linear, visceral, visual pieces of theatre. But, despite its surrealism, The Garage is a traditionally plotted play.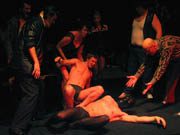 (L-R) Frano Maskovic, Sasa Antic, Nina Violic, Vedran Zivolic, (black mask,) Barbara Prpic, Mladen Badovinac, Sreten Mokrovic. Photo by Zita Bradley.
Likewise, despite its surrealism, the production's acting style is realistic. And all the actors are believable, particularly Frano Maskovic and Ksenija Marinkovic as Binat's father and mother. It is hard to judge Živolic performance as Binat because of the inadequately explained inarticulate and infantile nature of the character. Živolic is a talented physical performer.
The production is very physical. The fights are not pretty, choreographic stage combat, but move with the speed of actual violence. Markino Petricevic is credited as "coach" in the program. The physicality of the production combined with the music of The Beat Fleet (they described in the program as Croatia's "foremost hip-hop band," though, for the most part, the music sounded like punk to me) has the potential to give the audience a visceral experience. For me, it did not quite achieve that, but visceral experiences are highly subjective.