Alexander Harrington
Looking Through a Glass Darkly
The Capitalist as Artist in Howard Korder's "Search & Destroy"
"Search and Destroy"
Directed by Nick Meo and presented by Strudel Productions
January 14 to 23, 2010
The Kraine Theater, 85 E. 4th Street, Manhattan.
(http://www.strudelproductions.com)
By Alexander Harrington.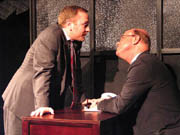 "Search and Destroy" by Howard Korder, a portrait of nefarious business practices and moral degradation in the Reagan era. L: Kelly Miller, R: Bruce Barton. Photo by Raji Bhathal.
At first glance Howard Korder's 1990 play Search and Destroy, being revived by Strudel productions at the Kraine Theater, is very much in the vein of David Mamet: a small-time operator (in this case, Martin Mirkheim, who books Icecapades-style events and evades taxes) desperately tries to raise money to produce a movie and ends up involved in a drug deal that goes very wrong. The play seems to echo critiques of Reagan-era selfishness such as Oliver Stone's Wall Street in which corporate raider Gordon Gekko proclaims "greed is good." The movie Mirkheim is seeking to make is of a novel by a self-help guru in which the main character overcomes his guilt about killing his father and which espouses the philosophy, "overcome your fear" and "be a threat."
L: Kelly Miller, R: Bruce Barton. Photo by Zita Bradley.
Unlike Mamet's and Stone's characters, Mirkheim is not trying to make money or get laid. He wants to make the movie not in order make a killing, but to give his life purpose. Rather than following the money, Mirkheim is following his bliss as Joseph Campbell would urge him to do. If Search and Destroy is an attack on anything, it is an attack on all self-centered philosophies, including those that have noble, rather than crass, goals.
If Korder is attacking Martin Mirkheim, who stops at nothing to produce a meaningful work of art, he is, by extension, attacking artists who put their work above of all other considerations. How many theatre and dance companies, orchestras, filmmakers, museums and galleries, and public television and radio stations take money from tobacco companies (or for that matter oil companies)? How many artists neglect their responsibilities to their spouses and children or sponge off their parents?
L-R: Erickson Wilcox, Kelly Miller, Andrew Kaempfer. Photo by Zita Bradley.
But is Search and Destroy an attack on anything? Martin ends up starting a film-production company with money he presumably stole from someone he murdered. He has financially established the company by making a slasher/monster movie and is about to embark on his dream project. In director Nick Meo's very well-acted production, Kelly Miller's Mirkheim is transformed by his success from a nervous, suit-wearing weasel who has separated from his wife into a calm, centered, cardigan-sweater-wearing husband and father. In this production Korder's attitude is ambiguous regarding the means by which Mirkheim achieves his goal.
If Search and Destroy is an attack, the audience need not go down to Wall Street to see the play's targets; they can simply look at the actors on stage, the director sitting in the back row, and the downtown theatre-goers next to them.