"LOVE 'N COURAGE," A BENEFIT FOR THEATER FOR THE NEW CITY'S
EMERGING PLAYWRIGHTS PROGRAM
Stars and celebrities will come together to support a theater
that is itself dedicated to love and courage.
Evening honors the memory and legacy of benefactor Ursula Corning.
Monday, February 9, 2004
Doors open 6:45 pm, supper at 7:00 pm.
Tickets $100 per person; available from www.theaterforthenewcity.net or by calling (212) 254-1109.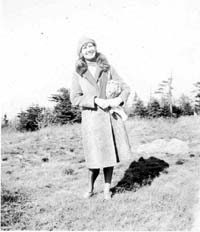 Ursula Corning in 1929
Stars, VIPs and well-wishers will gather February 9, 2004 for "Love 'n Courage," a benefit for Theater for the New City's Emerging Playwrights Program that honors the works and spirit of TNC's longtime friend and supporter, Ursula Corning. The evening will feature readings and performances by F. Murray Abraham, Ossie Davis and Ruby Dee, Tammy Grimes, Kitty Carlisle Hart, Grace Paley, Marilyn Sokol, Elaine Stritch, Jerry Tallmer, Eli Wallach and Anne Jackson, Roberta Wallach, Betsy von Furstenberg, Glynn Vincent and more. Elected representatives expected include Assembly Member Deborah Glick, City Councilmember Margarita Lopez, DCA Commissioner Kate Levin and more. The evening will be emceed by Charles Busch.
The evening Includes champagne supper and a 13 minute video documentary on the 30 years of TNC, which features, among others, performances by Tim Robbins as a child actor and interviews with Peter Schumann. Doors open 6:45 pm, supper at 7:00 pm. Afterwards there will be dancing to the Reggae band Liv-i-Culture. The event is being chaired by Betsy von Furstenberg.
The title of the evening deliberately suggests a double meaning: "encourage," since this is what TNC does for emerging and mid-career playwrights, and "courage," since that is what they need to exist in this world. "Love" may not be all you need, but a good dose of it won't hurt.
Ursula Corning was an original benefactor of Theater for the New City and maintained a close relationship with the theater until her death on March 20, 2002. She was 99. Her charitable works included supporting many New York arts and charitable causes, both personally and through the Vidda Foundation.
She was the daughter of Professor H.K. Corning, who was a prominent medical anatomist in Europe. He was a member of the Ranieri family, and the Ranieri were Bourbons. Although she was not trained as a doctor, she was comfortable in medical surroundings, and when she felt "lost" as a young adult, wisely followed the advice of friends and took on a career as a medical physical therapist. She was actually an originator in that specialty. Beginning in the 1930s, she worked under a Doctor David Gurewitsch, who treated President Franklin D. Roosevelt, and for the neurological institute of Columbia University Medical Center. She retired from the Center in 1965 but continued to work in Dr. Gurewitsch's office until his death in 1974. Although she never personally treated FDR, she was invited to the White House and dined at Hyde Park.
Ursula Corning at 13th century Civitella Ranieri castle, Italy
Ms. Corning worked for the OSS during World War II. She was also an avid mountain climber and member of The Alpine Club in London. She climbed The Matterhorn.
When she worked, you would never know she was a woman of wealth. Once, it is said, she was treating a notable dress designer. Ms. Corning admired one of her patient's designs and mentioned that she would like to order such a dress. The designer politely advised her that it would be beyond her means. Needless to say, Ms. Corning got the dress.
When she first became a funder of Theater for the New City, it was at the time of a play called "Dracula Sabbat," which had a lot of nudity. Someone in her circle challenged her, saying that she was supporting "the most outrageous theater in the City." She simply smiled and said "Oh, really."
Ursula Corning and cat. Photo courtesy of Theater for the New City
In 1968, Ms. Corning began 35 years of annual summer residencies at the 13th century Civitella Ranieri castle in the Umbria region of Italy where she hosted friends and artists from all over the world, providing an extraordinarily hospitable environment for them to exchange ideas and explore the artistic treasures of central Italy. Following her death, this traditional place of artists' pilgrimage has been reconstituted as The Civitella Ranieri Center and endowed to become a workplace for gifted artists from different disciplines and countries. The Center seeks to enable its Fellows to pursue their work and exchange ideas in this unique and inspiring setting. It is funded by the Civitella Ranieri Foundation, a non-profit operating foundation organized under the laws of the State of New York, with offices in New York City.
It is Ms. Corning's legacy to love 'n courage through the Arts.
She was also a generous supporter of Columbia Presbyterian's Department of Rehabilitation Medicine and through her Vidda Foundation, she funded the Dessoff Choir for many years.
She was a cat lover, always having two and saving the lives of many more.