Ironies of love and marriage
A review of the revival of W. Somerset Maugham's 1926 comedy "The Constant Wife"
By Robert Hicks
July 2005
American Airlines Theatre, 227 West 42nd Street
Tues-Sat. 8:00 pm; Wed., Sat. and Sun. 2:00 pm
$66-$86
(212) 719-1300
Extended through Aug. 21
Reviewed by Robert Hicks on Sat., July 30, 2005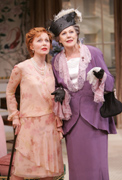 The Roundabout Theatre Company's "The COnstant Wife." (L-R) Kate Burton, Lynn Redgrave. Photo by Joan Marcus.
Yes, I've finally gotten around to seeing the Roundabout Theatre Company production of W. Somerset Maugham's 1926 comedy, The Constant Wife, now extended through Aug. 21 at the American Airlines Theatre.
Maugham's drawing room comedy about marital infidelity among London's upper classes surely must have ruffled some Victorian sensibilities, with its feminist views about career women, in 1920's London.
In this splendid revival, director Mark Brokaw's emphasis on the characters' physicality and verbal wit and a fast-paced production keep this comedy of manners rolling along at a sprightly pace suitable to a modern sensibility.
Actress Kate Burton is simply delightful as Constance Middleton, the spurned wife who uses all her wits to turn the tables on her unfaithful husband, John. "We ceased to be in love with each other simultaneously," she tells him late in the play, hinting at her own ambitions to return to her former lover, Bernard Kersal, and to establish her independence as a career woman.
Lynn Redgrave is a bit more uneven in her portrayal of Constance's mother, Mrs. Culver. Early in the play, her character grabs our attention and makes us laugh when she comments that she thinks men are naturally wicked. But she ultimately subscribes to the prototypical Victorian view of wives as forgiving, submissive and proper ladies whose lives are spent in constant deference to their husbands. She finds her daughter's reaction to marital infidelity unfeminine and improper in keeping with the social decorum of Victorian England.
Michael Cumpsty renders John Middleton with just the right mix of savvy, adulterous rogue and abject, repentant husband. John Dorsett comes across as too doughty at times to be believable as a second-time-around suitor enamored of and in love with Constance. Kathryn Meisle is sometimes a bit too giddy for her own good as John's inamorata and Constance's best friend, Marie-Louise Durham. With good purpose, John Ellison Conlee is morbidly overwrought as Marie-Louise's jealous husband, Mortimer.
(L-R) Lynn Redgrave, Michael Crumpsty, Kate Burton. Photo by Joan Marcus.
Maugham skillfully weaves these characters in and out of various romantic and social entanglements. Couples fall in and out of love with such comic frequency and unexpected turns of event that the audience is simply delighted by their foibles and their attempts to restore social decorum.
Dramatic irony drives home Maugham's satire on Victorian views of love, marriage and social decorum. As an informed audience, we enjoy moral superiority over these characters. We can laugh about what they don't know and take pleasure in their eventual ability to grasp that same knowledge. Maugham's main characters often are in the know, too, about what other characters think they know about the various events. Constance, for example, hides her knowledge of her husband's affair until she can use her revelation to her own advantage. Her friends and her mother think that she is in the dark about this issue until she surprises them with her knowledge.
Characters also make assumptions about the facts pertaining to other character's lives when the audience and some of the characters are better informed about the truth. For example, Constance reveals to John that she plans to take her holiday with Bernard Kersal, saying, "You're the only one I've told and I'm sure you'll be discreet," an ironic (though playful) jab at his own infidelity.
The ultimate irony and verbal wit in the play belongs to Constance when she tells John, "I may be unfaithful, but I am constant."
All the secrets and confidences among friends and spouses combine to produce a thoroughly enjoyable light satire on the institution of marriage as well as a celebration of independent spirits. [Hicks]