Paulanne Simmons
Being Ernest Is Still Important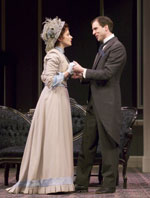 THE IMPORTANCE OF BEING EARNEST -- Bianca Amato (Gwendolen) and James Waterston (Jack). Photo by Craig Schwartz.
"The Importance of Being Ernest"
Directed by Sir Peter Hall
Brooklyn Academy of Music Harvey Theater
651 Fulton St., between Ashland and Rockwell places
Opened April 18, 2006
April 18-22 & 25-29, May 2-6 & 9-13 7:30 p.m., April 22 & 29, May 6 & 13 2 p.m., April 23 & 30, May 7 & 14 3 p.m.
$30, 50, 75, 85 (718) 636-4100 or www.BAM.org
Reviewed by Paulanne Simmons May 4, 2006
Poet, dramatist and novelist Oscar Wilde is known for many things: his flamboyance, his aestheticism, his homosexuality. But his most enduring and endearing legacy may be his masterpiece "The Importance of Being Ernest."
Although the play, written in 1895, is principally a satire of the British nobility, who are now beyond satire, mostly thanks to their own escapades and the doggedness of the paparazzi, "The Importance of Being Ernest" retains all of its ironic humor, if little of its sarcastic bite. Its current revival at Brooklyn Academy of Music Harvey Theater is a good example of how this hundred-year-old play is forever young.
The production features a stellar cast that includes the marvelous Lynn Redgrave as Lady Bracknell and, in the role of Miss Prism, Miriam Margolyes, who manages to steal the show, even from such an august presence as Ms. Redgrave. Kevin and Trish Rigdon have created Victorian sets so lovely one is tempted to leave the theater for antique sales as soon as the play is over.
"The Importance of Being Earnest" is ironic play on the word "earnest" (giving "play" another double entendre). It is mainly about how little honesty and sincerity count in human affairs, especially when these humans have wealth and power.
Jack Worthing (James Waterston) invents a roguish younger brother named Ernest, who is constantly calling upon his older brother to get him out of hot water, In this way, Jack can get away from his boring country estate where his ward, Cecily Cardew (Charlotte Parry), lives under the tutelage of the feisty but proper Miss Prism.
As Ernest, Jack woos Gwendolen Fairfax (Bianca Amato), daughter of Lady Bracknell, who strenuously objects to the match when she finds out Jack is a foundling discovered in a handbag in Victoria Station. Lady Bracknell has a nephew, Algernon Moncrieff (Robert Petkoff), who is also Jack's friend. After Jack tells Algernon about his subterfuge, Algernon visits Cecily, pretending to be Ernest, the imaginary brother, and, of course, it is love at first sight.
To complicate matters even more, both Gwendolen and Cecily are determined to marry only men named Ernest, a name, it seems, neither of the men were given.
At this point, it may appear that only God or Shakespeare could work out a satisfactory conclusion to the comedy. But Wilde manages to do so without the help of either.
To say this production sparkles is a paltry understatement. It bounces with energy and scintillates with 19th century naughtiness radiated by 21st century actors. Amato as the sophisticated Gwendolen, Parry as the innocent Cecily, Waterston as the straight-laced Jack, Petkoff as the devilish Algernon and Margolyes as Miss Prism, the only truly earnest character in the play, all presided over by the imperial Redgrave as the imperial Lady Bracknell, are unforgettable.
Wilde was a disciple of Walter Pater and a leading advocate of the "art for art's sake" movement. Much of his work has a surface polish that demands perfection in order to shine properly. This production is just about as perfect as it gets.