Paulanne Simmons
You Don't Have to Be Jewish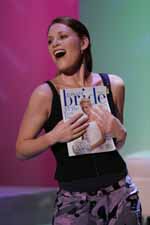 Isabel Rose in "JAP Chronicles, the Musical." Photo by Carol Rosegg.
"J.A.P. Chronicles, the Musical"
Perry Street Theatre
31 Perry St.
Opened April 17, 2006
Mon., Wed. thru Fri. 8 p.m., Sat. 3 & 8 p.m., Sun. 3 p.m.
$50, $60 (212) 868-4444 or Smarttix.com
Closes May 28, 2006
Reviewed by Paulanne Simmons May 1, 2006
If there's one lesson in "J.A. P. Chronicles, the Musical" it's that not all Jewish American Princesses are alike. There are seven of them in Isabel Rose's new musical, based on her novel of the same name.
Arden Finkelstein ("I'm a Jap. I don't take no crap.") lives on the Upper West Side and considers herself a Jewish American Powerhouse. Jessica Bloom is a wannabe actress. Beth Rosenbaltt ("rhymes with aren't you fat") comes from Louisville, Kentucky and speaks with a southern drawl. Dafna Shapiro has just been fired and cut off by her own father and fears she may end up an old maid. Laura is a successful talent agent. And Wendy Levin is a well-dressed suburban housewife and mother who has a secret gay lover.
Ali Cohen, an award-winning filmmaker, went to the exclusive Willow Lake Camp with these women back in the 80s. She was a shy, unpopular girl who was tortured and teased by the others, principally the notorious Levin, who did something awful to her with a Maybelline mascara wand in the woods one day in July 1982. Ali is determined to get even with all these women, now that they are all grown-up, by making a documentary at their camp reunion and thus exposing their hypocrisy and failures.
Isabel Rose plays everyone, in the process belting out the ample score she has authored with the help of musical director Jesse Vargas. Carl Andress, fresh from "A Wonderful Life," directs.
Although some of the songs in "J.A.P. Chronicles" are overly strident and somewhat repetitious, others demonstrate Rose and Vargas's ability to compose in a wide range of genres: Klezmer, rap, jazz, pseudo-ballet. The songs have titles like "J.A.P.P.Y. Rhymes with Happy," "Wedding Planning Is Such Fun" and "Jewish American Powerhouse (The J.A.P. Rap)." And they have clever lyrics that tie into the plot while they explore Rose's major themes: "I'm going to Palm Beach, what a bore. South Beach is chicer, celebs galore," "Always the bridesmaid, never the bride could make a girl contemplate suicide" and "Get out the suitcase from Louis Vuitton. This Bathsheba's going to Babylon."
But what makes " J.A.P. Chronicles" most fascinating is the ease with which Rose transforms herself from southern belle to Upper West Side powerhouse and back to the vengeful Ali. In an extremely demanding and strenuous performance she is a veritable whirlwind.
Rose's entrances and exits are facilitated by illuminated flats and Kirk Bookman's excellent lighting design. Andress's very effective staging creates the illusion of both time and space in what could easily have been a one-dimensional show.
Although the women spout Yiddish words and have all the proper attitudes about shopping, money and prestige, by the end of the play it becomes obvious that being Jewish is only a small part of what these women are all about. They are also responsible, hard-working and vulnerable.
By exposing the stereotypes, Rose very effectively explodes them. Along the way she gives the audience one grand good time