Paulanne Simmons
A Fresh, New Look at "The Miser"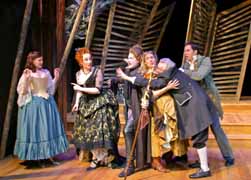 THE MISER -- L to R: Melanie Hopkins, Lorinda Lisitza, Seth Duerr, Taylor Wilcox, Angus Hepburn, and Albert Aeed.
"The Miser"
Directed by Dan Zisson
The Jean Cocteau Repertory
At the Bouwerie Lane Theatre
330 Bowery at Bond and East 2nd Street
Opened Feb. 17, 2006
Wed. 7 p.m., Thurs-Sat. 8 p.m., Sun. 3 p.m.
$40-$50 (212) 279-4200 or www.TicketCentral.com
Closes March 15, 2006
Reviewed by Paulanne Simmons Feb. 27, 2006
If the French have an equivalent of William Shakespeare, it would be Jean-Baptiste Poquelin, better known as Moliere. Playwright, producer, director and actor, Moliere reigned supreme in French comedy from 1659 to 1673, when he collapsed after performing as Argan in "Le Malade Imaginaire" and died the same day from a severe hemorrhage.
"The Miser" ("L'Avare"), The Jean Cocteau Repertory' s newest show at the Bouwerie Lane Theatre, with its convoluted plot involving mistaken identity, shipwreck and unlikely reunions, may be the most Shakespearean of Moliere's plays. As translated by Charles Heron Wall and directed by Dan Zisson, the comedy has a modern ring that even Shakespeare at its best seldom achieves.
Like so many of Shakespeare's plays, The Miser is derived from an outside source, in this case, Plautus's "Aulularia." Written in 1668 at the height of Moliere's career, The Miser continues his campaign against the foibles of mankind.
Harpagon (Angus Hepburn in perfect control as his character goes out of control) values money above everything, even his own foppish son, Cleante (the superb Seth Duerr), and his nubile daughter, Elise (Taylor Wilcox). Having reached an advanced age, he has decided to mix business with pleasure and marry the buxom Mariane (Melanie Hopkins)
and get his hands on her dowry as well. At the same time, he hopes to wed Elise to a wealthy old man, Seignor Anselme (Craig A. Brown), who is willing to marry her without asking for a dowry.
Unfortunately, Mariane is secretly Cleante's beloved. She responds to Harpagon's offer of marriage with uncontrolled sobbing. And Elise is unwilling to wed the old man, not least because she is in love with her father's steward, the handsome Valere (Albert Aeed), which her father does not suspect.
Harpagon entrusts his daughter to the more than willing Valere and proceeds to complete his arrangements with the matchmaker, Frosine (the savvy Lorinda Lisitza). The shenanigans that follow do not indicate that Moliere had a very high opinion of humanity. But baseness is always good for a good laugh.
The Jean Cocteau Repertory takes on The Miser at full tilt. The staging is a delight to the eye and ear and filled with clever asides, audience interaction and goofy slapstick. Performed in period dress (costume design is by Timothy Alan Church) the production plays homage to the play's 336-year-old heritage and at the same time is remarkably fresh.
Can love triumph over greed? Can children outwit their selfish father? Do people get what they deserve and can their antics remain ridiculous and relevant for over three hundred years? The Miser answers these questions with an emphatic yes.