Paulanne Simmons
Apartment 3A Mixes Romance, Comedy and Magic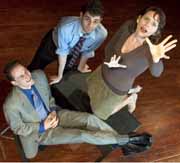 Joseph Collins, Arian Moyaed and Amy Landecker in "Apartment 3A" by Jeff Daniels. Photo by Jackson Lynch.
"Apartment 3A"
Directed by Valentina Fratti
ArcLight Theater
152 West 71st St. between Broadway and Columbus
Opened Jan. 20, 2006
Thurs.-Sat. 8 p.m., Sun. & Mon. 7 p.m.
$15 (212) 352-0255 or www.theatermania.com
Closes Feb. 11, 2006
Reviewed by Paulanne Simmons Jan. 22, 2006
This seems to be the season for romantic comedy with a magical twist. In "Almost, Maine," inhabitants of that New England state fall in and out of love amidst magical portents. And in "Huck & Holden," a young Indian is guided to his love by an imaginary former classmate and the Indian goddess, Kali.
In Jeff Daniels' new play, "Apartment 3A," Annie Wilson (Amy Landecker) a PBS fundraiser, moves into a new apartment after finding her former boyfriend committing an act of infidelity on her grandmother's table. On the very day she takes the apartment, she meets a mysterious widower named Donald (Joseph Collins) who seems to have powers far beyond mortal men.
Overwhelmed at work (she insists on speaking frankly to children and telling them the truth about Big bird and his friends), disappointed in love, Annie is in no mood for another romance, but her co-worker, the shy but persistent Elliot (Arian Moayed) invites her out to lunch and then back to his apartment – with some extraordinary results.
In the meantime, Donald makes eggs for Annie back at the apartment. And he appears at inopportune times to encourage and council Annie, who learns just enough about her new neighbor to give him her trust, but not enough to explain his mysterious behavior.
Daniels may be best known for his roles in "Terms of Endearment," "Dumb and Dumber" and most recently "The Squid and the Whale," for which he was nominated for a Golden Globe. But Daniels has also written nine plays for his own company, The Purple Rose Theater. The mastery with which he has crafted "Apartment 3A" is fortunately matched by the skill with which Valentina Fratti has directed it.
With minimal changes of the set, Lauren Helpern's almost bare apartment becomes the PBS studio, a restaurant and Elliot's apartment, allowing the play to move seamlessly from scene to scene. Also keeping the play moving is the fact that Fratti has taken full advantage of the inherent physicality of the script, without losing sight of its mystical, spiritual message.
"Apartment 3A" is often wildly bawdy in a way that would have made Shakespeare smile. In fact, there's something very Elizabethan in the way "Apartment 3A" exploits the idea that sex can be fun and funny.
Landecker and Moayed make love with a hilarious frenzy tinged with sincerity that's unusual in today's theater. And Collins drifts in and out of their lives with a Cary Grant suavity.
If over-the-top love scenes, sparkling dialogue and a touch of wonder have not yet lost their appeal, "Apartment 3A" will certainly be a hit.