Paulanne Simmons
"Mrs. Warren" Still Works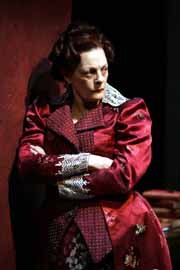 Dana Ivey in Mrs. Warren's Profession." Photo by Carol Rosegg
"Mrs. Warren's Profession"
Directed by Charlotte Moore
Irish Repertory Theatre
132 West 22nd St.
Opened Dec. 18, 2005
Wed.-Sat. 8 p.m.; Wed., Sat., Sun. 3 p.m.
$45-$50, (212) 727-2737
Closes Jan. 26, 2006
Reviewed by Paulanne Simmons Dec. 22, 2005
When George Bernard Shaw's "Mrs. Warren's Profession" was first produced in New York, its unorthodox subject matter caused such a public outcry it was soon closed. And, although the play was written in 1898, it was not produced in England until 1925. Now revived at the Irish Repertory Theatre, it's not likely the play will scandalize many, but it will certainly entertain and provoke.
Charlotte Moore directs this juicy satire of Victorian times. With the help of set designer Dan Kuchar, who uses the stage turntable to great effect, and costume designer David Toser, who has a good grasp of the Victorian's sense of modesty and love of opulence, Moore brings this great classic to life.
But Shaw is the least Victorian of the Victorians. In fact, much of his career was devoted to mocking the hypocrisy that characterizes the age. In Mrs. Warren's Profession, Shaw never exactly states what that self-possessed woman does to earn her living. But it's pretty obvious from the beginning that hers is the oldest profession known to womankind. And as she's risen through the ranks, she's done very well for herself – until by the time of the play, she is co-partner in an international chain of brothels.
Mrs. Warren's Profession takes place in Haslemere in Surrey, where her independent and resolute daughter, Vivie (Laura Odeh), is on vacation, having recently completed her studies. Mrs. Warren (the tremendous Dana Ivey) has planned to pay Vivie one of her infrequent visits, in the company of her old friend, the timid and kindhearted Mr. Praed (David Staller), and Sir George Crofts (Sam Tsoutsouvas), her co-partner and one-time, or perhaps sometime, lover.
The meeting turns sour when Mrs. Warren finds out her daughter has fallen in love with the directionless and shallow Frank Gardner (Kevin Collins), son of Rev. Samuel Gardner (Kenneth Garner), whom she knew (in the biblical sense) years ago. During the verbal combat mother and daughter engage in, Mrs. Warren reveals the nature of her profession and the hardships that led her to it, and Vivie is startled to find out exactly what has made possible her good life and fine education.
Once the cat has been officially let out of the bag (of course, everyone else unofficially knew about Mrs. Warren for years) the play marches steadily to its very Shavian conclusion – a conclusion that highlights all the hypocrisy human beings find so necessary to maintain their own status.
While Shaw's wit still illuminates, Ivey strides through this play like a released Gulliver through Lilliput. It's not that the other actors aren't capable. Odeh certainly holds her own, making Vivie a formidable match for her mother. And Tsoutsouvas broods over his cane and ogles Vivie so salaciously he seems to ooze slime. But it is Ivey's indomitable, yet vulnerable Mrs. Warren who brings forth the laughter and compassion that makes this production work.
Mrs. Warren's Profession was written at a time when women had few options other than marriage or drudgery, or if they were truly unfortunate, perhaps both. Today women are prominent in all the profession. But anyone who thinks all is well with the fairer sex should read Barbara Ehrenreich's harrowing stories of working and trying to get by on minimum wage jobs chronicled in "Nickel and Dimed."
Despite her fancy hats and long, flowing skirts, one suspects Mrs. Warren and many women trying to make a living today would have much to say to each other.