Paulanne Simmons
"Thrill Me"…Didn't
"Thrill Me: The Leopold & Loeb Story"
Directed by Michael Rupert
Presented by The York Theatre Company
St Peter's, 619 Lexington Ave. (entrance on 54th St.)
Opened May 26, Closes June 25
Mon. thru Fri. 8 p.m., Sat. 8:30 p.m., matinees on Wed. at 2:30 p.m. and Sat at 5 p.m.
$55, (212) 868-4444 or www.smarttix.com
Reviewed by Paulanne Simmons, May 24, 2005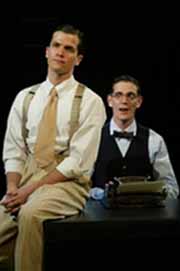 "THRILL ME." Doug Kreeger (front), Matt Bauer..Photo Credit: © Carol Rosegg
The trial of Richard Loeb and Nathan Leopold in 1924 captured the attention of the American public as no other, save perhaps the 1995 trial of O.J. Simpson. This intense interest is made all the more amazing by the fact that the guilt of the accused was never in question.
Leopold and Loeb, two wealthy and brilliant Chicago youths, had already confessed separately that on May 21, 1924 they had lured 14-year-old Bobby Franks into a rented car, bludgeoned him to death, stripped his body, poured hydrochloric acid over it and stuffed into a concrete drainage culvert. The original plan, before it was derailed by the discovery of Bobby's body, was to blackmail the Franks for $10,000 in exchange for their kidnapped son.
Part of Clarence Darrow's legendary defense was his assertion that the crime would never have taken place had it not been for the two boys' unique, unhealthy and co-dependent relationship. Years later, Leopold himself reinforced this theory when he wrote in his autobiography, Life Plus Ninety-Nine Years, "I thought so much of the guy that I was willing to do anything - even commit murder - if he wanted it bad enough. And he wanted to do this - very badly indeed. For the commission of the crime itself, I had no enthusiasm. Instead, I had a feeling of deep repugnance."
The transcripts of Leopold's testimony, however, indicate that Leopold was an active, perhaps eager, participant in the crime. And Leopold himself admits in that same book, "Remorse did not come until later, much later. It did not begin to develop until I had been in prison for several years, it did not reach its full flood for perhaps ten years."
As for Loeb, he never got to write his autobiography; on January 28, 1936 he was slashed to death in the shower by his razor-wielding cellmate, James Day.
Clearly the Leopold -Loeb story is rife with dramatic elements - the planning, the murder, the confessions, the trial, the sentencing. It is also filled with important issues - social, psychological, moral.
But playwright, composer and lyricist Stephen Dolginoff has chosen to focus on one aspect of the crime: Leopold's obsession with Loeb and the boys' homosexual relationship.
"THRILL ME." Doug Kreeger (rear), Matt Bauer.Photo Credit: © Carol Rosegg
"Thrill Me: The Leopold & Loeb Story" unfolds as more of an opera than a typical musical. But it is an opera with lots of recitative and only a few arias, mostly quite forgettable. It is performed by two talented singer/actors - Matt Bauer (Leopold) and Doug Kreeger (Loeb) who go to great lengths to rescue the play but, in the end, are confounded by the nondescript music and director Michael Rupert's unimaginative staging, which leaves all of the action offstage.
In songs like "A Written Contract," "The Plan," "Roadster," "Ransom Note," and "Keep Your Deal With Me," Bauer and Kreeger narrate the story; but the action is limited to displays of Leopold's passion for Loeb.
By reducing this tragic story to a homoerotic wet dream, Dolginoff does his audience a great disservice.
In his plea for the lives of his young clients, Darrow said, "I am pleading for the future; I am pleading for a time when hatred and cruelty will not control the hearts of men. When we can learn by reason and judgment and understanding and faith that all life is worth saving and that mercy is the highest attribute of man."
It's too bad the Texas judges who routinely condemn mentally retarded men and physically abused black boys to death do not remember Darrow's words.
During World War II Leopold was one of a small group of prisoners who volunteered to be infected with malaria in a study to find ways of immunizing people against the disease. He was instrumental in establishing a prison high school and worked in the prison hospital. After his release from prison in 1958, Leopold worked for a year as a medical technician in a charity hospital in Puerto Rico. While working in the clinic, he obtained a master's in social medicine, after which he took a job at the Puerto Rican Health Department as a social worker involved in parasite research.
And perhaps most disappointing to Dolginoff, Leopold apparently got over his obsession with Loeb. After meeting the provisions of his parole, Leopold married Trudi Feldman, the widow of a Puerto Rican physician.[Simmons]