Paulanne Simmons
Gay Glasgow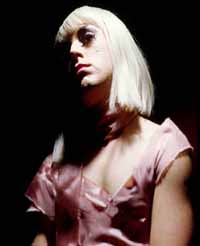 Photoby Chris Nash of Russell Barr in "Sisters, Such Devoted Sisters"
"Sisters, Such Devoted Sisters"
Written and performed by Russell Barr
Presented by Out of Joint
Brits Off Broadway at 59E59 Theaters
59 East 59th St. (between Park and Madison)
Tues. thru Fir. 8:30 p.m. Sat. 5:30 and 9:30 p.m., Sun. 7:30 p.m.
Tickets $25 (59E59 members $17.50) (212) 279-4200 or www.ticketcentral.com
Opened April 26, closes May 15
Reviewed by Paulanne Simmons April 29, 2005
For those people familiar with shows like "Falsettoland" and "La Cage Aux Folles," the grim view of life presented in "Sisters. Such Devoted Sisters," (an Out of Joint production, part of Brits Off Broadway at 59E59 Theaters) may come as something of a shock.
Russell Barr, the 21-year-old Glaswegian who wrote and performs this hour-long monologue, spares no one in his harrowing tale of drag queen Bernice Hindley who lives on the fringe of society in the gay underworld of Glasgow.
But the monologue, which won this year's Edinburgh Fringe Carol Tambor Award, has more than the ring of truth (Barr spent five months working as a drag queen in Glasgow in 1994, using the stage name Bernice Hindley). It also has a good deal of humor and is often side-splittingly funny.
Bernice lives in a world populated by shoplifters, alcoholics, sexual perverts, burglars, transsexuals and transvestites. Her family seems to have invented the word "dysfunctional." She is at times barely able to quiet her personal demons, but nevertheless tells her story with a detached irony that is both confessional and catty – sort of like a woman talking to her friends at the beauty parlor.
Barr, strutting across the stage in six-inch heels, makes no attempt to be either graceful or feminine. He's always a man dressed in women's clothing and a long blond wig. He is sadly neither male nor female. And Barr never attempts to hide the freakish quality of the drag queen.
Sisters, Such Beloved Sisters makes obvious something we all know. The drag queen lives in a world foreign to most of us. It is a world that mixes love and violence, romance and sado/masochism, flamboyance and secrecy.
There are not many people who would like to step into this world. Perhaps that is why it is so meaningful when Barr brings it to us. [Simmons]