PAULANNE SIMMONS
Care - Managed and Unmanaged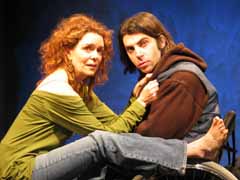 Deirdre O'Connell and Christopher Thornton in Pyretown. Photo by Josh Bradford
"Pyretown"
Directed by Carl Forsman
Urban Stages
259 W. 30th St.
Tues. - Sat. at 8 p.m. and Sun. at 2 p.m.
Jan. 25 through Feb. 20
$19, Smarttix (212) 868-4444 or visit www.smarttix.com
Reviewed by Paulanne Simmons
Keen Company, which has earned itself a reputation for producing tender testaments to the humanity that lies within us all, does not disappoint with its latest offering, "Pyretown," at Urban Stages through Feb. 20.
Originally commissioned by the Geva Theater and newly revised for its off-Broadway premiere, John Belluso's Pyretown is directed by company founder Carl Forsman, who helmed Keen Company's recent production of Thornton Wilder's "Happy Journey to Trenton and Camden."
Pyretown features Deirdre O'Connell as Louise, an unemployed, single mother of three young children, and Christopher Thornton as Harry, a wheelchair-bound youth who spends his time reading Dostoyevsky and taking the same courses over and over again at a local community college.
In many ways Pyretown is a typical boy-meet-girl (or rather boy-meets-middle-aged-woman) romance. Louise is lonely. Harry is lonely. Louise is attractive in an impish kind of way. Harry, despite his disability, has a manly valor that is not without its appeal.
But the play is saved from the pedestrian by the very unromantic and thoroughly believable way Harry and Louise come together - painfully, slowly and with a good deal of humor.
Louise is crippled by her inability to deal with the day-to-day traumas a single mother faces - lack of money, medical emergencies, and unruly children. Harry helps her enroll at the community college and study for the more difficult courses.
Harry is crippled by a diving accident and the physical and emotional injuries it has left him with. Louise brings him out of his shell through her willingness to love and be cared for.
Thornton actually did become disabled in the middle of a promising acting career. But that alone cannot account for the great sensitivity in his interpretation of the role. Nor can anything but talent explain his moving interactions with the equally gifted O'Connell, whose character is not only a reluctant lover, but also a harried mother who occasionally scolds and pleads with invisible children who are with her at home, at the grocery, at school.
Despite numerous scene changes the 80-minute play runs quite smoothly, thanks to the way scenic designer Nathan Heverin has divided the stage into the suggestion of a grocery store, a waiting room, a car, a bedroom, a college cafeteria, a kitchen and an office.
If Pyretown has any flaws, it may be that that play, like life itself, has an outcome that is less than fulfilling. This is not because it doesn't have a happy ending, but more because it has no ending.
In the end both Harry and Louise are incapable of combating the medical bureaucracy (anyone familiar with the commercials insurance companies released to combat the Clinton healthcare reforms will not miss the irony in these names). But it's hard to believe Pyretown is just trying to make a political statement.
Is Pyretown about the difficulties faced by single mothers? The injustices of medical insurance? The isolation of the disabled? Or is it a drama about two people who find comfort with each other for a while and then go on?
Who knows? In Pyretown, no one protests effectively. No one lives happily ever after. But life goes on. [Simmons]