Paulanne Simmons
The Seagull Flies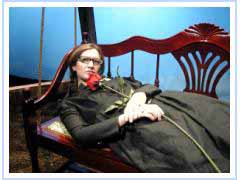 The Seagull
"The Seagull"
Directed by Michael Barakiva
A Roundtable Ensemble Production
Blue Heron Arts Center
123 East 24th St. between Park and Lexington
Jan. 12 through Jan. 29, Wed. thru Sat. 8 p.m., Sat. and Sun matinees at 2 p.m.
(no matinee Sat., Jan. 29)
$15, (212) 818-9431
Reviewed by Paulanne Simmons Jan. 12, 2005
The Roundtable Ensemble, under the artistic direction of Kelly Ann Moore, is a new company whose members are primarily young but extremely talented. This is most evident in the company's latest production, Anton Chekhov's "The Seagull," now at the Blue Heron Arts Center.
Michael Barakiva directs from a script he has adapted. With the help of an almost fairytale set by Mimi Lien, he turns Chekhov's tender tragedy into a light comedy with a somber ending. And for the most part, he is successful.
A good deal of Barakiva's success rests on his excellent cast. Maria Thayer, who plays the young actress Nina, is just as impressive when she recites the ridiculous lines of the would-be playwright Konstantin (David Barlow) as she is when she tells Konstantin what has befallen her since she ran away with the writer Trigorin (Saxon Palmer).
Garrett Neergaard and Kelly Hutchinson as Medvedenko, the schoolteacher, and Masha the girl he is hopelessly in love with, interact but don't communicate in a way that is both funny and sad.
Barlow spends most of his time on stage whining and simpering. But, hey, that's Chekhov at his best.
The Seagull, Chekhov's first major success, foretells most of the author's major preoccupations. It is filled with unhappy people who appear amusing through the playwright's gentle irony.
The plot focuses on what happens to Konstantin, the son of the famous actress Arkadina, and the young girl he loves, Nina, an aspiring actress who falls in love with the fickle and faithless writer, Trigorin.
The unfortunate Konstantin and Nina are surrounded by equally unfulfilled people. Masha is in enamored of Konstantin, who never even looks at her, and is herself beloved by the schoolteacher Medvedenko, for whom she has nothing but scorn. Arkadina is in love with Trigorin, who becomes (temporarily) entranced by Nina.
Written as a play in four acts, The Seagull at times seems to go on and on. And this adaptation is no exception. Despite its admirable frivolity and its youthful vigor, on occasion one wishes the director would wrap it up and send the audience on its way.
For this reason, the final shot that ends the play doesn't come a moment too soon. On the other hand, this reviewer feeling the audience had not been fully prepared for the tragic denouement.
Nevertheless, Barakiva's take on the Russian classic is not inconsistent with the original author's vision. It is quite possible that Chekhov himself might have totally appreciated an interpreter who concentrates on the glow and not the gloom in his writing. [Simmons]