Paulanne Simmons
Still Strummin' After All These Years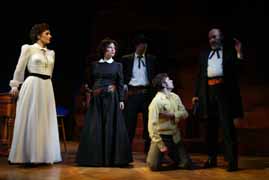 Judy McLane, Ann Crumb, David Sinkus, Robb Sapp, Ed Sala. Photo by Joan Marcus.
"Johnny Guitar, the Musical"
Directed by Joel Higgins
Century Center for the Performing Arts
111 East 15th St. (East of Union Square and Park Ave.)
Tues. through Sat. at 8 p.m. Sat. and Sun. matinees at 3 p.m.
$35-$65, Telecharge at 222.telecharge.com or (212) 239-6200
Plays through May 16
Reviewed by Paulanne Simmons, May 5, 2004
If you remember Gary Cooper striding down the empty street in "High Noon." If you can still see James Arness leaning lazily on the bar of Amanda Blake's saloon in "Gunsmoke." If Louis L'Amour is your favorite American storyteller. Then "Johnny Guitar the Musical" will be just your shot of whisky.
The show, at the Century Center, directed by Joel Higgins, is of course, a tongue-in-cheek musical adaptation of the 1954 film of the same title staring Joan Crawford as Vienna, the gutsy saloonkeeper and Sterling Hayden as her gun-slinging former lover.

Nicholas van Hoogstraten's book sticks pretty much to the original script. Johhnny (the manly and magnificent Christopher Carl) arrives at the saloon just after a stagecoach robbery which Vienna (the excellent Judy McLane) and her friend (and perhaps lover) the Dancin' Kid (Robert Evan) will be blamed for.
Vienna's arch enemy Emma Small (the wonderfully wicked Ann Crumb) seizes this opportunity to have Vienna run out of town. But Vienna is determined to make a stand; she knows the railroad is coming to town and her saloon will soon turn into a gold mine.
Johnny, who knew Vienna way-back-when, wants to light the fire again. Dancin' Kid (whom Evans makes a worthy competitor) has his own ideas. And the two men take an almost immediate dislike for one another.
The only thing missing from the stage version is the panoramic views and dramatic camera angles that gave the film a surreal, almost mystical quality. But Martin Silvestri and Joel Higgins' catchy and colorful score more than make up for the prosaic stage setting, which relies on Van Santvoord's clever hints to create a salon (swinging doors and a foot or two of bar).
Silvestri and Higgins' songs call upon some of America's best-loved musical traditions - country, western, doo-wop, rock & roll. They have titles like "Branded a Tramp" and "We've Had Our Moments."
True, many of the songs sound like each other, or like some song you've heard years ago but can't quite remember - but they're all so good you probably won't notice or won't mind.
Besides McLane has enough power and range to carry the whole show and, when necessary, a sweet voice for such a tough lady. Johnny reminds us of a trim Elvis in a cowboy hat. Dancin' Kid has all the right moves. And Emma tears into her songs with vicious enthusiasm.
Higgins has wisely put his band on a balcony over the saloon and has musicians and singers wander across the stage to beef up the vocals and make the songs fit seamlessly into the action.
There's nothing new about making fun of Johnny Guitar. For years the film has been a gay camp classic, mostly because of the butch performances of Mercedes McCambridge (Emma) and Crawford. Some critics have even gone so far as to say the film was not a banal genre piece but elegantly styled and symbolic.
Johnny Guitar makes no such pretensions. It's just a lot of fun. [Simmons]