| go to entry page | | go to other departments |

Paulanne Simmons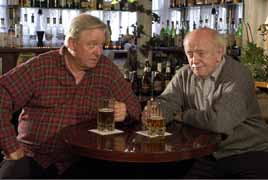 Guy Boyd and Peter Maloney in "Four Beers", directed by Roger Danforth. Photo credit: Richard Termine.
"Four Beers"
Written by David Van Vleck
Directed by Roger Danforth
Presented by The Vanguard Theatre Group
Rattlestick Theatre
224 Waverly Place bwtween Perry and W. 11th St.
Through Oct. 19, Friday and Saturday at 8 p.m., Sunday at 3 p.m.
$15, SmartTix (212) 868-4444
Reviewed by Paulanne Simmons
George (Guy Boyd) is a bitter and sarcastic bully, a car mechanic weighted down by a beer belly and the chip on his shoulder. Frank (Peter Maloney) is a timid dry cleaner who suspects he's been cheated by life and cheated on by his wife. Phil (Robert LuPone) is a portrait photographer with artistic and philosophical yearnings. Mitch (Lee Wilkof) is a barber and a gentle and loving husband whose only child died from leukemia at the age of 11.
In David Van Vleck's award-winning "Four Beers," presented by The Vanguard Theatre Group at the Rattlestick Theatre, four men meet in a neighborhood bar, where over a pitcher of beer they discuss their mid-life crises.
Although there's not much action onstage, director Roger Danforth doesn't miss an opportunity to add gesture and movement to Van Vleck's brilliant dialogue.
The conversation is often wildly funny and occasionally painful. It ranges from the relative merits of Gary Cooper and John Wayne, the value of marriage and fidelity in marriage, to the origins of the universe and human nature.
Phil says he's thinking about getting a mistress because "marriage is like a job and like any job sometimes you need a vacation."
Mitch and Phil speculate that the world may be the result of sex between God and Mrs. God - thus the Big Bang.
George is sure the true God is American and the "American religion is the best religion."
The banter ricochets from the serious to the ridiculous until Phil notices that the recent widower Mel Thompson (Michael Cullen) has walked into the bar. The men bring Mel over to their table, buy him drinks and dinner, listen to his laments and endure his self-absorption.
After a while the men begin to see their own lives and domestic situations in a different light. Then, almost by chance, something is revealed that will change their friendships forever.
Van Vleck's dialogue is so realistic and the actors' delivery so natural it's impossible not to recognize friends, neighbors and family onstage. As Phil says, "Everyone has a little good and a little bad."
"Four Beers" almost begs comparison with Robert Harling's "Steel Magnolias." Just replace the men with woman and the bar with a beauty parlor. The only different is that Harling's women are not embarrassed by their emotions or constrained by pride. They offer mutual support freely, with few strings attached. While the men can find little solace from their private agony in the company of others.
Thus, despite its many comic moments, the ultimate vision of this play, the vision from which it draws strength and gives insight, is not of salvation, but rather Sartre's existential hell.
[Simmons]