You Don't Have to Be Gay
To Enjoy The Kinsey Sicks
By Paulanne Simmons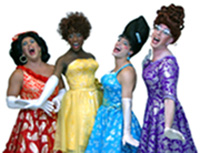 The Kinsey Sicks, in full song.
The Kinsey Sicks
June 23 through June 25
Caroline's, 1626 Broadway.
Showtimes: Monday at 9:30 pm, Tuesday at 7 pm, and Wednesday at 7:30 pm.
Tickets: $22.50, call 212-757-4100
For more information visit www.kinseysicks.com
Ten years ago a group of friends went to a Bette Midler concert in San Francisco dressed as the Andrews Sisters. The only drag queens at the concert, they attracted quite a bit of attention, but when asked to perform at an upcoming event, despite their musical backgrounds, they answered, "We don't sing,"- a response that was quickly disproved later that night when they began to harmonize.
Thus The Kinsey Sicks (also known as America's Favorite Dragapella Beautyshop Quartet) was born - combining a cappella song, hilarious satire and over-the-top drag. June 23 through 25, The Kinsey Sicks will be performing their outrageous act at Caroline's on Broadway.
Since their first public performance in July 1994 on a street corner in San Francisco's Castro District, The Kinsey Sicks have packed houses around the country in venues such as the Herbst Theatre in San Francisco, the Nordstrom Recital Hall in Seattle, the Ogden Theatre in Denver, the Colony Theatre in South Beach, and the Wheeler Opera Hall in Aspen - performing shows with titles like "The Balled Sopranos," "Motel Sicks: A Dragapella Summer Vacation," "Everything But the Kitsch 'n'Synch" and "GreatesTits." And in 2001, the girls produced and starred in the off-Broadway hit "Dragappella" at Studio 54.
The Kinsey Sicks derived their name through a pun on the famous Kinsey report in which hetero and homosexuality were rated on a scale of one to six, with six being the perfect score for homosexuality.
"I was always an over-achiever," says Ben Schatz, one of the founding members, whose onstage persona is Rachel - a young lady, conceived in a manger and born with mange, who went on to dedicate her life to militancy, founding the animal rights group Free the Scabies and lecturing on such topics as "My Needs Are More Important Than Yours."
The only other founder who is still with the group is Irwin Keller - onstage the illustrious Winnie. A foundling abandoned by her parents at an Amway convention and taken in by a band of radical lesbian Tupperware ladies, Winnie worked as a roadie for a heavy metal klezmer band before joining The Kinsey Sicks.
Chris Dilley joined the group four and a half years ago, taking the role of Trampolina, best known as The Log in TV's "Twin Peaks" and a champion of the endangered gummi bears. And Kevin Smith joined just a year ago, becoming Trixie, whose rocky career includes an unsatisfactory stint in a church choir ("God kept upstaging me.") and a short detour into animal husbandry ("I've had numerous husbands…they were ALL animals").
"All the characters are narcissistically clueless and exaggerated. They live in a warped world without realizing they do. That's what makes them charming," says Schatz. "We consider ourselves feminists. A lot of the people in the audience relate to one or more of the characters. We're like a walking Rorschach test… I find it scary when they say they relate to Rachel."
Although new people coming onboard don't create their own characters but pick up existing ones, the personalities have evolved over the years.
"We work on the characters individually with feedback from the group," says Schatz.
Originally, the group sang a cappella because of financial exigencies. "We couldn't afford an orchestra," says Schatz. But they have stayed with it for aesthetic reasons.
"It's a good sound, a wonderful art form…we love it," Schatz says. "It's very direct, very moving, and very, very not high tech."
Schatz is the one who writes the songs - both original and parodies - and Keller and Dilley do the arranging.
"I come from a family of writers. I'll hear a song and all of a sudden some fiendishly tainted idea comes to me," says Schatz, or sometimes "I know I'm going to write a particular song on a subject - but overall I have no control."
Most of those subjects are political and intellectual.
"We try to push the envelope and get at the truth of things. We have political backgrounds [Schatz is a Harvard-trained civil rights lawyer and former director of the National Gay and Lesbian Medical Association who discussed AIDS policy issues at the White House during the Clinton Administration; and Keller is a University of Chicago-educated lawyer and linguist, and former director of the AIDS Legal Referral Panel of the San Francisco Bay Area] but we're not pedantic."
In fact, Schatz says that people who should be offended by the group more often love the music and the comedy, and find it refreshing.
And Schatz adds that his own parents, who were "deeply humiliated by my decision to be a lawyer" are now "very relieved," especially as he comes from a long line of rabbinical drag queens from Lithuania.
Nevertheless, drag is not so much the essence of The Kinsey Sicks as "a vehicle that allows us to go places comedically," says Schatz.
"We're a singing group. We're a comedy group. Drag is the outfit I wear to work. It defines the role I play," Schatz explains. "Like clowns and jesters, we can speak a certain kind of truth that we can't when we dress normally."
The Kinsey Sicks' is a very live performance. They respond to the comments and the laughter of the audience, and often drag people onstage. And the audience loves it - spreading the fame of the group by word of mouth.
"At our shows there are gay men, lesbians, hetero couples, elderly Jews," says Schatz. "The breadth of our audience is one of the biggest surprises." [Simmons]