| return to lobby page | | NYTW mail | | go to other departments |

November Preview Picks
A chronological monthly tip sheet
to what's previewing--and opening--in New York.
By Larry Litt
Wednesday, October 24:
Recently I've been asked to reveal which shows I'm looking forward to seeing in November. I'm going to tell you about a few in this letter, and tell you why you should consider them too. We all have busy schedules and therefore only want to see shows that are exciting and provocative as well as thoughtfully written and superbly acted. Like everything else in the world today going to a show is a risk, albeit hopefully just an artistic one. That's what I really love about theater going, and about life. People who live in fear usually don't make good theater, even though playwrights love to write about them because they are such drama queens or they sit in silence and brood on their fate.
L to R: Matty Merrill, Laura Livingston, Jessica Calter, Mike Durkin, William Cefalo, Laura Valpey, Julianne Ziegler. Photo by Jonathan Slaff
I've always been a fan of improvisational theater, especially when it's played by sharp, witty actors. It proves that there are aware, worldly, prepared actors who aren't merely empty vessels waiting to be filled with someone else's words, and too often body parts. FREESTYLE REPERTORY THEATRE will present another season of THEATRESPORTS-- an entertainment which is actually a hybrid of acting, sketch comedy, and non violent competitive sports. Each evening is different, a duel between rival improv teams, umpired by an impartial referee. The teams perform short scenes using a variety of improv games, with the audience's topical suggestions. The winner can be decided either by the audience or celebrity judges. The teams are rated for skill, story and entertainment value. I think it will be stimulating improv at its best.
Freestyle Repertory Theatre presents TheatreSports, October 28 To December 16, Sundays at 7:00 pm, Trilogy Theatre, 341 West 44th Street, 2 fl. (between 8th & 9th). Tickets $5, reservations (212) 642-8202.
Maybe because this subject hits me close to home, but I can't wait to see MANHATTAN THEATRE CLUB's presentation of John Patrick Shanley's WHERE'S MY MONEY? The play is a dark comedy about two small-time Brooklyn divorce lawyers and the women in their lives. In other words, what women will do for money and what men will do for sex. The cast features David Deblinger, Yetta Ann Gottesman, Erik Laray Harvey, Florencia Lozano, Chris Mcgarry, and Paula Pizzi. John Patrick Shanley is the Oscar award winning screenwriter for the Moonstruck film which starred Cher.
Opening Night is November 7 with performances Tuesdays through Saturdays at 7:30 PM, matinees on Saturdays at 3:00 PM. Sunday performances are at 3:00 PM and 7:30 PM. Tickets are $45 and can be reserved by calling CityTix at (212) 581-1212.
I love theatre of the Absurd even when it's excessive, chaotic, and truthful to its intents of celebrating the madness of Western civilization. November is full of Eugene Ionesco's plays and films, all part of the continuing IONESCO FESTIVAL put together by various theatre companies coordinated by director Edward Einhorn. I've already seen at least half a dozen of the plays and each one is a gem worth reading on cold winter nights in the bunker. This is the first ever complete festival of Ionesco's work and probably the last for a long time. There are so many I can't begin to describe them all, so be sure to get the festival's calendar by calling 212.387.2043 or online at www.ionescofestival.com.
h

In response to the unfolding events following the 9/11 attack, Reno gives a new version of "Rebel Without a Pause" each Monday at 8:00 in The Club at La MaMa.
If you haven't read or heard about RENO's tragicomic, brilliant show, "Rebel Without a Pause," at THE CLUB AT LA MAMA let me be the first to tell you to get over there as quick as you can before you can't get a seat. She's changed her comedy act to meet the tragic and bizarre events since Terrible Tuesday. I was amazed that she could be so honest as to intimate that liberals can't tell the difference between good guys and bad guys but they better start now. I actually saw her shed a tear when the tech guy played God Bless America. It's a new day for downtown now that it's patriotically challenged. She even wants to be hired as an air marshall and fly with Americans. I wonder if she'll be able to keep quiet on her flights. Again right on, it really hit home when she mentioned Rudy Guiliani's dictum to those New Yorkers seeking normalcy after the tragedy, I never went to expensive restaurants or Broadway shows, who could afford them?" That's most old style downtowners story. Reno knows her audience well. She fits perfectly in that intimate and cozy night spot, The Club at La MaMa E.T.C.
Shows are Mondays at 8:00 pm Th-Sat at 10:00 pm, 5:30 pm Sun. Additional dates to be announced. $15 or $12 members/tdf, Box office (212) 475-7710. This show will run indefinitely. I recommend you call first for reservations. If there ever was a time for anti-war plays, now is it.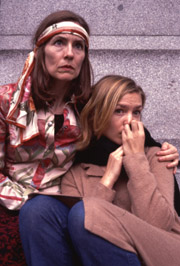 Karla Nielson (Mother Courage) and Katherine Lang (Kattrin, the mute daughter) headline the Washington Square version of "Mother Courage"
A ninety-minute version Bertolt Brecht's MOTHER COURAGE AND HER CHILDREN will be performed in Washington Square Park by the Exile International Theatre Company on November 2nd and 3rd at 8:00 pm. Written in 1939 "Mother Courage" is a cautionary tale set during the Thirty Years War of 17th century Europe. The current American political climate adds a prescience to the play's exploration of patriotism, holy wars, and courage. Yet there is a clear message to both sides about the dehuma nization that infects even decent people when war becomes all encompassing.
The event is free, with a suggested donation of $10. All proceeds will be donated to the September 11th Fund. The production is co-directed by Dan Colman and Elizabeth Gaines. WASHINGTON SQUARE PARK is a wonderful outdoor place for plays, as was the theatre at Delphi.
Finally, the long awaited return of THE COMPLETE WORKS OF WILLIAM SHAKESPEARE (ABRIDGED) will have you rolling in the aisles if it's anything like the previous versions. With a new cast, sets, and props the show is guaranteed to annoy those Shakespeare scholars who live in fear of their pomposity revealed. CENTURY CENTER, 111 East 15th Street, box office: 212.239.6200 That's what I'm going to in the next few weeks. Hope to see you there.
The performance schedule of "THE COMPLETE WORKS OF WILLIAM SHAKESPEARE (ABRIDGED)" is as follows: Monday, Wednesday, Thursday and Friday at 8 PM; Saturday at 4, 7 and 10 PM and Sunday at 4PM. Ticket prices, including a student rush, range from $25 to $55. The Century Center for Performing Arts is located at 111 E. 15th Street and tickets can be purchased through TeleCharge at (212) 239-6200.
| home | reviews | welcome |
| museums | recordings | coupons | publications | classified |