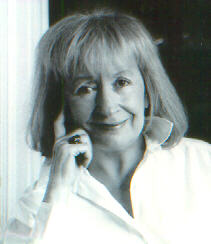 Margaret Croyden is a theater reviewer and essayist for the New York Theatre Wire.
Manhattan Theater Club
Top Girls by Caryl Churchill
The Biltmore Theatre West 47 St.
Directed by James MacDonald
Reviewed May 15, 2008
Caryl Churchill, the British playwright has always had a successful run with her body of work. Her plays have been presented in New York several times and received with great enthusiasm and respectable notices. This revival of "Top Girls" which opened twenty years ago at the Public Theater under the directorship of the great Joe Papp, also received unanimous praise. Last year one of Ms. Churchill's plays "Drunk Enough to Say I love You" had a similar approval. In fact Ms. Churchill's entire body of work since the nineteen seventies has won large audiences and much acclaim. Each time one of her plays is announced in New York, she is sure to create a fuss; she caters to a very special audience.
"Top Girls" is one of those successes, even though it is yet another revival (there are 14 on Broadway this season) and while Ms. Churchill received the same accolades as always, I found the play disappointing, even dated. Written when Margaret Thatcher held power in Britain, when the situation the 80's was somewhat different from now, Churchill's complaints about women and how they are treated in the work place were relevant then but seem dated now. A lot has happened since Margaret Thatcher's time.
The story is written on two levels. The first act is an imaginative fantasy while the second act is kitchen sink realism. The main top girl Marlene has just been made manager of a major employment agency. She invites a group of "top girls" (women of past centuries) to dinner to celebrate her good fortune. They include a strange lot--those who have been so called rebels and those who were defeated in their ambitions.
So here is her group: Pope Joan, a woman who disguised herself as a man, became pregnant and was burned at the stake; a Japanese courtesan turned Buddhist monk; Patience Griselda the dutiful wife from Chaucer's "Canterbury Tales;" Isabella Bird, the 19th century explorer; and a peasant woman from Bruegel's painting "Dulle Greit." Using these relatively unknown women as metaphors one hardly knows what Ms. Churchill was driving at with this group, or what they are supposed to convey.
True the first act conceit is perplexing and for some imaginative, but actually it was hard to understand the relevance of this group to what happened in the second act--despite the actor's doubling in their roles. (women of the past played those of the present as well.)
The women of the second act are banal. Each comes to the "Top Girls" agency seeking employment from the head (the one who gave the party for the ancients). Some women are young, and seemingly vain, some are old, and obviously poor and in desperate need of a job, one is full of false pride, one complains that she was pushed out by the men who replaced her. With these all too familiar types and familiar complaints the second act quickly turns into a woman rights play-- a dated doctrinaire, a polemic of the women's struggle of the 1980's--not an original topic these days.
No surprise when near the end of the play we discover that the top girl comes from a horribly poor family, is estranged from her sister, has left her child, and was altogether ruthless in pursing her goals. (Haven't we heard this story before) In the end, she is melodramatically "punished" turning the play into a true soap opera.
Though many critics were impressed by the first act, it seemed to me that it had little relationship to the second act; in fact it was another play altogether. Had the playwright chosen recognizable women of the past and clearly delineated their problems and how they clearly related to the present, perhaps it all would have made sense. Instead there was a severe disconnect, making the play fuzzy, with a soapy finale. The company were a splendid group of actors: particularly Elizabeth Marvel in the lead and the talented Marisa Tomei in a double part.