CROYDEN'S CORNER
by Margaret Croyden
"A Moon For the Misbegotten "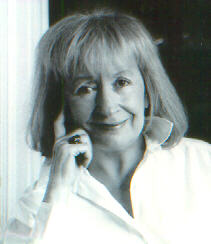 Margaret Croyden is a theater reviewer and essayist for the New York Theatre Wire.
A Moon For the Misbegotten
By Eugene O'Neill
The Old Vic Theatre Company production
The Brooks Atkinson Theatre
West 47th Street
Reviewed by Margaret Croyden May 1, 2007.

I must say that seeing these revivals every week has become tiresome. This is the third time around for Eugene O'Neill's "A Moon for the Misbegotten." And why? It certainly is not O'Neill's most interesting work, and this production certainly cannot beat the great Jason Roberts and Colleen Dewhurst in the original roles in 1973. But actually it is not entirely the actors' fault for a dull evening. O'Neill could not stop writing exposition: he could not stop talking, talking, talking, and it is extremely difficult in this day and age to just listen. I'm afraid that I, like everyone else, want images and dramatic action. But don't go to an O'Neill play expecting that.

The story deals with O'Neill's unhappy brother, Jim Tyrone, an alcoholic. He owns what looks like broken down property, part of which is the home of Josie and her father. On the surface, Jose is a rough, vulgar, earthy farm worker, but underneath she is a woman dying for love. On the surface, Jim Tyrone is similar but is incapable of achieving love or even accepting his longing for it.

Josie is a workhorse who runs the farm like a top sergeant. Her father is a drinker, a bully, and a boor. (The two of them may as well be playing the Beverly Hillbillies). Fearful of being dispossed from their shabby quarters that father and daughter rent, their main idea is to trap Jim Tyrone into marrying Josie to secure the land for themselves. Of course all of this boomerangs in the end. (It is unclear that their plot could have worked in the first place). The fact is that Josie is in love with Tyrone and he is in love with her. But he is incapable of showing it, until it is too late. The play is so unclear that we don't know why they could not resolve their problems. (Of course we can figure it out ourselves, nevertheless, the fault is in the writing).

This production has had an interesting history. Kevin Spacey, the much acclaimed Hollywood actor (winner of several awards) has in the past couple of years, become director of the Old Vic Theater company in London, an unusual job for a leading Hollywood actor. He has revived the company and has had a tremendous success. "A Moon For the Misbegotten," directed by Howard Davies, has been the sensation of last fall's London season and set a record as the highest grossing show in the theater's history.

Now, ironically, Spacey has been highly criticized for misinterpreting the role of Tyrone. He has been chastised for speeding up the play, for showing off, for using tricks, and so forth. I must say I was amazed by these reviews. Lets face it: O'Neill can be a total bore. Spacey brought life to the play. He has charm (is that a fault?), enormous energy, and was a pleasure to watch. He saved the second act's emotional scene where he breaks down, remembers his dead mother, and expresses his longing and his loss. Spacey was tremendously moving--the scene was the highlight of the play; it was the only truly emotional moment. And Spacey carried it off. Men really crying on stage is rare. And getting it right is even more rare. There was not a sound or even a breath to be heard when Spacey as Jim Tyrone breaks down and reveals his pain, his loss, and his misery. Surely that counts for something.

Eve Best got all the good reviews. But I found her monotonous. She overacted the rough and tumble aspect of the character. Her accent was forced (she's British) and she telegraphed, or indicated the character's traits excessively. Colm Meaney as the father played the usual Irish drunk, mean on the surface, less mean underneath. More of a cliche than a person.

In the end, Kevin Spacey saved the day. Yes he speeded up the play, (thank God). Yes, he used theatrical means to give life to the character, but without him in the role, it would have been sleepytime all the way, (O'Neill notwithstanding). Thank you Kevin Spacey for the theatrical energy you brought to the character and the emotional resonance that is often missing from Broadway productions. It was a pleasure to watch a real actor on stage.
Margaret Croyden's recent book is "Conversations with Peter Brook, 1970-2000" (Farrar, Straus & Giroux).