CROYDEN'S CORNER
by Margaret Croyden
"Dying City"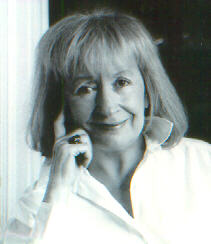 Margaret Croyden is a theater reviewer and essayist for the New York Theatre Wire.
Dying City by Christopher Shinn Directed by James MacDonald
Lincoln Center Theater at the Mizi Newhouse
Reviewed by Margaret Croyden April 9, 2007.

"Dying City" has received splendid notices. Almost every reviewer favored this two person play that originated in London at the Royal Court Theater last year. That is, everyone but me. Let me tell you what this is about--as if I could; the story line is total incoherent. The play is short, thank God-- but that doesn't make it any more interesting.

The plot is simple, so simple, it doesn't make sense. Peter (Pablo Schreiber) comes to visit his sister-in-law, Kelly (Rebecca Brooksher). They haven't seen each other since Peter's twin brother Craig (also played by Schreiber) has been killed in Iraq. Peter is a gay actor who rambles on--quite vulgarly--about fornicating with his guys during his theatrical career. The sister in-law, Kelly is a therapist, who is also disturbed but her problem is unclear. The dead brother, Craig, a Harvard graduate student had been distressed as well. But why? We don't know. Everthing happens in the past.
The dialogue is virtually all expository and hard to follow, particularly the talk about the dead husband. To confuse matters, there a flashback to the dead soldier, Craig. He and his wife, Kelly act out some kind of love-sex-rejection scene and then he goes off. Not clear either.

With this unwieldy structure and Schreiber playing two parts neither of which is specifically identified, the theatrical formula is a mess. The main problem is the playwright's idea of ambiguity, used for its own sake. Ambiguity supposedly gives comprehensible clues, despite the characters' diverse viewpoints. Ambiguity enables the spectator to grasp the subtleties in the play's subtext. But playwright Shinn is not good enough at this technique. He cannot enlighten the audience despite references to the war, and to Baghdad as the dying city. All ideas seem lost by the convoluted plot and playwright's viewpoint if ever he had one.

Another problem is Schreiber. O.K. the brothers are twins, but the actor's characterization of the twins is not clearly delineated. Schreiber uses the same boring tones for both parts, (he ought to do something about his voice), the same stance, and though at one point he switches to a soldier's uniform for the role of Craig, the confusion persists. Is this the present or the past? Who is who, who is talking, which brother?

If an actor must double, he must assume distinctive characteristics for each role: a different voice, a different physical stance. Not all twins look and sound alike. But Schreiber, could not find the key to either role. Rebecca Brooksher is sweet, pretty, has a nice figure, but she's connventional--the typical confused, tearful, ingenue lead. But finally, the fault is with the playwright. I think he believes it smart to mystify the audience. Let them figure it out, he says. But there has to be something to figure out.
Margaret Croyden's recent book is "Conversations With Peter Brook, 1970-2000" (Farrar, Straus & Giroux)