ASIANS & AMAZONS BY ABALOS
inside news about Asians and women on stage
By Marilyn Abalos
THEATRE:
PEELING'S FESTIVAL: Peeling will present Under the Skin: A Festival of One-Act Plays at the Pelican Studio Theater 750 Eighth Avenue, Suite 601, in New York City from July 10-27. New pieces written, directed, and performed by Peeling are presented in three rotating programs of one-acts. For tickets, call TheaterMania at 212-352-3101, or visit www.theatermania.com. Festival passes available. For more info on Peeling, visit www.peelingonline.com.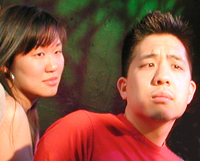 Jennifer Ahn and Steve Huang in "No Sweet Surrender," part of Peeling's Under the Skin Festival. Photo: Marilyn Abalos.
Peeling's 2003 one-act festival, Under the Skin, will take you from lust and economics in a Vietnam "hugging bar" to love and racial politics in a New York club, from gesticulations at an open mike coffeehouse to gyrations at a swingers' sex party. It examines the trials of having relationships with drug addicts, non-committers and of course, playwrights. In telling tales both familiar and foreign, humorous and heartfelt, Asian American yet universal, the theater ensemble Peeling presents its most ambitious work yet-a festival of one-act plays that delve deeper than ever into the psyches of Asian Americans as they face love, lust, identity politics, culture clashes and a lot of e-mail in New York City and beyond. Intimately personal yet crafted for drama, these eight stories will cut down to the bone and into your imagination-regardless of your skin color.
Program A will feature: "No Sweet Surrender" written and directed by Steve Huang. An Asian American couple confronts love and racism, after a NYC nightclub encounter turns ugly. "Still Breathing" by Celena Cipriaso, directed by Celena Cipriaso and Rich Kiamco. An innocent teenager begins to uncover the shadier layers of a mysterious youth who captivates yet evades her."Endings: A Collection of Love Stories Gone Wrong and Two Commercials" by Nora Chau, directed by Celena Cipriaso and Erwin Falcon. What happens when love goes south? A real, surreal, bittersweet and sometimes downright painfully funny look at breakups. Which ending is yours??
Program B includes: "The Virginity Monologues" by Aileen Cho, directed by Dan Bacalzo. A Korean American woman's quest for personal and familial resolution leads her to New York City, where Freudian memories and sexual adventures await. "Say Something" by Dan Bacalzo, directed by Aileen Cho. Is he really the One? Tackling monogamy, domesticity and love from top to bottom, a gay couple explores the matrix of a long-term relationship--largely through a staged version of themselves.
Program C will present: "Unaccessorized" by Rich Kiamco, directed by Dan Bacalzo. A gay Filipino diva escapes the cornfields of Illinois and begins a
Rich Kiamco and Dan Balcalzo in "Unaccessorized." Photo: Marilyn Abalos.
coast-to-coast odyssey among millionaires, con artists and salmon-colored fabrics. "Hugging Beer Bar" by Ngo Thanh Nhan, directed by Erwin Falcon. A Vietnamese businessman mixes romance and capitalism at a bar where girls make a living as best they can. "Oriental Playas" written and directed by J.P. Chan. In the sequel to Peeling's 2002 hit "Vampire Geishas of Brooklyn," a motley crew of Asian American performers search for love, or at least sex, via slam poetry and on-line dating.
Peeling is a pan-Asian, community-based arts collective, who states: "Our mission is to use the performing arts as a vehicle for Asian Americans to explore their individual stories, community building, leadership, producing & directing skills, and social activism through creative workshops, trainings, staged productions, readings, and related activities. Autobiography is our common departure point into the realities of race, gender, class, ethnicity, religion, age, sexuality, and similar politics facing Asian Americans today."
FILIPINO AMERICAN WINS CRITIC FELLOWSHIP: Cultural writer Randy Gener has been selected to be a participating writer at the Eugene O'Neill Theater Center's annual summer program for theatre writers, the O'Neill Critics Institute. The O'Neill Critics Institute is the nation's only critics' program partnered with a professional theater. Taking place July 8-20, this prestigious workshop for working journalists from across the United States runs concurrently with the annual O'Neill Playwrights Conference, one of the country's leading development program for new work in the theatre. In order to attend as a "critic fellow," Gener will receive a fellowship from the New York Times Company Foundation, whose interest in the Critics Institute is intended to advance journalists' knowledge in the field of theatre and film.
Randy Gener is a writer, director and critic based in New York City. He is associate editor of American Theatre magazine, the only national magazine in the United States devoted to the theatre; a Broadway features writer for The Star Ledger in New Jersey; and a critic-at-large for The New York Theatre Wire, www.nytheatre-wire.com, which he co-founded.
Gener's plays include "Love Seats for Virginia Woolf," produced by the National Asian American Theater Company and the architectural firm Item Design Laboratory; "Sick With Lust: Fire Island Tales," his adaptation of Andrew Holleran's fiction, produced at Off-Broadway's Judy's Chelsea; "I Look Divine," his adaptation of Christopher Coe's novel, produced at Dixon Place. In 2001, Gener performed in his own adaptation of "The Tiger Who Would Be King," a children's fable by James Thurber, at C.U.A.N.D.O. Arts Center in New York. In 1999, Gener conceived and staged "Wait for Me at the Bottom of the Pool"--a critically acclaimed performance piece with music and film using short stories and poetry by Samuel Beckett, Anton Chekhov, Harold Pinter, Kenneth Koch, Jack Smith, Roberto Uria, Joseph Brodsky, Sam Shepard and Gabriel Garcia Marquez--at HERE Arts Center.
Gener's writing has appeared in The New York Times, The Village Voice, The Daily News, Time Out New York, New York Magazine, Stagebill Magazine, Playbill, Dramatists Guild Quarterly, Filipinas Magazine, Lambda Book Report, Gannett Newspapers, Crain's New York Business, Applause Magazine, American Theatre and other publications. His articles and essays have appeared in the theatre programs and publications for numerous arts institutions across the United States, including the Joseph Papp Public Theatre/New York Shakespeare Festival, Roundabout Theatre Company, John F. Kennedy for the Performing Arts, Denver Center Theatre Company, Film Society of Lincoln Center and Carnegie Hall.
Born and raised in Manila, Gener was educated at the Ateneo de Manila University in the Philippines, University of Nevada and Bard College. In 2000, Gener received an award for Distinguished Service and Contribution in Arts and Culture from the National Federation of Filipino American Associations.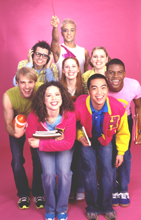 "Zanna, Don't!" Photo: Marilyn Abalos.
HE DOES "ZANNA, DON'T!" Filipino-American Enrico Rodriquez was in the hip cast of the smash hit Off Broadway Musical "Zanna, Don't!" This smash hit off-Broadway musical played at the John Houseman Theatre 450 West 42nd Street on Theatre Row. "Zanna, Don't!" tells the story of a matchmaking teen (Jai Rodrigez) with magical powers that turns relationships upside down, challenges our point of view and changes the world forever. "Zanna, Don't!" was a whole lotta fun. It was very entertaining and provocative.
Born and raised in Michigan, Enrico has been performing on stage since age 5. Inspired by his older sister, Anna Marie, he followed her footsteps doing local shows. While performing in Michigan, an agent in New York saw him and brought him to play the Big Kid in "Big, The Musical" on Broadway.
"My parents set me up in New York," he said, "They have been supportive of everything. I would not have been able to do what I do without their support. They found ways to make things happen." His parents, Virgilio and Anita Rodriguez are originally from Bataan and Manila.
After "Big," Enrico returned to Michigan and finished High School. He began studies in theater arts at University of Michigan. Another New York agent called, and he returned to Broadway to perform in "Rent."
Enrico was singing back up for Jai Rodriguez (no relation) in Excel in Chelsea when the producers saw them and recruited them for "Zanna, Don't!" Jai singing the lead, with Enrico as understudy).
I haven't had to deal with being a "starving artist," he said, "I am totally blessed." "Zanna, Don't!" closed last month after a successful run on Theater Row, 42nd Street. There's talk that the hit musical may open on Broadway later this season.
Enrico played Mike, the high school chess champion. His Broadway credits include "Big, The Musical" (Big Kid, original Broadway cast); "Rent" (Swing, Angel understudy). National tours: "Rent" (Paul/others, Angel understudy). Regional: "Footloose" (Ren McCormack, North Shore Music Theatre), 1999 Pittsburgh Civic Light Opera summer season. Workshops: "The Me Nobody Knows" (NYC). He also appeared in "The Radio City Music Hall Christmas Spectacular".
"Zanna, Don't!" was directed and choreographed by Devanand Janki, with musical supervision by Edward G. Robinson and additional book & lyrics by Alexander Dinelaris. Featured in the cast were Jai Rodriguez, Anika Larsen, Darius Nichols, Amanda Ryan Paige, Enrico Rodriguez, Robb Sapp, Shelley Thomas and Jared Zeus.
Tim Acito, who wrote the Book, Music and Lyrics written by Tim Acito, received a three Drama Desk nominations for Best Book Music, Lyrics while the musical received its own Drama Desk nomination for Best Musical. Devanand Janki was winner of the 2003 Lucille Lortel Award for Best Choreography. "Zanna, Don't!" also was winner of the 2003 GLAAD Media Award for Outstanding New York Theatre and a nomination for Best Off-Broadway Musical from the Outer Critics Circle Award.
HENRY IN THE PARK: "Henry V" began previews at The Delacorte Theater in Central Park with an opening scheduled Tuesday, July 15th. For more
The cast of "Henry V." Photo: Marilyn Abalos.
info about Shakespeare in Central Park, call 212-539-8750 or visit www.publictheater.org.
In his epic history play, "Henry V," Shakespeare shows us patriotism and war in all their complexity and contradictions. A young but cunning warrior king, upon the urging of his advisors, aims to bolster his image and regain his country¹s lost glory by invading France- no matter what the cost. His seeming transformation from inexperienced monarch to military hero illuminates the mechanisms of propaganda and poses the question: does a rise to power demand a fall from humanity?
The cast of "Henry V" features: Gbenga Akinnagbe, David Costabile, Jon Dolton, Adam Dannheisser, Gregory Derelian, Colman Domingo, Mark Gerald Douglas, David Flaherty, Rob Gallavan, Peter Gerety, Mercedes Herrero, Nicole Leach, Ryan McCarthy, Dan Moran, Daniel Oreskes, Orlando Pabotoy, Bronson Pinchot, Steven Rattazzi, Martin Rayner, Tom Alan Robbins, Liev Schreiber, Ryan Shively, Mike Strickland and Arie Thompson.
THE 2003 SUMMER BENEFIT, taking place on Tuesday, July 15, is in honor of John Breglio, Partner and Chairman of the Entertainment Division of Paul, Weiss, Rifkind, Wharton & Garrison LLP. The July 15th Summer Benefit consists of a pre-performance dinner at the Delacorte Theater at 6:00 p.m., the Opening Night Performance of "Henry V" at 8:00 p.m. and a dessert/champagne reception at The Belvedere Castle with cast members following the performance. For information regarding The 2003 Summer Benefit, contact Louie Anchondo, Director of Special Events at 212-539-8738.
Shakespeare in the Boroughs serves residents of Brooklyn, Queens, Manhattan, Staten Island and the Bronx by providing free tickets to Shakespeare in Central Park and free performances for people of all ages in their own neighborhoods, as well as free arts education programs for youth. An allotment of free tickets for Shakespeare in Central Park will be distributed from locations in all five boroughs on selected dates. Tickets will be distributed between 1:00 p.m. and 3:00 p.m. on the specified date at each of the locations below. For more information on Shakespeare in the Boroughs, please call 212-539-8681.
Note the following locations: Bronx, Thursday, July 3rd and Thursday, July 31st at Lehman College, 250 Bedford Park, Boulevard West. Friday, June 27th and Friday, July 25th at The Point Community Development Center,940 Garrison Avenue. Brooklyn, Friday, July 11th and Wednesday, July 30th at Brooklyn Children¹s Museum, 145 Brooklyn Avenue. Friday, July 11th and Wednesday, July 30th at 651 Arts Center, 651 Fulton Street (Between Ashland Pl. and Rockwell Pl.).
Manhattan, Friday, June 27th and Friday, July 25th at El Museo del Barrio, 1230 5th Avenue at 104th Street. Thursday, July 3rd and Thursday, July 31st at Aaron Davis Hall, West 135th St. and Convent Avenue. Queens, Friday, July 18th at Queens Theater in the Park, Flushing Meadows, Corona Park. Staten Island, Saturday, June 28th and Saturday, July 26th at Snug Harbour Cultural Centre, 1000 Richmond Terrace.
SHAKESPEARE'S WOMEN: The Kings County Shakespeare Co will present "Shakespeare's Women," performances of scenes from Shakespeare's plays with focus on his female characters, July 12-13, 2PM at the Founders Hall Theater at St. Francis College on Remsen Street, Brooklyn Heights. Event features performances by The Vertical Players, a Brooklyn opera company, which will perform a selection from Verdi's "Otello" featuring Emilia and Desdamona. KCSC will perform one scene entirely in movement, choreographed by Amy Schwartzman Brightbill. Other Shakespearean leading ladies will be interpreted by both the men and women of the KCSC. July 13 is Family Day and will include a visit by Her Royal Highness Queen Elizabeth I. For tickets call Smarttix at 212-868-4444 or visit smarttix.com.
The company also hosts a continental brunch and free reading series on Sunday afternoons in Founders Hall of St. Francis College in Brooklyn. Joseph Small is Artistic Director of this program. "A Woman of No Importance" by Oscar Wilde, directed by Nicole Potter, is scheduled for Sunday, July 28, 1:30 (Brunch), 2PM, (Reading). No reservations are necessary. For more info, call 718-398-0546.
"TRAGEDY IN 9 LIVES": A new pop/rock music theater work by Karen Houppert, produced by Sightlines Theater Company runs through this month at PS 122's ToRoNaDa Theater 150 First Ave. at 9th St.. Stephen Nunns directs Obie-winner Juliana Francis and T. Ryder Smith. To reserve tickets, call SmartTix at 212-868-4444 or visit www.smarttix.com.
"Tragedy in 9 Lives" is Karen Houppert's new pop/rock music theater work set at Andy Warhol's Factory, circa 1968. It re-creates the "happenings" of that era as audience members, including Warhol himself, find themselves voyeurs, eavesdropping on a cast of characters including The Chelsea Girls, militant feminist Valerie Solanas, and the new journalists who were seduced by the '60s scene. For 15 minutes, in Warhol's New York, art, feminism, politics and the press intersected in an exhilarating and dangerous way. "Tragedy" is a rare and exciting, contemporary music-theatre-performance event that taps the experimental vibe of the late 1960s, an unprecedented time when the borders between "high" and "pop" were fluid and the possibilities seemed endless.
The cast features Juliana Francis, T. Ryder Smith, James "Tigger" Ferguson, Laura Flanagan, and Chris Spencer Wells.
Sightlines Theater Company was founded in 1996 by its Artistic Director Eileen Phelan with a mission to produce theater that is inspired by a contemporary or historic event, cultural trend or significant person. In addition to"Permanent Visitor" and "Snatches," Sightlines' previous productions include Kia Corthron's "Cage Rhythm," Lizzie Olesker's "Dreaming Through History," Naomi Wallace's "One Flea Spare" and "American Rose: Stories of the Gals on the Homefront," plus many readings and workshops of new plays. For more information, visit www.sightlinestheater.com.
WONDERBABE: The Project will present "Confessions of a Wonderbabe" at The Chernuchin Theater, American Theater of Actors, 314 W. 54th Street beginning Tuesday, July 1st at 10:30 PM and closing Sunday, July 20th at 7:00 PM. "Wonderbabe" is sure to entertain with its quirky wit, popular music, hilarious double and triple casting, and its unique blend of hip hop and martial arts choreography. For reservations, call 212-971-5886 or visit ww.jenniferpierce.com.
"Is it my physical strength they admire? My selfless dedication to truth, justice and the American way? My fluency in 18 modern and ancient languages? Or is it just my totally hot bod?" begs Wanda Winsome (a.k.a. "Wonderbabe") after the recent release of paparazzi shots of her undressing in her invisible helicopter leads her to question the value of her heroine alter ego. As she spirals into clinical depression, Wanda seeks the advice of a world-renowned psychotherapist. Her arch nemesis, Lady Leopard, takes advantage of her vulnerability and reeks havoc on the city. Can Wanda combat her paralyzing depression in time to save the city? Will she don the costume of truth, justice, and American babehood once again?
Jennifer Ewing Pierce (writer/director/producer) is the founder and president of The Project/Aleph Null Inc. She has also written "The Magdalene Project," "I Would Learn Sanskrit," and "Confessions Of A Wonderbabe" (winner of Showbusiness Weekly's Best Off Off Broadway Comedy Award in 2002). A published scholar, she has an MA in Performance Studies from NYU and is currently completing a PhD in Theater Studies from University of Pittsburgh, where she is a teaching fellow and a resident artist. The show stars Allison McAtee who is indeed 6'5" (in her Wonderbabe boots, but still) and Ryan Tavlin, who became a wonderbabe in his own right on A & E's "Role Reversal" when he gender-bended as Jory, an audience favorite.
WHAT'S YOUR KARMA?: Astrobabble in association with Michael Johnson and Savio Clemente present Lilith Dove's "What's Your Karma?" Beginning July16 at The Producers Club on West 44 Street. What goes around comes around is the premise for Lilith Dove's "What's Your Karma?" As you walk into the intimate theatre you are given instructions to pick a card, the cards are then collected and Ms. Dove randomly selects a card a reads its karmic vibrations and rapidly conveys past life information and what is needed to move onto the next level. "What's Your Karma?" is a sexy, exciting show that gives insight into your present life by examining your past. For tickets, call 212-352-3101 or visit www.theatermania.com.

Clairvoyant Lilith Dove grew up in Essex, England and realized at an early age that she possessed a special gift. She came to New York and has been studying metaphysics for over ten years. Her clientele includes many from the entertainment, fashion and business worlds looking for help with their professional and personal lives. Featured on the "Late Show with David Letterman," her readings have helped many people gain a greater understanding of their individual talents and abilities. For more info visit www.whatsyourkarma.com.
LADIES AT THE BASSET TABLE: The new adaptation of Susannah Centlivre's Restoration comedy "The Basset Table" will be presented at Here at 145 Sixth Avenue thru July 13. Rarely performed outside academia, this version of "The Basset Table" will transport audiences from the English Restoration to a 1950s television studio in director Rachel Ford's adaptation. Forget the raked stages, English accents and archaic gestures from traditional Restoration theatre. Rachel Ford will direct a cast of women playing 1950s-era TV starlets who speak lines peppered with verse and portray both male and female roles. For tickets, call 212-868-4444 or visit www.smarttix.com.
In this episode of "The Basset Table," 1950s actress Violet Meadows plays Lady Reveller, a trend-setting widow-in-the-know who must choose between the thrill of a straight flush or the security of a proper marriage with the charming but oh-so-traditional Lord Worthy. Between scenes, our studio audience will see live wardrobe changes and camera cues as starlets showcase the sponsors' products from Pursettes tampons to Cramden's wig powder.
"The Basset Table" will feature additional material written by director Rachel Ford. The cast includes Lia Aprile, Adriana Baer, Saylor Billings, Cynthia Boorujy, Sue Galloway, Amina Henry, April Matthis, Tanya Perez, Heather Rogers, Elizabeth Stifter and Claire Tyler.
ICE FACTORY FESTIVAL: Soho Think Tank's Ice Factory '03 launches its annual summer festival with the "Mother's Little Helper" by Lenora Champagne opening July 9th at the Ohio Theatre - 66 Wooster Street in Soho, NYC. For tickets and more info, call the box office at 212-966-4844 or visit www.sohothinktank.org.
Ice Factory is Soho Think Tank's annual summer festival of new work. STT presents work by emerging and established downtown companies, as well as exceptional national and international groups. STT prides itself on the aesthetic diversity of the work presented, while maintaining a standard of intelligent, imaginative theater. "Ice Factory" offers established companies like adobe theatre, Jane Comfort and Company, New Georges, Wax Factory, Elevator Repair Service, and more, is a prime forum in which to develop new work for possible future productions.
July 9 - 12, Soho Think Tank's "Mother's Little Helper" written & performed by Lenora Champagne, directed by STT Artistic Director Robert Lyons. A former Cajun-American Princess struggles to raise her own daughter in a world fraught with post 9/11, pre-adolescence danger. Domestic pleasures and international anxiety Louisianna style.
July 16 - 19, Salt Theater, "Conquest of the Universe," by Charles Ludlam (Ridiculous Th. Co.) directed by Emma Griffin. A blitzkrieg of a war play. Tamberlaine, the President of Earth, and his wife, Alice, rape and pillage their way towards inter-planetary domination, bringing the galaxy to its knees. High camp and low brutality.
July 23 - 26, Pig Iron Theatre (Philadelphia), "Flop," created by the company. Three girls discover they can control time with the clock that hangs on their wall. Moving back and forth between past and future, they accidentally break the universe. Can these unlikely heroines save the world? New Vaudeville for all ages. Pig Iron Theatre Company is a rising star in their home of Philadelphia and as a unique, innovative voice in American theatre. They are acclaimed for their physical precision, lyrical writing, and exuberant, whimsical productions.
July 30 - Aug 2, The Foundry Theater, "The Myopia," an epic burlesque of tragic proportions written & performed by David Greenspan. Barclay is writing a play about his father, who's writing a musical about President Warren G. Harding, which Barclay is re-writing to feature his grandmother Yetti, his mother Koreen, 16 US Senators, and Carol Channing. An Escher painting in theatrical form - a 25-character solo virtuoso.
INTERNATIONAL MIDTOWN THEATRE FESTIVAL: The Fourth International Midtown Theatre Festival will be presenting three performances of Libby Skala's one-woman show "Lilia!," about screen and stage star Lilia Skala at the Abingdon Theatre Arts Complex, 312 W. 36th Street. In this heart-warming tale about the journey of a remarkable woman and the connection between two kindred spirits, Libby Skala plays both herself and her indomitable grandmother. Performances run July 17-31. For tickets, call Ticket Central 212- 279.4200 or visit www.ticketcentral.com.
Transforming from one character to another, Ms. Skala tells the true story of the Viennese-born actress who became the first female architect in Austria, a stage star in Max Reinhardt's theater, and finally a Hitler refugee who leaped from New York zipper factory to a career on Broadway, television and film. Portraying their special relationship, Lilia also humorously guides her granddaughter through the perilous waters of being an actress in New York and Hollywood. Lilia Skala collected an Academy Award nomination for her role as the Mother Superior in the 1963 classic Lilies of the Field opposite Sidney Poitier, a Golden Globe nomination for Roseland and an Emmy nomination for "Eleanor and Franklin."
"In the last conversation I had with my grandmother, she asked me to write a part for her," said Libby Skala (Playwright/Actress). "She was an extraordinary woman who had an extraordinary life. I began developing the show immediately!" She has performed it across North America and at the Edinburgh Fringe Festival. It was selected as "Best Show" at the Winnipeg Fringe Festival in 2000 out of 118 shows. She has also performed frequently in NYC as well as regionally. In Washington D.C. she appeared in Jeffrey Sweet's Value of Names at Theatre J.
Kate Rigg. Photo: Marilyn Abalos.
ASIAN AMERICAN GIGS: On Friday, July 11, 10PM, musician and composer Elaine Lachica will perform at the Acmeunderground located on 9 Great Jones Street in the East Village of New York City. Lachica will perform selections from her solo debut LP, 9, where she fuses alternative-soul vibes with layers of ethereal electro-acoustic soundscapes. For reservations, call 212-677-6963 or visit www.acmeunderground.com.
On Thursday, July 24, 9:30PM, Kate's Chink-O-Rama: featuring MC Chink Daddy & the Chink-O-Rama Dancers will perform. Back for one night only!! MC Chink Daddy (Dave Jung), comic diva Kate Rigg, and the Chink-O-Rama Dancers return with their legendary funky urban Asian comedy/music revue. Edgy political satire, wild characters, rollicking song parodies and hot Asian fly girls. See the funky urban Asian experience, the laffs are fresh, and the flava is nuyorasian. For tickets, call Telecharge at 212-239-6200 or visit www.joespub.org.
LINCOLN CENTER FESTIVAL 2003: Performing arts groups from Korea and China are among the international companies featured in the Lincoln Center Festival 2003 scheduled to perform from July 8 through July 27. The Festival will over nearly 100 performances, including 20 premieres and debuts of opera, chamber and world music, theater, dance, performance art and ritual. Among the Festival's highlights are performances of the complete "Pansori," a traditional solo song and narrative performance form from Korea. The Festival was launched in 1996 to celebrate Western and non-Western classical traditions while also showcasing contemporary artistic forms and viewpoints from around the world. For more info call the Festival Hotline at 212-875-5766, for tickets, call CenterCharge at 212-721-6500 or visit www.lincolncenter.org.
MUSIC THEATER: The Festival looks east with traditional and contemporary music theater and ritual from Korea and China. From Korea comes "Pansori," a distinctive solo song and narrative form that arose in the 18th century. "Pansori" recounts epic tales based on well known and popular ancient Korean folk stories, and features a master singer/story teller accompanied by a drummer. Of the original 12 pansori known to have existed, only five remain and all five will be performed at the John Jay College Theater, July 16-20.
Korea is also the source of "Daedong Gut," a traditional shaman ritual that will be led by celebrated 72 year old mudang (shaman) Kim Keum-hwa, who has been designated a "living Cultural Treasure" in Korea. Kim, with her company of 17 assistants and musicians playing traditional instruments and wearing colorful robes, will carry out a series of ritual activities. The piece will weave together singing, dancing and chanting, in a ceremony meant to bring special blessings to the people of New York on July 15 at the John Jay College Theater.
From China, theater pieces based on the best known example of 13 century Yuan drama, "The Orphan of Zhao," will be presented. Director Chen Shi-Zheng's new comic tragic re-imagining of Ji Juan-Ziang's masterpiece uses Western actors and a contemporary English adaptation by playwright and Obie Award winning director/actor David Greenspan (July 18-27, La Guardia Drama Theater). In addition, the tale of family, honor and vengeance set in the 7th century Jin kingdom will receive a second treatment in an innovative new production in Chinese by Chen. For the revenge ritual, Chen works with eight of today's most outstanding Beijing Opera actors, draws on traditional forms to create a free expressive theatrical vocabulary and features traditional Chinese opera musicians performing the original 13th century music on stage (July 23-27, Clark Studio Theater).
DANCE: Making it's NY debut is Shen Wei Dance Arts, a company founded by Chinese born, NY based choreographer/painter Shen Wei. In just tow years, the young company has earned accolades in Europe and the US for its "startling imaginative work" based on Shen's fusion of Eastern and Western art forms: dance, theater, Chinese opera, painting and sculpture. The company will perform two New York premieres of Shen's work: "Folding," set to Tibetan Buddhist chants and music of John Tavener, and "The Rite of Spring," with the Stravinsky score for four hand piano performed by the noted pianist Fazil Say, live on digital piano (July 23-26, La Guardia Concert Hall).
Other highlights are Deborah Warner's site specific theater performance installation "The Angel Project," the celebrated Kirov Opera of the Mariinskly Theatre, in a co-presentation with the Metropolitan Opera of an opera in concert and five dazzling productions, including the North America premiere of Prokofiev's epic opera "Semyon Kotko," Dance Theatre of Harlem's premiere of "St. Louis Woman," and a mini festival of Brazilian music.

MUSIC:
AVERY FISHER GRANTEES: Pianist Natalie Zhu is among the Avery Fisher Career Grant recipients for 2003. The Award is designed to give professional assistance and recognition to talented instrumentalists who have potential for solo careers. Colin Jacobsen, violinist, Demarre McGill, flutist, Giora Schmidt, violinist, and Scott St. John, violinist/violist are also recipients for this years Career Grants.
Since its inception, 89 Career Grants have been awarded, including Sarah Chang, Joshua Bell, Carter Brey, Pamela Frank and Nadja Salerno-Sonnenberg. Recipients are nominated by the Avery Fisher Program's Recommendation Board, which is comprised of nationally known instrumentalists, conductors, composers, music educators, managers and presenters.
Natalie Zhu was born in Beijing, China. Last season the Philadelphia Inquirer heralded Natalie Zhu's performance in recital as a display of "emotional and pianistic pyrotechnics." This season that same paper described her performance of Chopin's Concerto No. 1 as having an "explosiveness that couldn't have been imagined in the composer's era." Adding that …"Phrases were shaped with dramatic elasticity that allowed maximum range of expression."
As a winner of Astral Artistic Services 1998 national auditions, Zhu has performed throughout North America, Europe and China as soloist, recitalist and chamber musician. She has appeared in the US with the Pacific Symphony, the Concerto Soloists Chamber Orchestra of Philadelphia, the Astral Chamber Orchestra, the Bergen Philharmonic and with the Colorado Philharmonic National repertory Orchestra.
She made her European debut in 1994 at the Festival de Sully et d'Orleans in France, and has subsequently toured Holland, Germany and France. Her noted collaboration with renowned violinist Hilary Hahn, after stepping in for pianist Garrick Ohlsson on short notice, began during Hahn's October 2000 US tour, and has continued with tours of the US, Europe, and Japan in 2001, 2002, and 2003.
Natalie Zhu has received numerous awards including the grand prize in both the 1988 and 1989 Young Keyboard Artists Association Competition. She won the 1991 Concert Series Award and was the first prize winner in the Johanna Hodges Piano Concerto Competition in 1988 and 1991. An active chamber musician, she recently appeared at the Amelia Island and Great Lake Music festivals and frequently performs at the Marlboro Music Festival. In 2000, she was a fellow at the prestigious Tanglewood Music Festival.
MEET THE ASIAN AMERICAN COMPOSERS: Meet the Composer has awarded grants to 17 composers (including two Asian Americans) to create new works in diverse settings across America, from California to Tennessee, to Missouri to New York, through "Commissioning Music/USA," the nation's preeminent commissioning program for the support of new music. They have teamed up with a diversity of performing/presenting organizations around the country to create new works in a variety of forms, styles, and musical traditions. Chen Yi for Virginia Arts Festival and Fred Ho for Imani Winds are among the composers selected. For more info, visit www.meetthecomposer.org.
Now in its 15th year, Meet The Composer's commissioning programs have facilitated the creation and multiple performances of over 700 works by many of America's most exciting contemporary composers. Some revered works that MTC has commissioned include John Adams's opera Death of Klinghoffer and Andre Previn's opera A Streetcar Named Desire; orchestral works such as John Corigliano's Symphony No. 1, Philip Glass's Concerto Fantasy, and William Bolcolm's Symphony No. 6; multimedia pieces such as Meredith Monk's Mercy and Paul Dresher's Sound Stage; dance collaborations such as Lou Harrison's Rhymes with Silver (Mark Morris Dance Group) and Zakir Hussain's Flammable Contents; and ensemble works such as Tan Dun's Concerto for Six Players, Steve Reich's Drumming, John Harbison's Flashes and Illuminations, and Julia Wolfe's Early That Summer.
A new 15-20-minute multi-movement piece by composer/musician Fred Ho for Imani Winds, the first all African-American wind quintet, was commissioned. The work is based on the passionate spirit of Josephine Baker and entitled Josephine Baker's Angels from the Rainbow. The suite will be premiered in early 2004 at a variety of venues;
In also commissioned, a new sextet by Terry Riley for the Kronos Quartet, featuring pipa virtuoso Wu Man and Riley himself as vocalist/keyboardist on the occasion of his 70th birthday, to premiere June 2005 at UC Berkeley.
YURA LEE WITH NEW YORK PHILHARMONIC: 18 year old Yura Lee will play the Tchaikovsky Violin Concerto with the New York Philharmonic in the Heckscher State Park in East Islip, Long Island, with Roberto Minczuk conducting July 12th, 8PM. Part of the Free Concert in the Parks program, the Orchestra will also play Borodin's Prince Igor Overture, Ginastera's Estancia Suite and Bernstein's Symphonic Dances from West Side Story.
The New York Philharmonics 2003 summer activities will feature free concerts in Central Park, Prospect Park, Brooklyn, Cunningham Park, Queens, Heckscher State Park, East Islip, Long Island and Orchard Beach, Bronx. The soloists will include 18 year old clarinetist Won Jin Jo, winner of the 2001 New York Philharmonic Young Artists Competition, violinist James Ehnes, Grammy nominated vocalist Luciano Souza and violinist Yura Lee.
DANCE:
BUTOH DANCE FESTIVAL: The Butoh Dance Festival kicks off July 15 at the Japan Society on East 47 Street. Running through July 18, Dairakudakan, the illustrous butoh company under the artistic direction of Akaji Maro, returns to New York. The company will debut two US premieres in the Kochuten series, "Paradise in a Jar: Universe of Darah" and "Surume." Choreographed by company members Atsuko Imai and Kumotaro Mukai, the new works are characteristically daring and dazzling. For tickets, call 212-752-3015 or visit www.Japansociety.org.
BURMESE WATER FESTIVAL: The Ninth Annual Rakhaing Thingyan, Burmese New Year Water Festival, will be held Sunday, July 13, from 11AM to 4PM at Martin Luther King Jr. High School, 122 Amsterdam Avenue (between 65th & 66th Streets), behind Lincoln Center. FREE admission to ThinGyan Association's internationally renowned celebration. The Water Festival is the largest and most elaborate Burmese event outside Burma (Myanmar), and attendees have come from as far as California, Canada, and England.
Highlights of this year's event include traditional Burmese water play, in which young and old alike joyously splash each other with water to was away the sins and misfortunes of the past year and the formal honoring of senior members of the community by the younger. Burmese culinary specialties will be available for purchase, accompanied throughout the day by performances of traditional Burmese music and dance
Since 1992, ThinGyan Association has kept alive Burma's rich heritage for Burmese-Americans and the public through the organization and presentation of cultural and artistic events. Their programs include dance and music concerts, educational seminars on negotiating the New York City public school system, basic informational sessions on US immigration, and the annual Water Festival and Festival of Lights.
Kyaw Tha Hla is Executive Director and a Founder of ThinGyan Association. Kyaw is a New York-based producer, playwright, traditional Burmese dancer and artist. He has studied traditional Burmese dance technique for many years, including in the Shwe Man Thabin style. He has performed and lectured in universities and museums throughout the US. He has produced plays on Broadway, Off Broadway, Los Angeles, including "The Lady Swims Today," "Coils of Death," "A Baptist Boy Trapped in a Jewish Boy's Body," and his play, "Brotherly Loves." His artwork is collected across the country and by the Queen of Bhutan, and his works deal with both quantum physics and the fusion of Eastern mythologies with the Western point of view. His pieces have been exhibited in New York City and other major cities in the US. He has also produced cultural shows for Burmese American associations. [Abalos]