Reviews by Lucy Komisar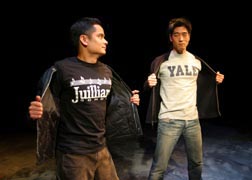 "Sides: The Fear is Real..." -- Rodney To, Peter Kim, photo by Brian Barenio
"Sides: The Fear is Real…."
Written by Sekiya Billman, Cindy Cheung, Paul H. Juhn, Peter Kim, Hoon Lee & Rodney To.
Directed by Anne Kauffman.
Bleecker Street Theatre, 45 Bleecker St.
212-307-4100, http://www.ticketmaster.com
Opened Aug. 25, 2005.
Reviewed by Lucy Komisar Oct. 1, 2005.
Closes Oct. 27, 2005.
http://www.mrmiyagi.com.
Six actors have triumphed over the play and casting directors who terrorized them by turning their traumas into a sketch comedy that trumpets their talents. Most of them are authors of this collaborative work, directed at a fast pace by Anne Kauffman.
"Sides" are the script excerpts used for auditions. This is a show for theater cognoscenti. Rodney To pulls open a shirt to show a T-shirt from Julliard, the performing arts high school, which prompts Peter Kim to flaunt his "T" from Yale, with its drama school. Kim struts onstage doing exaggerated voice exercises that involve gymnastics with his tongue.
There are take-offs of theater standards past and present. Jane Cho does a funny spoof of The Lion King's "Circles of Life," performing half a dozen parts, including various puppets. Hoon Lee, unable to create the character his auditor wants, turns it into a comic caricature Chinese. The talented Lee acts another part as if it were in a Shakespearean drama.
Fear takes all forms. Paul Juhn's character is a running gag who is so nervous that his sweat runs down to soak both shirt and pants, and he clumsily pulls the back off the chair he is supposed to sit in. His fellows comfort and congratulate him when he finally gets a gig, but it turns out to be not exactly what New York actors aspire to. Rodney To as the hyper-frenetic playwright Ding Ding makes you gasp for breathe.
The pièce de résistance is "Medea," the hip hop musical set in ancient Brooklyn. [Komisar]