Reviews by Lucy Komisar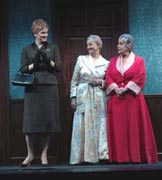 The Ladies of the Corridor, Jo Ann Cunningham, Carolyn Seiff, Libby George, photo Mike Messer
"The Ladies of the Corridor"
By Dorothy Parker & Arnaud d'Usseau.
Directed by Dan Wackerman.
The Peccadillo Theater Company, East 13th Street Theater, 136 E. 13th St.
212-279-4200.
Opened Sept. 14, 2005.
Reviewed by Lucy Komisar Sept. 23, 2005.
Closes Oct. 23, 2005.
Dorothy Parker and Arnaud d'Usseau's acerbic but affecting play about women in the early 1950s -- that time before "women's liberation" -- deftly lays out what happens to women who lack their own identities and work. They self-destruct.
The piece, first staged in 1953, gets a strong, nuanced production by Dan Wackerman, whose Peccadillo Theatre Company puts on forgotten American classics. Kudos to him for remembering this one. The playbill note says that Parker contributed the wit and the politics while d'Usseau was responsible for dramatic structure. The play scores on both points.
Half a dozen women live in suites at a residence hotel in Manhattan's East 60s. The address means they have money. They are the widows or discarded wives of men in marriages that stunted and stultified them. The only two who are psychologically sound were forced to work out of financial duress and fortunately had the self-confidence and competence to keep jobs. One is an interior decorator, Connie (Jo Ann Cunningham), the other the hotel chamber maid, Irma (Susan Varon). Living lives of utter boredom are Virginia Gordon (Libby George), a southern-accented mean-spirited and nosy kleptomaniac, and Mrs. Lauterbach (Carolyn Seiff), who continually broods about whether she'll get an invite to visit her upstate daughter and family.
Two others are either victim or perpetrator of evil. Mildred Tynan (Domenica Cameron-Scorsese) is humiliated, on the bottle and ready to seek affection from strangers, because the philandering husband she left is always late with his support check. Grace (Peggy Cowles) is a wheelchair-bound dowager who selfishly keeps her caretaker son from having a life.
None of the latter four ladies ever worked. Into this cauldron of largely wasted womanhood comes Lulu Ames (Susan Jeffries), who first identifies herself as Mrs. Elliott James. She has left Akron on the death of her husband to find a new life. And perhaps her own name. When we meet her lawyer son (Patrick Boyd) and his stay-at-home wife, Betsy (Dawn Evans), we find Betsy a neurotic who gets upset when Lulu refers to the couple's three-year-old as a baby. She refuses to touch her mother-in-law, because she might transfer germs from a pet dog. We can guess where such motherhood is leading!
Can damaged women ever reject "traditional" female behavior? Lulu by luck gets romantically involved with Paul (Kelly Aucoin) an attractive, charming bookstore owner 12 years her junior. He's just ended a marriage. About his ex-wife he comments, in classic Parker phrasing, "We were both in love with her." Will Lulu take this second chance and run with it? Why in New York is she still wearing frocks of pink organza and rhinestones or too-bright pink satin? And totting along her needlepoint?
Why can't she be like Connie -- in her elegant tailored suits the stand-in for Parker -- who comments with rapier wit, "The difference between Akron and New York? When we lived in Akron, nobody was safe from buffalos."
Or recounting the lover she had after her husband died: "I was young again."
"What happened?" inquired Lulu.
"He found someone who was young for the first time."
A crueler humor is expressed by Grace, with the morals and dress of a black widow spider, as she compares her son, who aimlessly wanders around the Central Park Zoo, with the animals. "Poor caged things," she opines in a lilting voice, "but when one of them escapes, they don't know what to do." The controlling mother is a shrewd investor. It should have been her day job.
This 50-year old play has a sense of being a little yellow around the edges, but it's a fascinating look back as what life was like for women pre-1960s, pre-feminism. Wackerman has directed with a realism tinged with the feeling you might get from an old movie. The cast is uniformly excellent. I especially like Jo Ann Cunningham as Connie, lively and cool at the same time, Peggy Cowles as the icily wicked Grace, and Domenica Cameron-Scorsese, who gives a chilling portrayal of Mildred Tynan teetering on the edge. Kelly Aucoin as Paul and Susan Jeffries as Lulu, both fine individually, seem mismatched from the start; you have to take it on faith that they see something in each other.
You will assuredly see a lot in this production. [Komisar]