| go to entry page | | go to other departments |

Lucy Komisar
"Lennon," a vibrant musical reprise of his music, life and times
How he became committed to peace politics and an unusual woman
By Lucy Komisar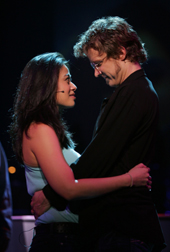 "Lennon," photo by Joan Marcus
"Lennon."
Written and directed by John Scardino.
Music and lyrics by John Lennon.
Broadhurst Theatre, 235 West 44 St.
(212) 947-8844
Opened Aug. 14, 2005.
Reviewed by Lucy Komisar Aug. 12, 2005.
http://www.lennonthemusical.com/
I had a friend who, decades ago, was the Washington Post correspondent in the Soviet Union. He once filed a dispatch by phone (before computers and internet) and somewhere in it mentioned Lenin. It came out in the Post as Lennon. Such was the place of John Lennon in the consciousness of that young news clerk's generation.
The musical version of Lennon's life, written and directed by Don Scardino on a foundation of Lennon's songs, is a skillful, charming tribute to the artist and the man. I always liked the Beatles' verve, wit and tunefulness, which I found generally absent in traditional rock and roll. In the play's first noisy moments, I thought this was a work for aficionados of Beatles music who care deeply about John Lennon, not for the general theater-goer. But soon I was enjoying the artfulness of the staging, the talent of the cast, and the appeal of Scardino's story.
The play is set on a plain stage with a round riser backed up by a band. Behind them, three huge screens show photos and video of the times, scenes and people being discussed. The nine actors are all interchangeably Lennon, his Beatle comrades, Yoko Ono and others in the story. It's a device that works, deflecting interest from particular actors as characters and presenting a musical composite.
They sing twenty-seven Lennon songs, including "Instant Karma," "Give Peace a Chance," and "Imagine." The numbers are smartly placed to fit into the story of Lennon's childhood in Liverpool, his co-founding of the band, his marriages to a young Brit, Cynthia, and then to the Japanese artist, Yoko Ono, his commitment to anti-war politics, and his 1980 assassination in New York.
There is a good deal of humor displayed. A campy, ermine-draped Queen Elizabeth is shown welcoming "the lads" to a royal performance. John announces: "The people and the gypsies can clap your hands; the rest of you, just rattle your jewelry."
The first half of the play deals with the birth and success of the Beatles, of interest to music fans; the second half is political, fascinating to everyone. The "Power to the People" number ironically underscores how in the ensuing 40 years, far from devolving to ordinary citizens, political power has been taken by the corporations.
Central to the story is the personal radical politics of this working-class Liverpool boy. Along the way, J. Edgar Hoover's FBI tailed, harassed, phone-tapped and investigated him because of his anti-war activities, compiling 25 pounds of files. A scheming Hoover is shown denouncing Lennon as immoral and then stalking off in red high-heeled pumps. Another enemy, rightwing racist Strom Thurmond, is played by a black man, as is a white-hooded Klu Klux Klaner who organized opposition to Lennon's appearance because he criticized establishment Christianity.
There are parodies of a contortionist Ed Sullivan and a dyspeptic, politically timid David Frost, both of whom had Lennon on their shows.
Lennon had a clear and honest political sensibility. He was non-violent, and didn't think much of radical activist Jerry Rubin, who used his name without permission to promote a mass rally at the Nixon Republican Convention in San Diego, a rally Lennon believed was planned to set off violence.
He was an early feminist. Marcy Harriell, a black woman, gives a smashing rendition of his "Woman is the Nigger of the World." Feminism was a result of his connection and marriage to the performance artist Yoko Ono. One thing that hasn't changed since Lennon's time is the corporate media's attack on the left. Lennon complains how the press is piling abuse on Yoko Ono. A minor hero is New York Judge Irving Kaufman who rejected the U.S. immigration service's attempt to deport him.
Footnote: according to Scardino, "Lucy in the Sky With Diamonds" was not about LSD, but inspired by a drawing Lennon's son Sean brought home.
This is an excellent ensemble production, with fine musical and dramatic performances by all. A favorite is Chuck Cooper leading a number built around "Instant Karma." Will Chase and Chad Kimball are very good in sharing most of the portrayals of John, and Julie Danao-Salkin is strong and gusty as Yoko Ono. The choreography by Joseph Malone is lively, energetic and fun.
The first and second acts end with "Give Peace a Chance" and "Imagine," numbers that arouse obvious political feelings today and prompt many in the audience to rise and cheer. We have heard "Give Peace a Chance" at anti-war rallies, from protests against American wars in Vietnam to Iraq. I heard "Imagine" at an unusual venue that showed the impact Lennon has had internationally in giving emotional resonance to political feelings.
It was January 2003 in Porto Alegre, Brazil, at the World Social Forum. Among the more than 20,000 pro-social justice campaigners from 130 countries who met for a week, Israelis and Palestinians talked about ways of achieving peace. Then they took their joint declaration to the sports stadium, which was jammed with people come to hear Noam Chomsky and other movement stars. The mayor of Porto Alegre and an Israeli read the declaration in Portuguese and English. Then, those on stage and in the audience linked hands and sang "Imagine." There wasn't a dry eye in the house. John Lennon would have been pleased. [Komisar]