| go to entry page | | go to other departments |

Lucy Komisar
'Philadelphia, Here I Come' is charming comic tale of Irishman enroute to America
Excellent revival shows young man's inner debate about his emotional ties

'Philadelphia, Here I Come.'
Written by Brian Friel.
Directed by Ciaran O'Reilly.
Irish Repertory Theater, 132 West 22 Street.
(212) 727-2737.
Opened July 21, 2005.
Reviewed by Lucy Komisar July 19, 2005.
Closes Sept. 4, 2005.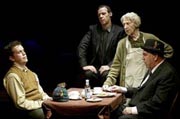 'Philadelphia, Here I Come,' Michael FitzGerald, James Kennedy, Paddy Croft,Edwin C. Owens, photo Carol Rosegg
Ireland has a roaringly successful economy these days, built on its admirable computer industry and by (less admirable) undercutting its EU neighbors by slashing corporate taxes and offering dubious "offshore" financial services (ie. secret corporations and bank accounts.) But it was not always so. In the early 1960's that Brian Friel - Ireland's most important contemporary playwright -- describes in his charming and moving "Philadelphia, Here I Come," the country's major export was young Irishmen and women looking for jobs abroad.
The U.S. was the country of their dreams, partly because everyone had a relative who was already there. Friel portrays the emotional pulls and tugs on his emigrant compatriots by focusing on 25-year-old Gareth O'Donnell in the small village of Ballybeg in County Donegal, the west of Ireland. "Gar" is distraught at having lost his girlfriend to an older successful man. He is fed up with working at the general store owned by his cold, taciturn father. This father-son relationship is blocked by the father's refusal to connect.
The village itself seems stultifying: he has no choices. The route out of Gar's despair is signposted to America. Fortunately, Gar's mother, who died shortly after his birth, has a sister Lizzy in Philadelphia.
"Philadelphia, Here I Come." James Kennedy, Michael FitzGerald, photo by Carol Rosegg.
Friel employs the clever device of having two actors play Gareth. Michael FitzGerald is appealingly sincere, good-natured but down-hearted as the flesh-and-blood man who interacts with family and friends. James Kennedy offers a blade-sharp performance as his alter-ego, an often cynical, mocking fellow who represents and mimics Gar's dreams - performing as a great violist, for example - and spits out a nickname for his father: "Screwballs." It's the man he would be, if he could.
When Gar's friends come to say good-by, we find that they are all living out fantasies - especially about women who were dream prizes in that time of small town sexual repression. They provide reinforcement to Gar's decision to get out. Friel's sense of the comically absurd lightens the gloom of the characters' failed hopes and illusions.
As is the case generally in Irish Rep productions, the acting is superb. Aside from FitzGerald and Kennedy, Helen Carroll is a delight as Lizzy Sweeny, Gar's comically impossible, irrepressible Philadelphia aunt, and Paddy Croft expertly lets a smidgeon of pathos escape from the personality of cool Madge, the pinch-faced housekeeper who cares about everyone else and seems to have no life of her own. Edwin C. Owens is realistically morose as the emotionally-arrested father.
Ciaran O'Reilly's direction is perfectly honed for the Irish Rep's intimate stage, making you think you are right there with the actors in the O'Donnell home. A classic play has received a worth revival. [Komisar]

Photos by Carol Rosegg