| go to entry page | | go to other departments |

LUCY KOMISAR

"Fiction"
Written by Steven Dietz. Directed by David Warren
Roundabout Theatre Company, Laura Pels Theatre, 111 W. 46th St., New York City
Opened July 25, 2004
Closes Sept. 12, 2004
http://www.roundabouttheatre.org
Reviewed by Lucy Komisar July 31, 2004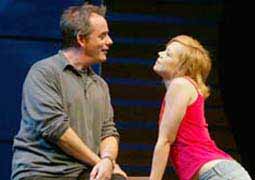 Tom Irwin & Emily Bergl. Photo by: Joan Marcus
NEW YORK - Steven Dietz's "Fiction" is an often clever and intelligent work that plays with the notion of truth in fiction. That is, is there a point at which fiction, which is invented, can be judged as a truth or a lie? And what happens when novelists, whose trade is fiction, get so caught up in it that they invent important elements of their own lives?
For these two novelists, the fiction in their lives includes the story of a successful novel that Linda (Julie White) has written and the theme of the journal that her husband Michael (Tom Irwin) has kept during their 20-year marriage.
Under David Warren's fast-paced direction, the trajectory of their relationship is a fascinating game. They begin intellectual sparring when they meet at a café in Paris, and the rivalry continues between Linda, the professor who had only one novel in her, and Michael, who has become a successful hack writer of fiction that gets made into movies.
Julie White. Photo by: Joan Marcus
When they suddenly discover that she will soon die of brain tumor, he can hardly refuse her request to read his journals. What transpires is a trick reversal that plays games with what is real and what is fiction, and asks whether one's fictional imaginings should be judged - morally -- as if they were real. Both the wife and the husband have cheated, partly in their writings and partly, by extension, in real life.
This is also a bit of an insider play, with a key section taking place in a writers' colony called Drake. From the description - you eat communal breakfast and dinner but get lunch delivered to your cottage - it could be MacDowell, in Peterborough, New Hampshire, where I spent some months as a "fellow."
I'd like to tell Dietz that, yes, writers had affairs, but with each other, and not likely with a staffer like Abby (Emily Bergl), whose family started the colony and who dresses in an egregiously unbuttoned, very tight sports top. But maybe he knows something.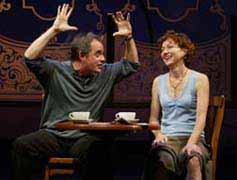 Tom Irwin & Julie White. Photo by: Joan Marcus
The plot revolves around two pieces of writing that in some way involve fiction atop fiction.
One is Linda's novel, a story about a young American woman visiting South Africa who goes out with a black man, is stopped by two whites, raped, almost killed, and survive, while the young man is charged and convicted for the crime. It is based on a true experience in her life. The substance of the book is not discussed, but there's a lot left unsaid. Why didn't the young woman - a foreigner who would return home -- testify about what really happened? The other is Michael's voluminous multi-volume diary which is largely about an obsessive affair with Abby Drake.
Both writers discover that the other has lived a lie. A fiction. And that Abby in a curious way has been muse to both of them.
Emily Bergl, Tom Irwin, and Julie White. Photo by: Joan Marcus
Though the story is hardly believable, it's the kind of play you talk about and analyze out of the theater and into the street.
Irwin is very convincing as the high-energy, arrogant Michael, a man with a very big writer's ego. Julie White is also persuasive as the serious New York-accented professor. You've seen them both around town.
I loved the quips and one-liners, which reminded me of Tom Stoppard: "Do you know how hard it is to do something unromantic in Paris? Paris is one big satin sheet." "If you wanted excitement, you would have married Plath." "Film is called a medium because it is neither rare nor well done." Michael acknowledges that, as a writer, he's really good only at envy and criticism, and he doesn't like to write, he likes to have written." So do we all! [Komisar]