| go to entry page | | go to other departments |

LUCY KOMISAR

"The Man Who Would Be King"
Adapted by Peter Meineck from a story by Rudyard Kipling
Directed by Robert Richmond
Baruch Performing Arts Center, 150 East 25th St. at Lexington Ave. 212-239-6200
http://www.aquilatheatre.com/
Opened July 13, 2004
Reviewed by Lucy Komisar July 8, 2004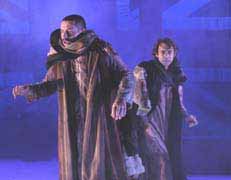 Anthony Cochrane & Richard Willis. Photo by: Richard Termine
The Aquila Theatre Company, with its usual surreal panache, presents a cutting new dramatization of the Rudyard Kipling's "The Man Who Would Be King." Born in India to British parents, Kipling was educated in England but returned to Lahore 1882 to be a reporter. This excellent, trenchant allegory about British imperialism couldn't be more timely.
Two working class ex-British soldiers, a Scot and a Cockney, are out of the army in India and determined not to go home to be luggage carriers or take other menial jobs. Instead, they scheme to go to Kafiristan, an (as yet) unconquered province in northern Afghanistan, to make money by selling arms to warring tribes. They will use their distribution of weapons to take control. Not a novel idea.
With Peter Meineck's adaptation and Robert Richmond's direction, the always imaginative Aquila conceit is to have Kipling interact with the two adventurers as he writes the story. The action in India, Kafiristan and New York takes place on Meineck and Richmond's effective minimal set, with a canvas backdrop map of India, a cane-back chair, a table with old manual typewriter, a wing chair and an umbrella stand filled with maps.
It's clear from the start that this is not only about the British. As Kipling (Louis Butelli) sits in his New York City hotel room punching out the old Remington keys, two fellows in homburg hats (Anthony Cochrane and Richard Willis) read from newspapers about the U.S. assault on the Philippines and the lynching of American blacks.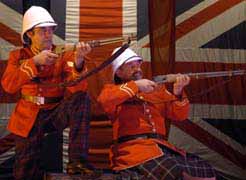 Richard Willis & Anthony Cochrane. Photo by: Richard Termine
Arriving in a country about whose culture they know absolutely nothing, Peachy Carnehan (Willis) and Daniel Dravot (Cochrane) decide that the people are heathens, and that it has fallen on them to establish peace and order. "The people in these parts are in need of a civilizing influence," one declares. Anointing himself ruler, Dravot soon decides that he is nearer to a god. At least that's what he tells the natives. Hubris of course will bring him down, as it does some more contemporary god-wanna-be's.
The two begin their imperial education of the "subjects." It's a slapstick image of British conquerors, of the Keystone Cops variety. They are boisterous and rude, more conmen than heroic. Curiously, Kipling made the two men Masons. There's a joke about using the Masons' handshake: an Afghan chief does a "second-degree grip" and knows the secret words. Kipling was a senior member of the Lahore Masonic Lodge. In fact, his poem "The Mother Lodge," extolled the diversity and equality of the Masonic brotherhood.
Maybe Kipling's view of the conman Masons was unintentionally prescient. The Masons in Italy a couple of decades ago - including powerful rightwing businessmen, government officials and military men -- were involved in trying to destabilize that country. Their tactics involved bombing the Bologna train station and murdering policemen, blaming the crimes on the Italian Communists, who had strong popular support. The criminal Masonic lodge was called P-2.
The British imperial overseers don't come off too well, either. An "old school" India commissioner in a white pith helmet and an affected accent can't say his r's. They come out "wif waf" and "dwifters," as he describes the two fortune-hunters.
Butelli, Willis and Cochrane are superb in their dramatic renditions of the characters. The stylized story is effectively set off by Cochrane's vibrant dramatic electronic music, which includes the sounds of a market, drums, even an avalanche.
In the end, the play is about the absurdity of war. Appropriately, ten percent all proceeds are being donated to the Wounded Warrior Project, a program of VetsFirst which assists men and women who have been severely injured while serving in the armed forces in Iraq, Afghanistan, and other locations.[Komisar]