| go to entry page | | go to other departments |

LUCY KOMISAR

Sex, Romance, Love and Marriage in the Theater

What a choice! Here, viewed through the eyes of playwrights past and present, is a perhaps somewhat jaundiced view of relations between men and women. Granted that conflict makes better drama than tranquility, it still gives one pause.
I've divided them into several groups. There is sex, conquest and carousing, featuring "Don Juan, "Ghosts," "Far and Wide," and "My Life With Albertine."
Romance in "The Rivals," "Heartbreak House," and "Four Dialogues."
Failed marriages shown in "Cat on a Hot Tin Roof," "The Retreat From Moscow," and
"Anna in the Tropics."
Lovelessness and Loneliness seen in "Beckett/Albee," "Intimate Apparel," "Vincent in Brixton," and "Six Dance Lessons, Six Week."
The puzzle of relationships viewed through "Our Lady of 121st Street," "Eight Days (Backwards)," and "My Old Lady."
Finally, in a place all its own, "Strictly Academic," which perhaps is the answer to many of the problems described above.
"Don Juan." Written by Moliere. Translated by Christopher Hampton. Directed by Bartlett Sher.
Theatre for a New Audience at the Lucile Lortel Theatre
Christopher St.
Spring 2003
Website at http://www.tfana.org
Don Juan Photo by Gerry Goodstein
The duel between men and women starts at the crudest level with sexual conquest. Don Juan sums that up as well as any, and the 1664 comedy by Moliere, presented last season by the Theatre for a New Audience, directed by Bartlett Sher.
A naked woman veiled in gauzy drape rises from the Lothario's bed. "Whatever Aristotle and the mayor might say, there's nothing wrong with tobacco!" So this is going to be a modern take. Why not. Plus ça change. The best way to make an antique show seem less dated is to play it as campy vaudeville with a very colloquial translation, which Sher does.
A slightly effete Don Juan (Byron Jennings) wears a garish black beaded outfit with gold lace. It matches the set, with walls black and gold like an abstract painting. A lady declares, "Listen sir, its no fun being seduced you know." A guy with a bowler hat and dark glasses warns him to flee. Angry wife Dona Elvira (Sherri Parker Lee) appears to step out of a sit-com as she punches the libertine in the stomach. Don Juan seems to regress into a teenage boy as his own father berates him.
Sher's characters are comically overstated, the valet Sganarelle (John Christopher Jones) with rouged lips and exaggerated speech; the peasant Charlotte (Nicole Lowrance) played as a hayseed.
But the show, as written by Moliere and pointedly staged by Sher, however, is more than the adventures of a roué. It's an attack on the aristocracy, on the phony forms that sustained it. Exaggerated honor: a swordsman in black velvet poses. Religious hypocrisy: "in our society almost a requirement," says Don Juan. He explains that "It means I can do whatever I like with impunity. I shall set myself up as a moral authority. I will accuse enemies of evil, let loose bigots who will attack and ruin them."
It turns out that the conquest of women is only part of a corrupt system! A way to exert power and privilege!
"Ghosts." Written by Henrik Ibsen. Translated, adapted and directed by Ingmar Bergman.
Royal Dramatic Theatre of Sweden at Brooklyn Academy of Music
June 2003
Website at http://www.bam.org
Ghosts Photo by Bengt Wanselius
Centuries passed and the rule of hypocrisy remained. Marriage to a philanderer was better than no marriage at all, and once you tied the knot, you had to leave it tied even if the rope strangled you. It could be literally pretty deadly, as Ibsen's 1882 "Ghosts" proved.
Bergman's opening in the BAM production in spring 2003 was eerie and perfect, high piano notes, and furniture and floor all covered in green, as if this was a murky swamp. The actors never leave the circular moving stage, just wait off to a side which helps focus interest on what in fact is a rather static play, with a lot of sitting and talking and not much action.
Helene Alving (Pernilla August) is reading a feminist book, which Pastor Manders (Jan Malmjo) derides as trashy. Helene goes along with a regal, clear, sense of self.
Meanwhile the minister and Jacob Engstrand, the carpenter (Orjan Ramberg) both look seductively at the buxom Regine Engstrand (Angela Kovacs) who is presented as the workman's daughter.
It turns out that Helen's dead husband was crudely promiscuous but when years back she sought the support of the pastor to leave him, he advised, "A loving wife is not her husband's judge." Bergman's conception of the pastor is smug but not unkind and his face reflects an emotional struggle.
Hypocrisy segues as it must to lies and deception, and the payoff. Bergman dresses the 26-year-old son Osvald Alving (Jonas Melmsjo) in off-white sweater and paints. Then, on top of his ghostly pallor, he fastens a red clown nose. He is, Bergman seems to say, really a ghost, and a joke on the system. It is syphilis, the cruel joke of the hypocritical system that forced his mother to stay married and conceive him. The high plaintive piano notes return as Osvald, his mind regressing to childhood, tears off his clothes, crying, "Mother, give me the sun."
"Far and Wide." Written by Arthur Schnitzler. Adapted and directed by Jonathan Bank.
Mint Theater Company
311 W. 43 St.
Fall 2003
Website at http://www.minttheater.org
Far and wide Photo by Richard Termine
In turn of the century Vienna changing partners appeared to be a game of the haute bourgeoisie, but wives seem to pull the short straw in "Far and Wide" written in 1911 Arthur Schnitzler. Famous for his sexual daisy chain in "La Ronde," this play features a philandering husband whose social status as a manufacturer excuses his tacky conduct. And, yes, hypocrisy is still rampant.
Things get so bad that Genia Hofreiter (Lisa Bostnar), victim of the serial affairs her h
usband Friedrich (Hans Tester), worries that his lovers' husbands will be violent. While she goes around with a silly grin but inwardly moping, Friedrich exhales sexual energy and charm. Quite the Don Juan, he wants the romance, not the relationship.
He's also pretty frank with his wife. Is this progress? He tells her relationships ought to be based on longing rather than habit and inquires if she plans to run away. "What would be the point?" she replies. "There's plenty of distance right here at home."
His sense of male entitlement is so outrageous, that he has the effrontery to accuse her of causing a young pianist to kill himself because she declined an affair with him. "Unrequited love!" Friedrich declares. "Who knew that such a thing existed!" But in this daisy chain, there's always someone left with the stem without a flower. The young woman whom Friedrich goes about seducing will turn down the marriage proposal of his doctor friend, Dr. Mauer.
Meanwhile, they all socialize, play tennis, go to the mountains. Now, as times progress from Don Juan, both men and women are expected to play the sex game. It's Schindler's satire, of course. The members of this upper class Viennese society talk about honor, but Genia recognizes that it's a travesty compounded by snobbery. Besides, she wonders, "How can there be room for both love and deceit?"
Schindler's story is engrossing if a bit melodramatic. The odd thing about this production is that Genia and Erna (Kate Arrington) her daughter both wear slacks, though the rest of the scenic and costume design is quite period. Maybe it was meant to subtly draw us into the present. The unimaginative chain link fence and metal garden chair reminded me of a prison yard rather than a rich man's garden. Maybe that was on purpose as well.
"My Life With Albertine." Book & lyrics by Richard Nelson. Music & lyrics by Ricky Ian Gordon. Directed by Richard Nelson.
Playwrights Horizons
416 W. 42 St.
Spring 2003
Website at http://www.playwrightshorizons.org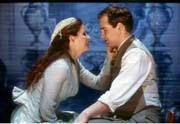 My Life with Albertine Photo by Joan Marcus
So does it ever change? "My Life with Albertine" is Richard Nelson's modern version of a the sex game. It's turn of the century Paris, not very far from Vienna.
We are in Balmec-by-the-sea in 1919 Brittany with an older distinguished, somewhat mannered man who is just a trifle effete. (Like Don Juan; could this be a pattern?)

Flashback, as the narrator (Brent Carver) remembers himself as a youth, Marcel (Chad Kimbali), burning with desire for young girl. She reads him a poem that sings about her soul. She is ethereal; he is hot. The seduction of women here seems more personal than political, yet Marcel displays more emotion for his grandmother than for his heart-throb, Albertine (Kelli O'Hara).
He could match old Don Juan for simple desire. As in the Don Juan story, this is mostly about lust. Marcel sings, "Oh, I want you" about the charming red-haired girl. And in a café, "I need me a girl in the most awful way."
Lust trumps honesty. As the lyrics say: "We think: Don't hurt me, don't leave, don't lie to me, but what we say is, kiss me." And consider that "On any given day half the human race is in tears. Some say lying is essential to mankind."
Nelson, as is he wont, designs lusty, seductive love scenes where emotional neediness is trumped by the physical.
The fine singing voices of the characters and the modern atonal music enhance his somewhat prosaic lyrics.
The action takes place in a drawing room with a spinet piano and fringed lamp, all surrounded by a gold frame. A picture of male fantasy.
"The Rivals." Written by Richard Sheridan. Directed by Robert Neff Williams.
The Pearl Theatre Company
80 St. Mark's Place
Fall 2003
Website at http://www.pearltheatre.org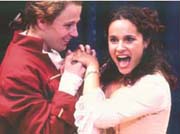 The Rivals Photo by Codie K. Fitch
But what about romance! Wait, back in the 18th century, a playwright named Sheridan had had enough. He wrote an hysterically funny satire about what transpires when a romantic young lady, Lydia Languish (Rachel Botchan), who has read too many novels, falls in love with a poor soldier (Ensign Beverley) and spurns the rich young captain (Jack Absolute) her aunt wants her to wed. Except that the Beverly is really Absolute (both are played by the delightful Sean McNall) who, knowing of Lydia's fantasies, willingly seeks to fulfill them. It turns out that even foolish women don't like frauds, and that foolishness isn't limited to one sex.
The play is famous for launching the international career, as it were, of Mrs. Malaprop, after whom are named many of the circumlocutions uttered by the Presidents Bush. But Sheridan's comic overblown romanticism offers more meat than the one-liners of that now famous invented lady. Was Sheridan unfair to romance? I'd say he was rather generous.
The Pearl Theatre's production directed by Robert Neff Williams was masterful, from the two servants Fag (Edward Seamon) and Thomas (Dominic Cuskern), to the petulant Lydia and the wonderfully flaky, domineering Malaprop (Carol Schultz). McNall is debonair and charming as the beau, as is Robert Hock as his nasty, abusive father who is also a masterful roué, and Dominic Cuskern's Bob Acres, a country fellow pursuing Lydia, is an accomplished comic.
Some of Sheridan's bons mots bear considering, such as this about dueling: "No gentleman will risk the loss of honor. And no honor should risk the loss of a gentleman."
"Heartbreak House." Written by George Bernard Shaw. Directed by Gus Kaikkonen.
The Pearl Theatre Company
80 St. Mark's Place
Winter 2003
Website at http://www.pearltheatre.org
Heartbreak House Photo by Tom Bloom
George Bernard Shaw's send-up of romance in "Heartbreak House" completed in 1916, picks up the trail of the haute bourgeoisie where Sheridan left off.
His heroine, Hesione Hushabye (the wonderfully ethereal Joanne Camp) is a sophisticated charmer who sprawls on a chaise, languidly stretching like a cat. Husband Hector (Russ Anderson) is a suave flirt. They live in the house of her father, the eccentric Captain Shotover (George Morfogen) a gray-bearded anarchist who runs around with dynamite he plans to use to destroy profiteers.
Love is alternately a game (heartbreaking for some) or a business deal. Poor Ellie Dunn (Rachel Botchan) has fallen hopelessly in love with a glamorous mystery man - Hector Hushabye. She had agreed to marry the rich Alfred Mangan (Dan Daily), a red-faced, pretentious capitalist, to save her ruined father with his money. However she finds out that Boss Mangan isn't rich, that was the man who he swindled her father, and that her heart-throb is her best friend's husband. Whew! Having failed in the sports of money and love, she decides to marry the 88-year-old captain!
Shaw was challenging bourgeois notions of love which the upper class espoused in spite of contradictory realities. And what duplicitous men! The women are the stronger characters, but they're hemmed in by the system and don't have much choice. "If we women were particular about men's characters, we'd never get married at all," advises Ellie. But, ah, Shaw is a romantic; after the cat and mouse games, the moral is to marry for love.
Director Gus Kaikkonen deftly creates a surreal atmosphere with the house designed, as Shaw required, in the form of a ship. There's about to be a wreck: it's called the Great War. That's the main hidden theme of Shaw's allegory, as he explains in his brilliant introduction to the published play.
"Cat on a Hot Tin Roof." Written by Tennessee Williams. Directed by Anthony Page.
Music Box Theatre
239 W. 45 St.
Winter 2003-Spring 2004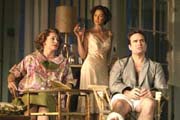 Cat on a Hit Tin Roof Photo by Joan Marcus
Most marriage plays are about bad marriages; if not bad, then boring. "Cat on a Hot Tin Roof" is the first sort. As Big Mama (the rich sorrowful Margo Martindale) says, "If a marriage is on the rocks, the rocks are there," and she points to the bed. Here's a reversal of Don Juan; this man doesn't want to sleep with his wife or, apparently, any other women. Well, it's by Tennessee Williams, one of the early closet-gay plays, so it's not the lady's fault.
Director Anthony Page's producing is riveting, sizzling. It's the mid-1950's. This play could not exist post-feminism. The white storm clouds moving past the window are nothing compared to the storms inside. In a luscious bedroom with high ceilings, wood paneled walls and a bamboo chaise and chairs, Maggie (Ashley Judd) is a frantic chatterbox speaking in double time. The indifference of her husband Brick (Jason Patric), 27, a sports announcer, is extreme. He doesn't pay attention to her; he's half not there.
He won't sleep with her. The question of course is why she puts up with it. Well, it's the Delta of Mississippi in the mid-1950s in the Delta of Mississippi - the most socially backward place in a socially backward time -- and her future depends on getting Big Daddy's legacy. She fears he won't leave it to Brick without an heir.
Not her fault that Brick yearns for his Ole Miss [University of Mississippi, for you Yanks] football friend Skipper who "cracked up" and committed suicide because he couldn't accept the nature of the feelings the two men had for each other. Brick married Maggie only to prove he was "a man." He started drinking when Skipper died.
Well, heterosexuality doesn't seem to work well in the rest of this family either. The nervous, driven Big Daddy (Ned Beatty), 65, is so hostile and nasty to his wife that it's palpable. She seems doting. What is her crime? Big Daddy can't stand his wife, hates his daughter-in-law, Mae (the terrific Amy Hohn), and shows affection only for Brick. Male bonding? Misogyny?
The women are, understandably, as nervous as cats on a hot tin roof.
"The Retreat From Moscow." Written by William Nicholson. Directed by Daniel Sullivan.
Booth Theatre
222 W. 45 St.,
Fall 2003-Spring 2004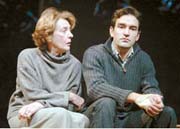 The Retreat from Moscow Photo by Joan Marcus
"The Retreat from Moscow," smoothly staged by Daniel Sullivan, is more about marriage in the process of collapse. The title is ironic; it has multiple meanings for Edward (John Lithgow), 60, a history teacher who is a devotee of the Napoleonic wars and is also desperate to get out of his 33-year marriage to Alice (Eileen Atkins).
The set, their comfortable country house set in a wood with the trees visible through the window, is a peaceful backdrop to the battles inside. Director Daniel Sullivan maintains a tension even as we suspect what will transpire.
Edward is fascinated with the events of Napoleon's retreat from Moscow, a battle in which 450,000 French soldiers engaged and from which only 20,000 returned. He is struck by the inhumanity of the soldiers towards each other, the way human beings behave in extremis. When it's a matter of survival, they have no mercy.
Alice has some strong opinions. She has passion for poetry and, religious, is trying to persuade her brooding, agnostic son Jamie (Ben Chaplin), 30, to believe in God. Transposing emotionally, Edward feels that he's secretly rebelling against a more powerful wife.
Edward is passive and uncommunicative, and Alice doesn't have a clue about what is bothering him and desperately tries to win him back. She takes precisely the wrong tack by haranguing him. She blames age. "When a woman reaches middle age, she becomes invisible," she notes caustically.
Does Edward not communicate? It's not his fault. He complains finally that he was brought up not to want things for self and that he therefore never communicated his unhappiness. He thinks, as in the retreat from Moscow, he can survive if he doesn't drag Alice along.
Well, perhaps the stiff, furtive creature deftly portrayed by Lithgow is one of those men who can't communicate and really ought to live alone. There are advantages, he muses: "You don't run out of milk, because you're the only one drinking it." Poor Alice, stuck with a child-man!
Atkins is stunning as Alice, her voice climbing up octaves, her face twisting in emotional agony. She does indeed get tiresome in her desperation. Hard to blame her.
"Anna in the Tropics." Written by Nilo Cruz. Directed by Emily Mann.
Royale Theatre
242 W. 45 St.
Winter 2003-Spring 2004
Anna in the tropics Photo by Joan Marcus
A sultry man in a white suit reads romantic fiction as the women in a Tampa, Florida, cigar factory, circa 1929, let fantasy take over lives made miserable by a cheating man or no man. In "Anna in the Tropics," which won the 2003 Pulitzer Prize for Drama, Juan Julian (Jimmy Smits) is a sophisticated Cuban who earns his living as a lector, a reader, to help workers fill the boring hours of manual work. It was a tradition in Cuban factories.
Julian doesn't just fill their hours, he also fills their dreams. The men are earthy, represented by the cock fight which Eliades (John Ortiz) masterfully supervises. Factory owner Santiago (Victor Argo) is a foolish, strutting gambler.
Julian represents charm and poetry, and as he reads, the story of Anna Karenina, the "Anna" of the title, intrudes on their lives.
Daphne Rubin-Vega is superb as Conchita, the young daughter of the factory owner, who liberates herself from the pain of her husband's infidelity by starting an affair with Julian. (One wishes this could have been represented more tastefully by director Emily Mann than by having the two roll around on the floor.) She declares to husband Palomo (Ortiz), "I have the same right as you to have a lover."
Palomo might well be worried. The wife of his half-brother ran away with the previous lector.
Marela, Conchita's younger sister, finely portrayed by Vanessa Aspillaga, is a sad, giddy romantic who becomes so caught up in the story that she finally dresses like the Russian Anna.
As fantasy takes over life, the play gets corny and the dialogue turgid; real life conversations sound like poetry, which means they don't sound real.
"Four Dialogues." Written by Frank O'Hara. Directed by Nick Corley.
America Salutes Ned Rorem - an 80th 'Birthday Tribute by Magic Circle Chamber Opera
Merkin Concert Hall
129 W. 67 St.
Oct 27, 2003
Four Dialogues Photo by Daniel Rodgers
Like the musical scales, love can start high and inexorably fall low. A clever, comic and slightly acerbic view of romance is presented by Ned Rorem's 1954 chamber opera, "Four Dialogues," performed at his 80th birthday tribute at Merkin Concert Hall last fall.
The action starts out in the subway, where the man (Marc Kudisch) picks up the young lady (Lisa Vroman). He is achingly seductive. Segue to scene two, the airport. Ah, lovers' trips are exciting. Back home (three) is the apartment. What is this? He is reading the newspaper. "Did you wrinkle the paper?" he demands. Does domesticity lead to that? It ends with the couple in Spain and New York, separately.
Kudisch, known to theater audiences as the original charming boss of the Sincere Trust Insurance Company, employer of (Thoroughly Modern) Millie, has a thrilling tenor, matched in power and style by Vroman's soprano.
Rorem's atonal, insistent dissonance perfectly describes the emotions of this modern romance and break-up.
"Our Lady of 121st Street." Written by Stephen Adly Guirgis. Directed by Philip Seymour Hoffman.
LAByrinth Theater Company at Union Square Theatre
100 E. 17 St.
Spring 2003
Our lady of 121st St Photo by Joan Marcus
"Our Lady of 121st Street" is a scorching dark comedy about desperately unsatisfied, unhappy people who have a hard time reaching out to others and connecting. Most of Stephen Adly Guirgis's characters are needy for love, which always seems just outside their grasp.
They've arrived at the Ortiz Funeral Home in East Harlem for the funeral of Rose, the alcoholic nun who years earlier at a Catholic school dispensed to them a mixture of toughness and love. With unintended irony, they nicknamed her "Our Lady of 121st Street."
But for these graduates of a hard-luck neighborhood, even the funeral of their old teacher doesn't go right. The body has been snatched, taken by some local hoods who also walked off with one of the sleeping mourner's trousers. While the police detective carries out a desultory search, the mourners hold a desultory reunion that shows most of them to be in some way dysfunctional.
"Rooftop" (Ron Cephas Jones) is the typical jive man who considers infidelity his right and can't understand why his former wife, Inez (Portia), divorced. After all, he's a successful radio DJ in Los Angeles.
Inez has remarried and hasn't changed her colorfully low opinion of her former spouse. His remorse seems somewhat specious when, in the confessional, he explains his lapses by the fact that he has mixed up non-venal with venal sins.
One of his former lovers, Norca (Liza Colon-Zayas), also appears, hoping to square things with Inez. Unfortunately, rage wins out over forgiveness. Maybe that's why they wear red.
Norca, a nasty piece of work, is desired - hopelessly -- by Pinky (Al Roffe), a retarded man who was brain damaged when he was hit by a brick his brother threw out the window.
The story seems like a failed "La Ronde," a daisy chain with broken links. Once again, sex has trumped love. Philip Seymour Hoffman directs with brutal sympathy.
"Eight Days (Backwards)." Written by Jeremy Dobrish. Directed by Mark Brokaw.
Vineyard Theatre
108 E. 15 St.
Summer 2003
8 Days (backwards) Photo by Carol Rosegg
"Eight Days (Backwards)" is the real daisy chain, except in Jeremy Dobrish's quirky take, unlike the Schnitzler version where you understand the progression of each coupling as you see it, here you don't find out the connections until the play is finished. Because the scenes are conducted in reverse chronological order. It is funny and inventive.
The collection of vignettes of these New York protagonists - a baker's dozen who range from their 20s to 50's - begins with, but really ends with Frank (Bill Buell), who wants S&M, gives his wife a textbook of kink, announces "I'd like to be your slave," and shows up in high red heels, fishnet stockings and a leather skirt.
Then, or before, there's Goldberg (Christopher Innvar) who, when his wife is out of town on business is paying the maid Consuela (Daniella Alonso) to sleep with her and threatening to report her to immigration if she protests. She needs the extra money to send home to a sick child in Mexico.
Is there a connection between the two scenes?
Still a day before, a cold efficient blonde executive, appropriately named Stern (Barbara Garrick), demands some creative accounting: she wants the numbers up. (Sound familiar?) Her three male subordinates include Goldberg, who avoids a dressing down by not showing up.
And before that, his wife (Garrick) plays another tough executive. At the airport waiting to depart on a business trip, she throws him a withering look that's makes him quiver with anguish. Does this mean that because he has been "unmanned" by powerful women, he is getting sexual pleasure from a subordinate he can dominate? Are we back to domination as a sexual ploy?
Other characters are looking for a soul mate or a pick-up. Some of the stories are weak, inserted just to make a character connection. Done in chronological order, the plot would seem too obvious; but the reversal indeed bombards you with surprises. Relationships are not always what they seem.
"Beckett/Albee." Plays written by Samuel Beckett and Edward Albee. Directed by Lawrence Sacharow.
Century Center for the Performing Arts
111 E. 15 St.
Fall 2003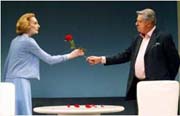 Beckett-Albee Photo by Carol Rosegg
Beckett and Albee don't posit much of a choice in this collection of plays mounted by Lawrence Sacharow: the bleakness of life without love and the emptiness of loveless marriage.
Beckett is the harsher as he traces the despair of people who look back as they face death.
In Beckett's "Mouth," Marian Seldes is shrouded and set on a platform in a pitch-black stage. You see only her red lips, her laugh, as in a deadly staccato delivery, she recalls her life: no love as a baby, nothing later, now nearly 70, the darkness will soon envelop her totally.
In tandem, Beckett's "A Piece of Monologue" shows Brian Murray as a character moving to death, his dreariness etched in a nightshirt, contradicted by his half smile. He has ripped up pictures of loved ones who had loveless, blank lives, gray voids.
Seldes in Beckett's "Footfalls," is a lonely middle-aged woman made a recluse out of caring for her late invalid mother. In a sexless, tattered gray robe, she clumps, pacing and turning in a small space as if she's lost the ability to move gracefully. She seems to be walking the boundaries of a prison cell--she had carpet removed so could hear steps, the only sign of life.
So, if lonely, loveless lives are tedious, how is it for couples?
Director Lawrence Sacharow ingeniously pairs Beckett's plays with Albee's "Counting the Ways" to show how husband and wife can be isolated and lonely, even tedious together.
They are quite fashionable, he (Murray) in blue blazer and gold buttoned pink shirt, she (Seldes) in blonde pageboy, blue silk dress and sweater. They speak with controlled emotion, in "pass-the-salt" voices.
"Do you love me?" She asks. (They have no names, just "He" and "She.")
"Why do you ask?" He replies.
"Because I want to know right now." She pulls the petals off a rose.
Of course. Well, good. But She asks repeatedly. Often she talks as if he's not there.
"What does it mean, 'Love in the afternoon'?" He's reading the New York Post. She tells him it means sex, really.
She remembers their love a long time ago. He demands, "Where are my shirts? Thousands have lived without love, but none without shirts."
"Where did it happen there are two beds? Once upon a time there was one."
"These things happen. Look at our friends."
She is flirtatious, an utter charmer. She asks, "Do you cheat on me a lot?" Now, he wonders, "Do you love me?"
"Do you love me?" repeats the wife.
And He: "Do you love me?"
"Intimate Apparel." Written by Lynn Nottage. Directed by Daniel Sullivan.
Roundabout Theatre Company at Laura Pels Theatre
111 W. 46 Street.
Tue-Sat 7:30; Wed, Sat, Sun 2. Running time 2:20
Through June 13, 2004
212-719-1300
Website at http://www.roundabouttheatre.org
Intimate Apparel Photo by Joan Marcus
Sometimes when women are lonely and desperate for love, they make bad choices. Change that to "often." Esther (Viola Davis) is 35, a black woman living in a boarding house and sewing corsets and lingerie for the rich. It is 1905.
By chance, a Barbadian workman digging the Panama Canal meets someone who knows her and starts a correspondence. Esther can't read or write so rich Mrs. Van Buren (Arija Bareikis), a client, pens her letters. The Van Buren marriage, by the way, is no model, because it hasn't produced a child and her husband is looking elsewhere.

But George Armstrong (Russell Hornsby) shows through his letters that he's a charmer, and Esther delights in the epistolary romance. Alas, after he proposes marriage, comes to New York, and weds and beds her, it turns out that they both are strangers to each other. He is indeed robustly handsome, but he ends up being not quite the lover she imagined.
Esther's landlady, Mrs. Dickson (Lynda Gravatt) hadn't done much better. She married a much older men who, to her relief, died and left her some cash.
Viola Davis is touchingly innocent as the naïve, sorrowful Esther, while the Lynda Gravatt and Arija Bareikis seem toughened by the "grin-and-bear-it" school of marriage.
Moral: no men are better than no-good men.
"Vincent in Brixton." Written by Nicholas Wright. Directed by Richard Eyre.
Lincoln Center at Golden Theatre
252 W. 45 Street.
Played in Spring 2003


Vincent in Brixton Photo by Joan Marcus
"Vincent in Brixton" is the author's speculation of what happened when painter Vincent Van Gogh spent some time in the early 1870s as a roomer in a south London suburb, a place recreated by screen projections of dreary brick tenements. He is in London for a job with a London art dealer.
Vincent (Jochum Ten Haaf), then 20, seems a nervous, frightened mouse with glaring, piercing eyes. His landlady, Ursula oyer (Clare Higgins) is a deeply unhappy woman who runs a school for boys, has been a widow for 15 years and still wears black.
Vincent tells her, "We have a mental affinity; you're like a mirror of my despair."
Mrs. Loyer is a strong, mellow woman; Vincent, as she says, is "raw." He's a virgin; he's really still a child. Both are needy, but they seem more uncomfortable with each other than romantic.
In a kitchen crowded with a wood table, old stove and crockery pots, he says, "Let me kiss you," and she shakes her head, "Oh, well." Director Richard Eyre knows how to mix this romance with the truly ordinary, which is how romance usually happens.
She is "progressive." She gives her daughter Eugenie (Sarah Drew) a wedding ring so she can pass for tryst in the country as the wife of a young house painter, Sam Plowman (Peter Starrett), who has dreams of being an artist.
Vincent had his eye on Eugenie, but his psyche gets succor from the mother. Besides, as he repeats, "No woman is old as long as she loves and is loved." Well, true; well, trite.
Of course, this can't last, but for a moment, both of them are alive in their souls, which, as author Nicholas Wright knows, is the part of the body where true romance lives.
"Six Dance Lessons in Six Weeks." Written by Richard Alfieri. Directed by Arthur Allan Seidelman.
Belasco Theatre
111 W. 44 St.
Played in Fall 2003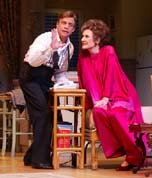 Six Dance Lessons in Six Weeks Photo by Carol Rosegg
It starts out sit-com, then turns darker: Lily Harrison (Polly Bergen), the survivor of a dry, unsatisfying marriage to a rigid Baptist preacher, seeks to assuage her loneliness by taking lessons at her Gulf Coast Florida condo from a gay dance teacher.
A friend of mine says that for men, "Even bad sex is good sex." For this woman, even a bad marriage was - well, maybe not good, but at least she existed. She is 72. "An old woman without a husband becomes invisible," she tells the teacher, Michael Minetti (Mark Hamill). "Store clerks look over your head."
It turns out that both had failed relationships, so they get involved in each other's lives and share their pain. They flirt, they lie. It gets a bit schmaltzy. The message is love as Santa Claus for adults. But sometimes a bit of charm pushes through the schmaltz.
"My Old Lady." Written by Israel Horovitz. Directed by David Esbjornson.
Promenade Theatre
Broadway & 76 St.
Played in Fall 2002
My Old Lady Photo by Craig Schwartz
This play by Israel Horovitz - a very political author -- tackles the issue of love and morality. Mathias Gold (Peter Friedman) has come to collect a legacy
from a father who cheated him with a loveless childhood. His inheritance is an elegant apartment with a great French sitting room of high ceilings, paneled marbled walls, gilt mirror, crystal chandelier, and windows overlooking the Luxembourg Gardens. It's akin to a Fifth Avenue floor-through overlooking Central Park.
Mathias is a New Yorker, very open, in-your-face, gregarious. He is also 50, divorced, self-hating, and divest of self-esteem, success and money. He will sell the apartment and start over. He thinks, "In a new country, you can reinvent yourself, be whatever you want to be." But his father Max will betray him even in death.
He learns that his father bought the apartment from an elderly woman 27 years ago under the viager system that requires him to make monthly payments to her until she dies. It was a crap shoot, and he lost. Now Mathias's inheritance is that he must pay her. It's not the only trap his father laid.
The permanent rent collector, Mathilde Giffard (Sian Phillips) is 94. She is an operator, a bit nasty, quirky. Her daughter Chloé (Jan Maxwell) is equally hostile, filled with anger emanating from her own childhood.
Horovitz sets the stage with a comment about political morality. He is angry that French President Mitterrand was a collaborator in the pro-Nazi Vichy government. "The Jews of France deserved far greater apology from Mitterrand," Mathias says. People should responsibility for their actions.
That translates into responsibility for personal acts: a man and a woman had an affair for 67 years while the man kept a family 3,000 miles away. And Madame Giffard was the lover! She talks about how great Max was, but what was he for his own family? It was an affair of selfish parents that hurt their children. Not the first time. Love for the adults, lost love for the kids.
The play jerks and chugs at the opening, but then settles down into a riveting Faulkner-like drama, helped by the strong performances of a very professional cast.
"Blackbird." Written and directed by Adam Rapp.
Edge Theater Company at Blue Heron Arts Center
123 East 24th Street, between Lexington and Park Aves
Spring 2004
Script for purchase at http://wwwbroadwayplaypubl.com
Blackbird Photo by S. McGee
Adam Rapp's moving play is a love story of man who is broken in body and a young woman who is broken in spirit. They are detritus of the first Gulf War and a society that throws away its troubled young. The setting is Christmas Eve 1998 in a grungy Canal Street apartment with cardboard-and-duct-tape patched windows, pasty brick walls and a mattress made of layers of packing materials.
Paul Sparks and Mandy Siegfried are stunning as two desperate, lonely people at the edge of survival. Sparks is Bayliss, the 32-year-old veteran who suffers constant pain from a herniated disc, takes codeine and picks up objects with a claw stick because he can't bend. Siegfried is Froggy, the childlike drug-addicted naïf who Bayliss picked up at a dive and took in.
These unlikely lovers share great tenderness, he cleaning her when she throws up, using his slim disability check to buy milk, break and soup; she calling him "dickless" and making it sound like love-talk.
Not for them fancy apartments, European trips, "affairs." As Rapp says in a program note, "Who do we turn to when we have nothing?...What keeps us from walking away from our lives forever?...Perhaps there is no greater drug than love. There are some people we simply can't live without and that's all there is to it."
"The Problem." Written by A. R. Gurney. Directed by Paul Benedict.
Primary Stages
Fall 2003
Website at http://www.primarystages.com
The Problem Photo by James Leynse
Okay, so marriage is in the doldrums. What can you do? "The Problem," presented as one of a duo called "Strictly Academic," is a strictly entertaining play by A.R. Gurney.
The sitting room has a blue loveseat, a desk and bookshelves. The husband (Keith Reddin) is a mathematician. The wife (Susan Greenhill) is pregnant. She says she is not sure the baby is his; they have been married for 10 years but haven't made love in 5. "Do you mind?" she inquires. "No, I really don't see much of a problem," he replies. "I should have made love to you more, darn it."
He laughs. She cries, "because of poverty, racism, injustice, and terrorism."
OK, so this is A.R. Gurney and this is a shaggy sex story by a couple who fight the boredom of married sex with some neurotic fantasy acting-out. Who but Gurney could pen the line: "I asked her if she would like to sleep with a member of a minority. She naturally said yes."
I found the play hysterically funny. Perhaps its absurdity is the right way to end an overview of love and relationships as seen in the theater. [Komisar]