| return to entry page | go to other departments |

THE POPE OF DON'T TELL MAMA
by Jerry Tallmer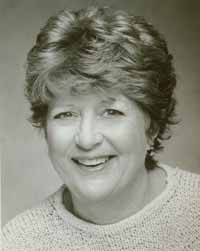 Peggy Pope
Don't know if you've ever heard "Moon River" sung in two different minor keys by the same person at the same time. I.e., simultaneously. Not even Audrey Hepburn could do that.
Well, Peggy Pope does it, don't ask me how, aided and abetted at the piano by her mainstay, Woody Regan.
A year ago this captivating actress who has been part of our lives ever since Off-Off-Broadway put on long pants made the plunge as a chanteuse in her "First Farewell Appearance" at Don't Tell Mama. "Insouciance and innocence that is very fetching," I wrote at the time, "almost like a little French girl, except that she isn't French and she isn't a little girl."
All still true in this, her "Second Farewell Appearance," in which, after a jaunt to Paris and Moscow, she's putting her gingerbread-doll voice to "La Seine" and "Je Ne Regrette Pas" (no Piaf, just Peggy) and Ira Gershwin/Kurt Weill's rapid-fire aggregation of known and unknown Russian composers once rattled off by Danny Kaye.
But also, more wistfully, more touchingly, to a beach-front wounded-heart medley that segues from "Love is just sand, slipping through your fingers" (Stephen Sondheim) to "Under the Boardwalk" to "Coney Island Baby" to "Hello, My Coney Island Love."
Woody Regan's wounded heart, as he reveals in song, has to do with the dear dead days of smoking when he'd "exhale and inhale through my nose like Joan Crawford."
"You miss the whole point," Peggy Pope tells him, and tingles our own hearts with "What'll I Do?" and "Twilight." But she can never stop being funny. "I've had two or three great loves in my life," she allows. "One of them kept saying: 'Peggy, will you marry me? Peggy, will you marry me?' (Two beats.) "He was an actor. Rehearsing, you know."
P.S. That "Second Farewell Appearance" (times three) earlier this month was such a hit that Don't Tell Mama has now booked her and Woody Regan in for reprises once a month into perpetuity, or in any event to Saturday, December 11, at 4 p.m., and Saturday, January 15, at 3:30 p.m., just for starters. The tables are small, the pleasure is big. [Tallmer]
PEGGY POPE and WOODY REGAN are appearing at DON'T TELL MAMA, 343 West 46th Street, (212) 757-0788.