Henry Baumgartner
Shen Wei Hits the Silk Road
Shen Wei's "Re- (I, II, II)" did not stint on visual spectacle. Photo by Š Lois Greenfield 2009.
Shen Wei Dance Arts
Re- (I, II, III)
Lincoln Center Festival
Alice Tully Hall
July 9--–11, 2009 (reviewed 7/11)

Over the years, Shen Wei has become a familiar presence to regular attendees at the Lincoln Center Festival. This year the Chinese-born choreographer returned with his company, Shen Wei Dance Arts, in "Re- (I, II, II)," a trilogy of pieces inspired by journeys to Tibet, the Angkor temples of Cambodia, and the Silk Road. The works, presented in the newly refurbished--or rather, rebuilt--Alice Tully Hall, were given in the order I, III, II, a departure from mathematical and chronological correctness that actually made a certain amount of sense. As for the rather strange title, we are told that the "re-" prefix "invokes concepts of return, reconsideration, and renewal."
"Re- (Part I)," the Tibetan-inspired segment, first performed in 2006, begins with dancers seated around what looks like a much simplified version of one of those sand mandalas that Tibetan monks laboriously create and then brush away. This particular mandala turns out to be made of confetti, and sure enough, as the dance progresses the design is quickly churned into an oddly snowy bluish mass. We hear Tibetan music, which includes chanting by the wonderful Ani Choying Dolma, a Nepalese Buddhist nun, and we see a video of clouds in an increasingly dramatic sky. The choreography is characterized particularly by a certain sort of spiral pattern, twisting down to the ground or back up to a standing position, and the dancers ably executed these, along with sinuous foldings and unfoldings. Their movements were always slow and elegant, even ritualistic, though the result did not look much like what I've seen of Tibetan dance, nor did they seem to convey any particularly strong impression of Tibetan culture.
"Re- (Part I)" was inspired by Tibet. Photo by Stephanie Berger.
This was followed by the brand-new "Re- (Part III)," which premiered earlier this month at the American Dance Festival in North Carolina. This, we are told, was inspired by a trip the choreographer took along the ancient Silk Road, starting from Beijing, from there to Xi'an, proceeding past mountains and deserts to the Turfan depression and finally to Kashgar, in the far west of China near the borders of Tajikistan and Kyrgyzstan. The choreographer's program notes also mention his impressions of the contrast between Beijing and New York--a very different matter, and perhaps easier to see in the result than the Silk Road. We start out with troops of dancers all in grayish green, marching like soldiers over the stage; a pair falls out of formation, leaning on one another, then another and another, until the army has become all couples. A violinist is seen in silhouette, playing a keening note. The dancers circle around a single dancer, as if they were planets. Later, the dancers reappear, each one in a different outfit, performing more off-center, seemingly uncoordinated movements, to atonal music with a machinelike beat. Maoist regimentation giving way to modern Western (and Eastern) decadence? Could be.
Whether or not this was the message, this section was the most worthwhile and even exciting part of the evening. Shen Wei's work, while always visually arresting and sometimes conceptually interesting, has often seemed somewhat cold and uninvolving, lacking in the compelling physical logic or dramatic interest that we generally look for in a work of dance. "Part III" is in fact the most rewarding piece I have yet seen from this particular choreographer.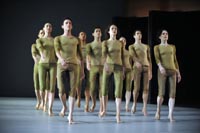 Dancers were on the march in "Re- (Part III)," the newest section of the piece. Photo by Stephanie Berger.
But remember what I said about "visually arresting"? This is, after all, Shen Wei's strength, and he goes right over the top in "Re- (Part II)," inspired by the ancient temples of Angkor. There are some nice twisty bits and more of those spirals, and wide, smooth, graceful movements, but nothing especially Cambodian looking. What takes the breath away, though, are the huge photographic projections of temples dissolving into the jungle that cover the back and sides of the stage and even the sides of the theater. Towards the end, a dancer appears, bare to the waist; she seems to be covered in white body paint, and she twists, bends over, and reclines luxuriously, head thrown back, like a relaxing sunbather, or maybe a headless marble statue. One by one, the other dancers appear, similarly undraped, a few of them adopting the sunbather/statue pose; others twist around each other erotically. Behind them we see a photograph of a huge tree nonchalantly draping itself over a temple wall (at Ta Prohm, I guess), its roots pouring down the side like a frozen torrent of some viscous, living fluid. By the end a large group of people have found their way onto the stage. Some of them we haven't seen before, and some of these are older than the others, or not possessed of "dancers' bodies." It's quite a spectacular finish.
It is always a pleasure to be able to report that the most recent work on a choreographer's program is the strongest. And so it is with this bill of Shen Wei's. Clearly the evening could only end with the Cambodian extravaganza, which dates from 2007. But it was the newest section--Part III, the one in the middle--that made the strongest argument for Shen Wei as a choreographer.