| go to index of reviews | go to entry page | | go to other departments |

Edward Rubin
"The Jackie Look"
"The Jackie Look"
Written and Directed by Karen Finley
Laurie Beechman Theatre
407 West 42nd Street, NYC
January 24 – February 24
Every Saturday 7:30 PM
Reviewed by Edward Rubin, Saturday, February 6, 2010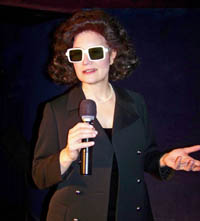 "THE JACKIE LOOK" -- Karen Finley Feb 2010. Photo by Max Ruby.
Karen Finley's big reputation began with her rolling around naked on the stage covered in chocolate and honey and her 1990 boxing match with the National Endowment of the Arts, the latter which brought her to national attention and earned the respect of artists and the liberal press across the country. It seems that Finley's act was too hot to handle and the head of NEA, trying to placate Jesse Helms and the Religious Right, withdrew Finley's NEA grant, along with those of Tim Miller, Holly Hughes, and John Fleck, performers whose work like Finley's was deemed obscene. Not a lady to take it on the chin without a good fight, with the help of the National Association of Artists' Organizations, Finley challenged the NEA's amended statutory review proceedings as unconstitutionally vague and discriminatory. After consecutive district and appellate court rulings in favor of Finley, the Supreme Court granted the NEA certiorari. It is this lionizing bit of history that will follow her to the grave.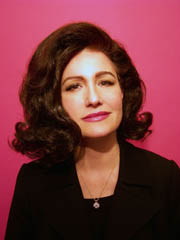 Karen Finley, Feb 2010. Photo by Max Ruby.
As an artist, Finley's in your face performances have ranged from the seemingly pointless to the magnificent and brilliant, the type that etches itself onto your brain and never leaves. In one show, whose name, venue, and year escapes me – hey, it's been over a decade – Finley, in the manner of a flickering strobe light, continually changed her physical and mental approach throughout the entire evening. One nanosecond she was a quiet and seemingly rational mid-westerner, the next, a hyperventilating, soothsaying woman on the verge of a nervous breakdown. Viewing Finley's hallucinatory, near outer body experience, somewhat akin to Linda Blair in The Exorcist, was visually shattering. It brought to mind the late film critic Tyler Parker's take on Greta Garbo's death scene in Camille. Parker states that Garbo's wavering between life and death, the absolute height of ecstasy, is the most powerful 5 minutes in film. So it was with Finley on the stage.
The Jackie Look, Finley's latest outing, part play, part web tour, part lecture, and fully didactic, by the very nature of its author's complex ideas, and the structure of her performance, which asks the audience to switch gears, as Finley changes her methods of dispensing information from performance to lecturing and back to performance, is Finley's most intellectually challenging performance piece to date. The play starts with Finley's Jackie, working her way though the audience and up onto the stage, a stage whose backdrop features moving images, some stills, others videos, of Jackie Kennedy during the various stages of her life. It is obvious from Finley's body language, and her low breathy voice, that the artist is channeling Jackie's gentle glide, the first lady's unique way of entering a room, as well as her manner of speaking. To add authenticity, Finley dons a Jackie wig, and a large pair of sunglasses, both immediately recognizable first lady identifiers.
For the web tour, Finley, now Jackie restraining a simmering outrage, sets the mood for the evening by taking us, via a power point presentation, to www.jfk.org, the website of the Six Floor Museum at Dealy Plaza, whose sole purpose, as the site states, is to welcome visitors who are "seeking information and understanding about the assassination of President John F. Kennedy on November 22, 1963." Naturally we were shown the Zapruder Kennedy assassination tape. The pain comes not from having to watch this historically ubiquitous clip, but having to watch it along with "Jackie." Unexpectedly, I felt was invading her privacy. I felt terribly ashamed. On a lighter side, though no less ironic, Finley, pointing out the cheap and tawdry capitalistic commercialization of just about everything, history included, clicks onto website's store. On sale is a replica of the 1961 Lincoln X-100 limousine, the one that Kennedy and Jackie were riding in on the day of the assassination, a refrigerator magnet depicting the 1903 Texas School Book Depository, the very building from which Oswald fired the fatal shots, as well as memorial cups and spoons, and a CD of the original Broadway cast of Camelot, allegedly President Kennedy's favorite album. Talk about tacky.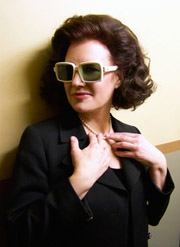 Karen Finley, Feb 2010. Photo by Max Ruby.
The true brilliance of The Jackie Look, are Finley's ideas, which come fast and furiously towards the end of the play – about the power of the photograph to "organize trauma, and to organize and manage the contents of the unknown." It is here the artist, reading excerpts from a lecture that she gave to the Society of Photographic Education in Dallas, donning her professorial robe – Finley teaches theory at New York University – sounds a lot like Sontag, Berger, with a little Borges thrown in. Still, academics aside, Finley's deep understanding of humanity, presented in the words that she gives Jackie, is always in evidence. Here we hear Finley's Jackie, as she painfully tells her story. "I stand before you as your stress test, your indicator of how much a person can endure in order to monitor and compare and go on with his or her own life. The assassination not only shattered your Jacqueline and my family and our way of life, but our nation. It is with great trepidation that I have agreed to speak to you about my reflections of being photographed, my memories and reactions of my contributions to the field of stylizing trauma, my contributions to grace under great emotional shattering and not breaking down for the public. And I don't intend to start now." Clear-eyed and direct, Finley's Jackie keeps her promise.
Edward Rubin is a writer living in New York City. He is a member of the New York Drama Desk, the Outer Critics Circle and AICA (The American Section of the International Association of Art Critics). He can be reached at erubin5000@aol.com